Get HSPL / RSPL For HTC WP7 Devices To Flash New ROMs [How To]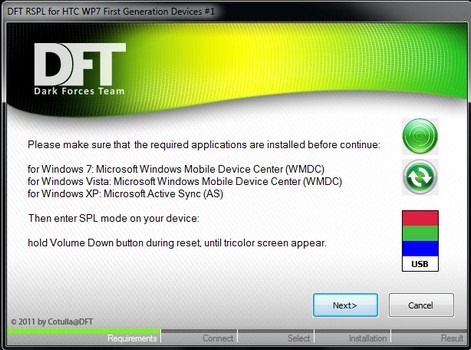 Android users are pretty used to enjoying custom ROMs and it can take the color out of  the life of true phone enthusiasts if they are unable to customize their phone's ROM according to their choice and needs. Windows Phone 7 users, however, have not been so lucky in this regard. Due to the closed-source nature of the operating system and the strict security measures that Microsoft has taken with it, it is difficult enough to merely get file system access on WP7, let alone flash a new ROM, but things are changing now. After Chevron, a slow but steady shift in the momentum of events has been observed and now, there's a big development in this regard. Thanks to the efforts of Dark Force Team (DFT), it has become possible to change the Original Secondary Program Loader (OSPL) on your HTC device (to both RSPL and HSPL).
If you are a one-time ROM flasher then you should go for the RSPL method, but people who keep changing ROMs on regular basis better pick the HSPL. For those interested in how it works, the HSPL (also called Hard SPL) method replaces the original SPL with one that allows flashing custom ROMs, while the RSPL (or Reload SPL) method merely works in RAM on top of OSPL and gets removed upon even a reboot, so those who go for this method need to perform this procedure every single time they want to flash a custom ROM.
Disclaimer: Please follow this guide at your own risk. AddictiveTips will not be liable if your device gets damaged or bricked during the process.
RSPL
Reload SPL can be set up on your HTC phone using the method described below.
Head to the download link and get the .rar file.
Unzip the file you just downloaded.
Make sure that you are logged on to your computer as an administrator and run "DFT_RSPL_WP7FG1_LAUNCH"
After clicking next on the launcher, reset your phone and enter OSPL mode. This can be done by pressing and holding the volume down hard button while the phone is restarting.
Connect your device to the PC via USB.
Now your device should be displayed as USB at the bottom of the screen. If it doesn't, install your device-specific drivers from your manufacturer's site.
Now when you will hit Next in the computer application, it will automatically detect your phone.
From the files you unzipped, one must be an EXE file. Right-click it to access its properties and change it to "Windows XP compatible mode".
Once that is done, you will be given a list to choose your OSPL from. Choose "OSPL version" from the said list.
As soon as you click next, your device must reboot all by itself and start in RSPL mode.
Thus you have gained RSPL on your HTC phone. It will stay effective until you perform a reboot/soft reset on your device. For permanent change, follow the method described below.
HSPL
Hard SPL needs that you have first applied the RSPL method to your phone.
After completing with the RSPL method, exit the RSPL setup and run "DFT_HSPL_WP7FG1_INSTALL.exe"
Press Next after going through the disclaimer.
Make the setup become aware of your device by hitting Next again.
As done in RSPL, change the property of the EXE file to XP compatibility.
You will be presented with a choice between OSPL and HSPL. Select HSPL.
When you click Next, your device will reboot. But you have to reset it before it loads the ROM.
Enter SPL mode again by holding down the volume button during reset and enter OSPL mode.
This way you can have the freedom to flash any ROM to your WP7 phone, any time you want! If you are interested in learning more about the concept of custom ROMs, check out our custom firmware and flashing guide.