Ice Cream Sandwich Based MIUI ROM Released For Samsung Galaxy S Phones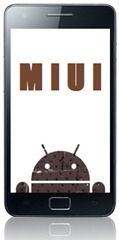 If you own a Galaxy S II, you've probably heard by now that the device is due to get a taste of Android's awesome Ice Cream Sandwich somewhere in early 2012. That said, being impatient as any Android fan should be, our heads turn to the developers and modding community in hope of an early shot at the new OS. Guess what? You might have to wait till 2012 for a proper Ice Cream Sandwich release, but for now, developers at GalnetMIUI have released their version of MIUI which is built upon the Ice Cream Sandwich's framework. Yes, framework, which means that visually the ROM would be like your regular MIUI ROM, but it is a huge step nonetheless. You know what's even more awesome about all this? The ROM has also been released for the Galaxy S I9000, Captivate I897, Galaxy S B I9000B, Galaxy S M I9000M and the Motorola Defy.
Now before you get all excited about it, the ROM has been reported to be working fine by some users, but remains largely untested. We cannot confirm the installation procedure either for now, but if you really wish to give it a go, you can head over to the GalnetMIU website and download the relevant ICS MIUI build for your device.
Since our team is on vacation, we shall update this post soon enough on Thursday, after testing and verifying the ROM ourselves. Consequently, we will bring you the installation instructions for the supported devices as well.
If you were brave enough to try the ROM out on your supported device, do share your opinions with us and how it fared for you.