CheatBook Lets You View Cheat Codes Of PC & Console Games When Offline
The gaming industry has grown into a huge business in the past few years. What was considered to be a casual activity just to pass some time, has now turned out to be an industry where gamers, bound by contracts, are on the payroll of organizations. Even then, there is still a huge number of people who like to play games, not seriously, but just for having fun. While playing a game, sometimes it happens that you get stuck somewhere, or the level is too difficult for you to cross, and you look for walkthroughs to help you in completing the main goal of the game. CheatBook is an offline database of cheat codes for PC and Consoles games, and walkthroughs for PC games. The application is released once a year by the developers with the updated database to keep up with new games. All the data is available offline, so if you are going some place where you will not have an internet connection, you can take CheatBook with you to have a database of cheats available when playing games. You can print cheat codes and walkthroughs of games, or save them individually into text files. If you are connected to the internet, you can share cheat codes with your friends. The search bar allows you to quickly access the CheatBook database and view the desired cheat codes.
The interface has PC Cheats, PC Walk (walkthroughs), Console (cheat codes of console-based games such as X Box 360, PlayStation 3, Sony PSP, Wii and Nintendo DS), Update, Info, News, Links and Exit buttons at the top. The games list and search bar are available on the left side, while detailed descriptions about the selected games appear on the right side. The buttons to Save Cheat, Print Cheat and Send2friend (to send the cheat codes of a game to a friend via email) are available above the description.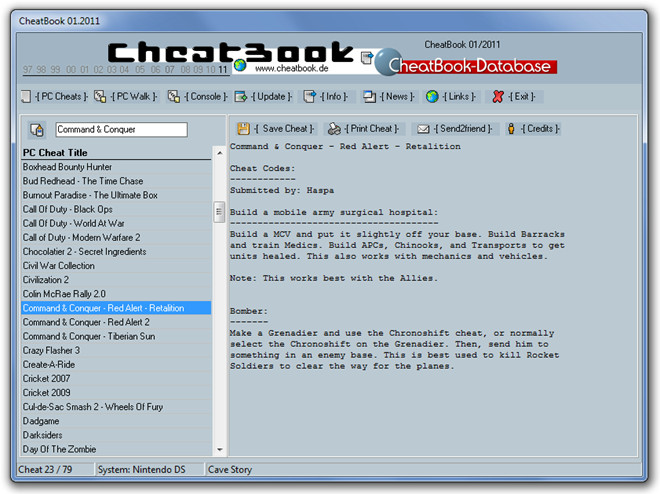 Other than cheats for PC and Console games, this application also offers complete walkthroughs for some selected games, such as Diablo II, Grand Theft Auto, League of Legends etc. You can Save Walk, Print Walk or Send2friend (send to a friend via email) walkthroughs by using the buttons available at the top.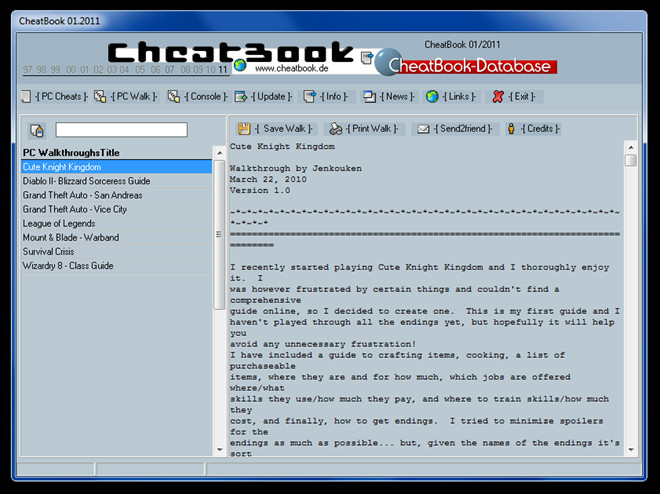 The application can use a little bit of work on its interface and a change of font, or an option to set custom font, is a must. CheatBook works on both 32-bit and 64-bit versions of Windows XP, Windows Vista and Windows 7.