Improve Volume On Galaxy Nexus & Other Android Devices With Volume+
Many Android users, especially those with a Galaxy Nexus, often complain about the agonizingly low volume levels of their devices. If you're among these disgruntled users, then here's a volume enhancement solution that might please you. Meltus, the developer behind the volume enhancement tool Volume+, has released a beta (v1.8.1) of his app that now includes support for Galaxy Nexus and all devices running Android 4.0 Ice Cream Sandwich or higher. While the latest update mainly focuses on enhancing the volume levels on Galaxy Nexus in particular, the developer is optimistic that it should work equally effectively for all other devices, Android OS versions and custom ROMs.
Like its previous versions, the latest version of Volume+ helps you enhance/tweak the sound levels of your device. Be it the speaker volume, Bluetooth volume, headset volume or the in-call volume settings, the app lets you modify each as per requirement. To mention a few of the options that the app offers, you can enable the Virtual Room Effect and a personalized equalizer, along with custom maximum volume level, bass enhancer, echo level, and much more. If you don't want to go through the hassle of tinkering with equalizer bands manually, you can simply choose to one of the many default EQ presets included within the app. The APK of the beta release is available on the developer's website, a link to which is provided at the end of this post.
If you're looking to employ the solution on your Galaxy Nexus (or any device running ICS), all you need to do is install the app, navigate to your device's Settings > Sound > Music Effects, and select Volume+.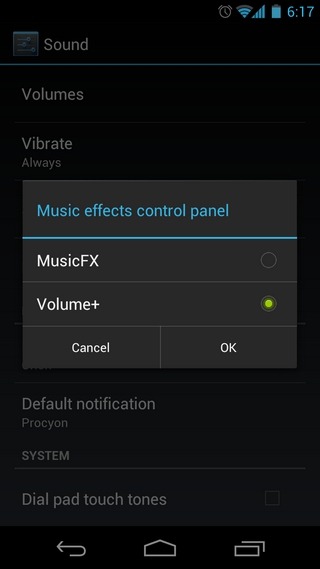 Next, launch the app to start modifying any of the aforementioned aspects of your device's volume. To assist you with the process, the app guides you through a step-by-step tutorial at launch.
The speaker and headset settings of the app have been tested successfully and with satisfactory results on Galaxy Nexus with various equalizer settings and volume levels. Although you might be lured to go overboard with a few settings, it is suggested that you stick with the app's recommended settings.
Volume+ is available in the Google Play Store as a free and $1.96 variant. Shedding said amount for the paid version brings several additional goodies, including 9 equalizer presets, enhanced EQ controls, and plenty more. The app has been specifically designed for devices running Android v2.3.3 (Gingerbread) or higher.
Download Volume+ Free for Android
Download Volume+ Volume Boost for Android (Paid)