Install Android 2.2 Froyo based CyanogenMod 6 on Motorola Milestone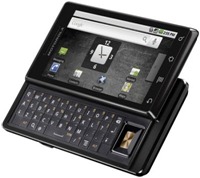 Motorola Milestone , unlike its cousin Motorola Droid, has been getting very little attention in terms of Custom ROMs. There're only a handful available and some still lag in certain basic functionalities. If you're a Milestone owner and are looking to upgrade your Éclair based device to Froyo , keep on reading. CyanogenMod Team , already famous for its excellent custom builds for a wide range of Android devices, offers a stable & much faster Froyo based Custom Android ROM with all features of the phone fully working, along with few aftermarket enhancements.
What you'll need :
Pre-Flash Setup :
Extract Open Recovery 1.46 zip file.
Copy "OpenRecovery" Folder and "Update.Zip" to SD Card. [ Leave the .sbf file. this is the same as vulnerable_recovery used earlier. Just replace the old update.zip]
Copy the already downloaded Custom ROM & Latest Google Apps in SD Card\OpenRecovery\updates
Unzip Disable recovery check by OTA and copy contents to SD Card\OpenRecovery\Scripts
Flash :
Power off your phone.
Power it back on While pressing the 'X' button on the Keyboard. Hold 'X' until you see a Triangle with an Exclamation mark on it, and then let go of 'X'.
Press & Hold the Volume up button and press the camera button. You'll be taken to Android System Recovery <2e>.
Using D-Pad as cursor & golden button in the middle as 'Enter' , Perform a 'Wipe Data/Factory Reset' & 'Wipe Cache Partition'
Once done , apply Sdcard :update.zip.
You will be taken to Motorola Milestone Open Recovery Version 1.46 ( In case of "E:signature verification failed" error, use Disable_recovery_check_by_OTA.zip & procedure here to resolve.)
In the menu, go to "Nandroid" > "Backup All". This will place a backup of your current ROM in a folder called "Nandroid" on your SD Card. Move it to a safe location later.
Perform a wipe data/factory reset followed by wipe wipe cache partition and wipe Dalvik cache.
Goto Apply Update, scroll to 'update———milestone-signed.zip' & apply. [The dashes are numbers.]
Scroll to 'gapps——signed.zip' and Apply. [The dashes are numbers.]
Go back to Main Menu and reboot system.
The first boot will take sometime, let it.
CyanogenMod 6 is now installed on your phone.
CyanogenMod 6 is loaded by overclocked kernel modules that offer you very stable overclock speedsteps of 900MHz, 700MHz, 500MHz & 250MHz. An overclocking application like SetCPU can be used to customize the clocks to your personal needs , define overclock governors & battery levels to get the most out of your phone.