Install Android 2.3.5 Gingerbread Official Update On Galaxy S 4G/Infuse 4G [Guide]
Finally there is some great news for Samsung Galaxy S 4G owners as Android 2.3.5 Gingerbread update for this phone just got released unofficially. The credit for releasing this update for general public goes to SamFirmware. This Android portal is dedicated to releasing official Android firmware/ROMs for Samsung phones that are still to be made public by Samsung or the carrier. This firmware/ROM leak for Samsung Galaxy S 4G and Samsung Infuse 4G updates your phone to Android 2.3.5 Gingerbread integrated with all the changes. Apparently Samsung Galaxy S 4G's Android 2.3.5 Gingerbread update is meant for AT&T subscribers with Infuse 4G dedicated to T-Mobile only. We aren't sure if you will be able to regain root access on your phone after upgrading to this build as there are no testimonies supporting re-root after upgrade. There is no clear or published changelog regarding Android 2.3.5 GB, so you will have to find the differences and fixes, if any, on your own.
Disclaimer: Please follow this guide at your own risk. AddictiveTips will not be liable if your device gets damaged or bricked during the process.
Here is the step by step guide to install official leaked Android 2.3.5 Gingerbread on your Samsung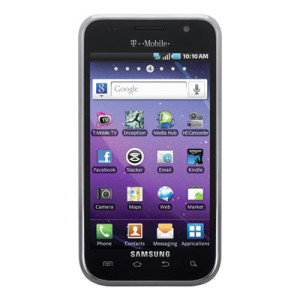 Galaxy S 4G and Infuse 4G via ODIN:
The first step is download and install KIES on your computer, so that you get all the drivers required to make ODIN work.
After you're done with installing KIES, download Android 2.3.5 Gingerbread update build (source page seems have been removed) for Samsung Galaxy S 4G/Infuse 4G as applicable.
Extract the file on your desktop. You will now get a .tar file with MD5 checksum extension.
Now, download ODIN, extract the package and launch the Odin.exe file.
Completely power off your phone and reboot it while holding power button along with volume up/down and home key. If this method to get into Download mode doesn't work for you, then try the one posted here.
You will now get a warning message on your phone, press volume up key to continue.
Once done, connect your phone with your computer via USB cable that came with the phone.
You should now see Com tab going yellow in Odin application window.
Uncheck all options that are checked on ODIN control panel.
Click on PDA tab and select the .tar file you earlier extracted on your desktop.
Once done, press Start and sit back while ODIN flashes the 2.3.5 GB update on your phone.
After the update is complete on your device, turn off your device and disconnect USB.
Now power up your phone again normally and you will , hopefully, be running Android 2.3.5 Gingerbread on your phone. In case you don't really want to go with ODIN and stock firmware, then its better to wait for some custom ROM that is based on this build.