Fix HTC Sensation Unresponsive Screen Issue [DIY] [Guide]
HTC Sensation is the dual core Android beauty that has managed to capture a massive owner-base within months of its initial release. However some HTC Sensation owners have come across a strange screen unresponsive issue that has no software remedy available. The users who got this issue with their Sensation tried everything possible, from ROMs to patched, but it just doesn't go away. Senior XDA Member, Zmfl, is now out with a simple fix that basically tinkers with problematic placement of "a small silver pin". The silver pin is basically phone's "grounding" connection with back cover and it eventually starts losing proper contact with the phone. Once the screen loses connection with back cover, you will notice elevated unresponsiveness on your phone. We don't know if we can place this under the category of "bad engineering / designing", but with so many users getting affected due to this little thing; its "bad" after all!
The fix suggested by Zmfl isn't guaranteed to work on every device. You may develop this unresponsiveness issue on your HTC Sensation due to a non-recommended battery or a phone casing. But for those getting the issue while keeping everything stock, here's the step by step guide to rectify the issue:
Note: This guide is based on direct tinkering with your phone's hardware. There are chances that you might end up with a mess that no one can help you with. Please read through Zmfl's official XDA thread posted here and then embark on the procedure listed below. AddictiveTips won't be responsible if you end up with a bricked device or permanent/non-permanent damage of any kind.
1. The first step is to power off your phone.
2. Now remove the back cover of your HTC Sensation.
3. Once done, locate the silver pin as shown in the picture below: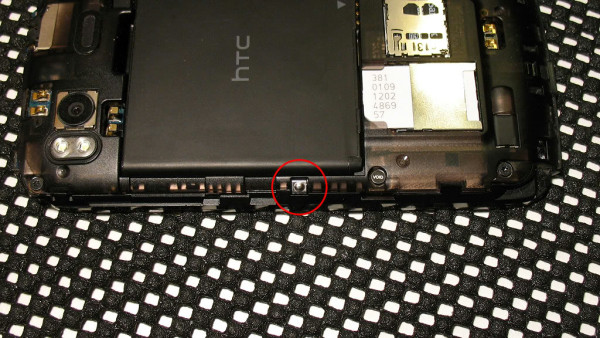 4. After you have located the pin, get a screwdriver with small round tip and carefully and slowly pull the pin upwards. You can use small point tweezers for this task as well.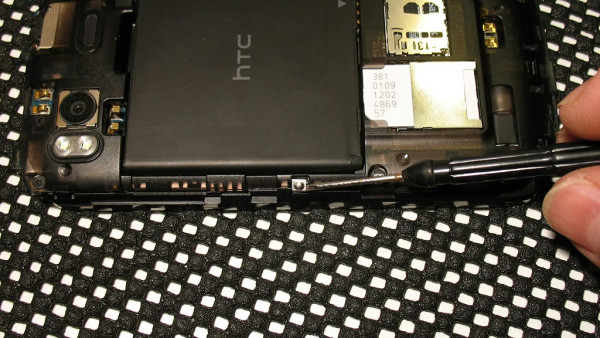 5. Once done, place the battery cover back and boot your phone.
6. You should now see instant change in responsiveness of your HTC Sensation's screen responsiveness.
7. In case it didn't work for you, then completely discharge your phone, remove the battery for 4 to 5 hours, press power button with battery still out and slip in the battery and let it charge the phone without touching the screen. Once the battery has been fully charged, you will notice your screen's responsiveness getting back in action.
In case you are still unable to apply this fix or if it isn't working for you, then please head to the official DIY thread posted here for more information, alternative methods and live developer feedback / support.