Install Gingerbread Based CM7 RC2.2 ROM On HTC Tattoo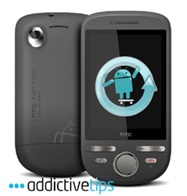 HTC Tattoo – a relatively old phone shipped with Android 1.6 in its stock condition – has not yet given up the chase up the quickly growing Android ladder and just hours ago, Android 2.3 Gingerbread was made available for it in form of CyanogenMod 7 RC2.2 . So incase you have an HTC Tattoo lying around that you just can't let go off, this would be the time to inject it with Gingerbread and give it a new life! Read on for a step by step tutorial on how to install CyanogenMod 7 ROM on your humble little HTC Tattoo.
Disclaimer: Please follow this guide at your own risk. AddictiveTips will not be liable if your device gets damaged or bricked during the process.
Requirements:
Procedure:
Download CM7 RC3 and place it on your SD card.
Download Google Apps and place it on your SD card.
Reboot your phone into recovery.
From 'Mounts and Storage' , format cache, system and data.
Select 'install zip from sd card' to install ROM.
Now select 'install zip from sd card' to install Google Apps.
Format cache, system and data once more.
Reboot your Tattoo.
Congratulations! Gingerbread on your HTC Tattoo, who would have thought the day would come? All thanks to the CyanogenMod team and XDA-Developers forum member KalimochoAz.
For further updates of the release candidate, issues and question, head over to the XDA-Developers forum thread.