Install Nero v3 Custom Gingerbread Themed ROM On Samsung Vibrant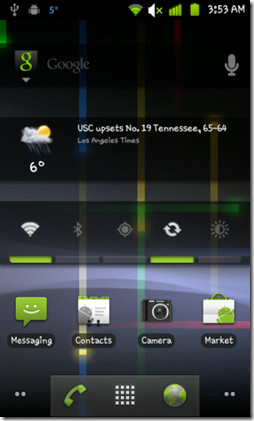 Recently, we have been featuring several Android 2.3 Gingerbread ROMs for some of the current Android devices but in this process, we have been missing out on some very good Android 2.2 FroYo based ROMs. Samsung Vibrant has yet to see any custom Gingerbread build worth installing for everyday use so we're bringing you FroYo based Nero v3 Custom ROM by Team Whiskey of the XDA-Developers forums instead. For a feature list, installation instructions and download link, continue reading after the jump.
Judging from the user anticipation to the release and the response of those who tried it out, Nero v3 seems to be quite a user favorite. In addition to a Gingerbread themed UI, it has quite a long feature list that we're quoting here from the XDA-Developers forum thread:
- JL5 system files
- JL5 kernel w/voodoo 5.0.1 (voodoo now disabled by default, to enable, read instructions below)
- JL5 modem
- 4 lock screen options (stock android, glass, fascinate, epic)
- Disabled battery full notification
- Reboot options added to power menu (reboot, reboot recovery, reboot download mode)
- Nexus S microbes live wallpaper
- Nexus S nexus live wallpaper
- Nexus S car dock application
- Nexus S Power Widget
- Nexus S icons
- Nexus S audio/notification files
- Nexus S Launcher
- Nexus S Wallpapers
- Nexus S Genie Widget
- Nexus S transition animations
- Nexus S settings menu icons
- Heavily modified frameworks (gingerbread)
- Re-added transparent power widget
- Re-added transparent google search widget
- Re-added home desk app
- Many fixed icons and framework-res images
- New Market
- New Titanium Backup
- New Rom Manager
- New Voice Search
- New Maps
- New YouTube
- New Google Voice
- New Gmail
- AOSP mms
- Added some new wallpaper
- Settings now includes 'stay awake while charging' option (thanks Jocelyn)
- Mms compose icon fixed (thanks Jocelyn)
- Spare parts (allows for animation speed tweaks)
- Mounting issues fixed
- Phone number identification fixed
- Init script edits for smoother UI
- Custom boot animation
- Custom shutdown sound (linda)
- Very fast, fast, fast, and very stable....especially with voodoo!
Disclaimer: Please follow this guide at your own risk. AddictiveTips will not be liable if your device gets damaged or bricked during the process.
To install this ROM to your Samsung Vibrant:
Make sure your device is rooted. If it isn't, you can follow our guide on how to root Samsung Vibrant.
You must also have a custom recovery installed. In case it isn't, you can download ROM Manager from the Market and use it to install Clockwork Recovery.
Download the ROM from the link given below and copy it to the root of your SD card.
Switch your phone off and reboot it in recovery.
In case you have any lagfixes installed especially the voodoo lagfix, make sure you disable them:

To disable voodoo lagfix, select 'voodoo lagfix' from the recovery menu, followed by 'disable lagfix'. Then reboot your device from recovery and wait while it disables the lagfix.
Disable any other lagfixes using their respective disable methodsTo backup your existing installation, apps and data, take a nandroid backup.
Once done with disabling all lagfixes, reboot your device into recovery again to continue.

Use the main recovery menu to wipe all data and cache. Then go to the advanced menu and wipe dalvik cache.
Get back to the main recovery menu and select 'install zip from sd card'. Select the ROM that you copied to your SD card in step 2, and wait patiently while it is flashed to your phone.
Once the flashing is done, reboot your phone.
Now that Nero v3 ROM has been flashed to your phone, you can re-enable voodoo lagfix as follows:
Open File Manager on your phone, browse to the folder named 'voodoo' on the root of your SD card and delete the file named 'disable-lagfix' from that folder.
Reboot into Clockwork recovery, select 'voodoo lagfix' followed by 'enable lagfix', and then reboot your device from recovery. Wait patiently while the lagfix is enabled and your phone boots.
(Thanks to seoj for providing the screenshots.)
Download Nero v3 ROM for Samsung Vibrant