Install Official Gingerbread ROM On HTC Desire GSM With Root
Just three days back, we reported on the open availability of the official Android 2.3 Gingerbread ROM for HTC Desire that just got released by HTC for their immensely popular Android device. While anyone can download the ROM from the HTC developer center, HTC has asked only developers and coders to go for it so far, perhaps to get a response from the enthusiasts before they start rolling out the OTA update for everyone. For the enthusiasts amongst us who can't live without root access, we now have even better news! XDA-Developers forum member moni69 has managed to make a recovery flashable version of the official Android Gingerbread ROM that is pre-rooted, deodexed, and will install fine from a custom recovery on any GSM HTC Desire. For more information, download link and installation instructions, continue reading.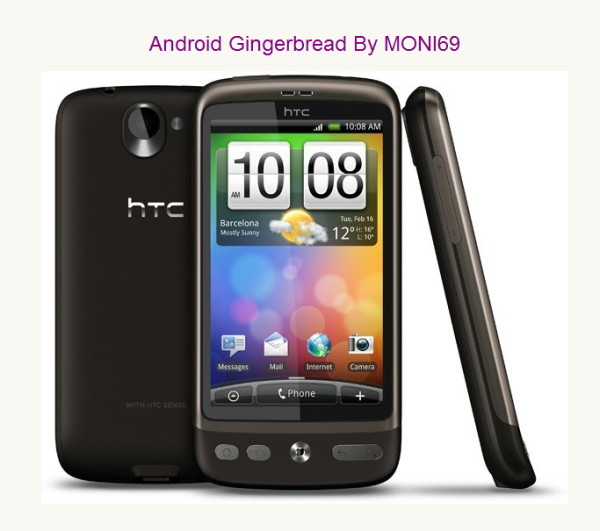 The ROM is based on the official Android 2.3 Gingerbread build 3.14.405.1 by HTC and while the developer has attempted to keep it as close to stock when it comes to the core system and the looks, there have been several useful apps bundled together, in addition to root acces. Being based on the official build by HTC, this ROM is HTC Sense-based.
Update: Whenever HTC Desire is mentioned without any additional information, it refers to the GSM variant and the CDMA version is referred to as Desire C, Desire CDMA or Desire C. Considering this, we omitted mentioning GSM in particular but that raised some questions in the comments. To clear any confusion, this ROM is meant only for the GSM variant of HTC Desire, and will NOT work on the CDMA version. Attempting to install it on the CDMA variant may brick your device.
That said, here are some main features of this official Gingerbread custom ROM for HTC Desire:
Rooted
Superuser app
Busybox
Deodexed /system/app directory
Deodexed /system/framework directory
Deodexed /data/app directory
Nano text editor
Bash command shell
A2sd
Titanium backup
Rom manager
Drocap2_2.13
ES File Explorer 1.6
Google Maps updated to 5.7.0
Facebook 1.6.1
As you can see, all the included goodies are pretty much the essentials for most enthusiasts. The ROM requires you to have root along with ClockworkMod Recovery installed for flashing purposes. You can download the ROM from here, copy it to your SD card, reboot into recovery, perform a wipe data/factory reset, wipe cache and wipe dalvik cache, and then flash it using the 'install zip from sdcard' option. For more information and the detailed change log, please visit the ROM's forum thread at XDA-Developers.