Download Official HTC Desire Android 2.3 Gingerbread Update
Previously we reported that official Android 2.3 Gingerbread is rolling out for unbranded HTC Desire handsets following a strict IMEI validation protocol. Well this proved to be a partially fake story as none of our valuable subscribers were able to get any OTA notification. However we did have a reason to believe at that time because there were almost 3 threads in XDA forums started by senior members all confirming HTC's chat support validating the GB upgrade. But things have changed since then and now the official Android 2.3 Gingerbread is uploaded at official HTC Developer center for developers to experiment their apps, ROMs etc.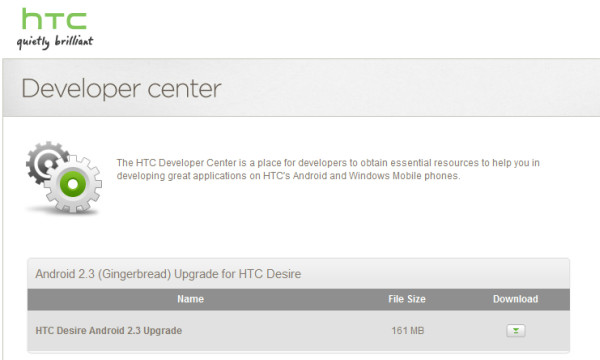 You can now download the official Android 2.3 Gingerbread for HTC Desire from HTC Developer central here and then flash it normally through any available recovery. However we have not been able to test this build and will ask you to stay away if you aren't sure about stability of this build. We believe that developers are hard at work to integrate important components from this official builds in their ROMs. And we are going to wait for one of them rather than going for this one.
Here is what HTC has to say bout this upgrade:
This update is only recommended for expert users who want to experience Android 2.3 and understand the limitations which apply to this update. Due to memory constraints several applications have been removed from this update and we are only offering the ROM upgrade utility (RUU) for you to download. Please note that flashing this ROM will erase your previous customizations, including any messages, emails, contacts, and other personal information. We suggest you take advantage of your Google account and other backup solutions available on the Android Market to ensure you do not lose your personal data. Your SD card will not be erased or modified.

The major changes in this update include:

All customizations, including operator applications, will be removed.
All wallpapers, except the default wallpaper, will be removed and placed online on the HTC Developer website.
Several HTC applications will be removed and placed online on the HTC Developer website.
The official Facebook application will be removed and is downloadable on the Android Market.
After reading through the content in quotes, you can download official Android 2.3 Gingerbread upgrade ROM for HTC Desire from here and the flash it through any available recovery. It is also necessary to understand that you might lose root on your handset after installing this and there is no evidence that available root methods will re-root your device.