Install Rooted Stock Android 2.2 FroYo On HTC Legend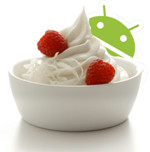 While there have been many custom Android 2.2 FroYo ROMs ported to HTC Legend, several users have been requesting a rooted stock ROM with no additional modifications. The wait is finally over, as AllWin at XDA-Developers forums has released today a stock rooted FroYo ROM for HTC Legend. As ever, we are bringing you the detailed installation instructions on how to get this ROM up and running on your device, so read on after the jump for all the details and our guide.
Custom ROMs are great but at times you just want to stick with the stock experience your device offers. Android is all about options, and this one's built for these users in mind. Other than root, this ROM contains no modifications or additional apps – just Android 2.2 FroYo based on the official WWE 3.15.405.3 release, running the complete stock HTC Sense interface.
The ROM is available in two versions, with only one difference – one has the default HTC boot sounds while in the other one, those have been removed. This build is intended for and has been tested on HTC Legend only and is not intended for other phones.
Now let's get it up and running on our phones.
Disclaimer: Please follow this guide at your own risk. AddictiveTips will not be liable if your device gets damaged or bricked during the process.
Requirements:
Procedure:
Download the ROM from the link given above and copy it to your phone's SD card.
Reboot your phone into recovery.
To be on the safe side, perform a backup.
Wipe date/factory reset.
Wipe cache.
From 'advanced', wipe dalvik cache.
From main recovery menu, 'install zip from sdcard' > 'choose zip from sdcard' and select the ROM's file.
Wait while the ROM is flashed, and then reboot your phone.
You should have the rooted stock Android 2.2 Froyo ROM up and running on your HTC Legend.
Radio Installation (Optional):
The developer has removed the new radio from the ROM for maximum compatibility with those running other HBoot versions that may or may not be compatible with this radio. Therefore, fla flashing this ROM will keep the radio from your previous ROM. However, if you want to get this radio too, it has been made available separately.
Disclaimer: Flashing a custom radio that isn't compatible with your hboot/bootloader WILL brick your device, so be careful with that and flash it only if you are absolutely sure what you're doing.
You can download the 7.13.35.05 Radio and then follow the same steps as described above for the ROM installation, except for the wipe data/factory reset part (step 4).