Jailbreak iOS 5 On Windows With Sn0wBreeze 2.8 [Developers Only]
Finally there is some great news for iOS developers who prefer Sn0wbreeze Jailbreak tool over other options available. iH8sn0w, developer of Sn0wbreeze, has recently released an updated version of Sn0wbreeze that comes integrated with iOS 5 Beta 1 kernel patches from MuscleNerd. Like the Redsn0w jailbreak for iOS 5, this version for Sn0wbreeze is also only meant for developers, as option to hacktivate isn't integrated with this Sn0wbreeze build. Although Sn0wbreeze won't be updating your device's baseband, but users relying on carrier unlock should stay away. This is a tethered jailbreak for iOS 5 Beta 1 and you will need to rerun the exploit every time you decide to reboot your device.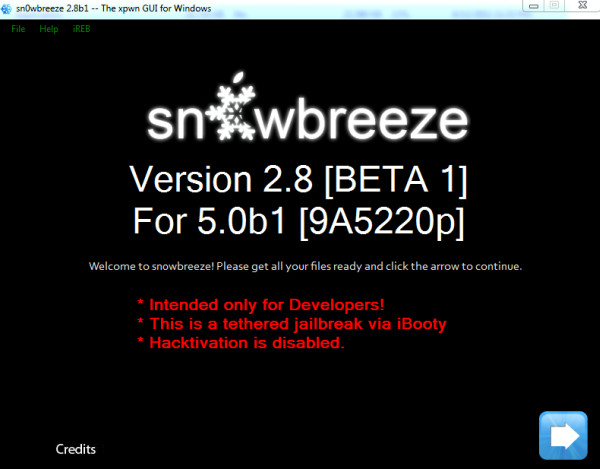 This Sn0wbreeze jailbreak for iOS 5 Beta 1 supports iPhone 3GS, iPhone 4 GSM / CDMA, iPad 1st Generation and iPod Touch 3G / 4G. For those who don't know, Sn0wbreeze jailbreaks iOS based devices through custom IPSW creation method on Windows OS and can be termed as "Pawnage Tool" for Windows. In case you want to jailbreak iOS 5 Beta 1 on Mac, then you can use Redsn0w for this purpose.
Here is the tweet from iH8sn0w regarding Sn0wbreeze 2.8 Beta 1 to jailbreak iOS 5.1 Beta 1: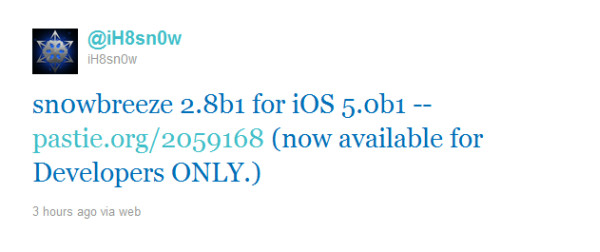 And here are the release notes:
sn0wbreeze v2.8 BETA 1 Release Notes:
--------------------------------------
* Supports iOS 5.0 BETA 1 (9A5220p)
* Supports the following Devices:

- iPhone 3GS
- iPhone 4 [GSM]
- iPhone 4 [CDMA]
- iPod Touch 3G
- iPod Touch 4
- iPad 1G
--------------------------------------
* Props to @MuscleNerd for the kernel patches. :)
--------------------------------------
* THIS IS INTENDED FOR DEVELOPERS ONLY!!!
* This sn0wbreeze does NOT add afc2 or Hacktivate to prevent users from removing the UDID check after jailbreak.
* UNLOCKERS SHOULD STAY AWAY!!!
* This is a /TETHERED/ jailbreak via iBooty.
--------------------------------------
Download Sn0wBreeze Version 2.8 Beta from ih8sn0w.com and then follow onscreen instructions to jailbreak iOS 5. Please note that this jailbreak is strictly intended for iOS app developers as you will need a UDID code to activate your device after jailbreak.