Make Your Own Android Avatar With Androidify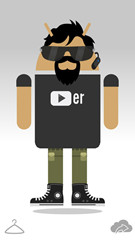 Androidify – Google's latest Android application – lets you create your own custom image, tuned to your own self, yet still looking like an Android. Read on to personalize your Android in an entirely new, fun way!
Ever wondered what you would look like if you were an Android? Want your own custom Android avatar? Go ahead, represent yourself the Android way! Better yet, make avatars for all your friends, set it as their contact picture, or picture what your social circle would look like if we were invented by Google!
What you'll need:
An Android device with Éclair or later.
Androidify app from the Android Market.
How To:
Download and install the app.
Run the application. It comes with a video based tutorial to quickly help you learn how to use the application.
Once done, you are presented with what we can term as the friendly green stock Android avatar.
From there onwards, its pretty straight forward. Touch and hold the legs, arms, torso and head to elongate/shorten it as per your liking.
Touch and hold the Android face and move your finger around to make it look like you or anyone you want.
To get your avatar a shirt, press the 'hanger' icon on the lower left corner of the screen and select from a wardrobe of many shirts covering a vast category of wear from formal and informal to sport.
Similarly tapping on the legs would give you a choice from pretty much every category of legwear.
Tapping on the head would give you a choice of many hair styles. Choose from the one that best suits your requirement.
For the eyes, you can choose from a wide range of spectacle frames to sun shades.
Tap on the feet to get shoes of your choice ranging from sneakers to heels.
No fashion outlook is complete without accessorizing, Androidify takes care of this by providing you a wide variety of accessories including but not limited to jewelry, watches, hair clips, Bluetooth device and even a baby bag for all us parents.
Once you're done modifying your avatar, you can press menu to have an option to 'save' it to your device or send it to the cloud, share it on Facebook, Twitter, Email, MMS and even DropBox. These sharing options are only limited by whatever is installed on your specific device.
What are you waiting for? Go get Androidify and start populating the planet with Androids!