Mirage: Customizable Pattern-Based Lock Screen Replacement For Android
Combining the functionality of various lock screen replacement apps and pattern lock, Mirage is a highly customizable lock screen replacement app for Android. The app supports setting individual pattern locks for installed launchers, individual apps and multiple custom app groups. No need to waste any more time by going through tedious navigation to access your favorite apps or being constantly worried that your personal content might fall into the wrong hands. Other salient features of Mirage include personalizing the app's lock screen interface via various downloadable skins/themes, creating multiple customizable app drawers (each sporting shortcuts to apps of your choice), setting speed dial for contacts of your choice, and most importantly, a strong security mechanism to protect your Android from unauthorized access.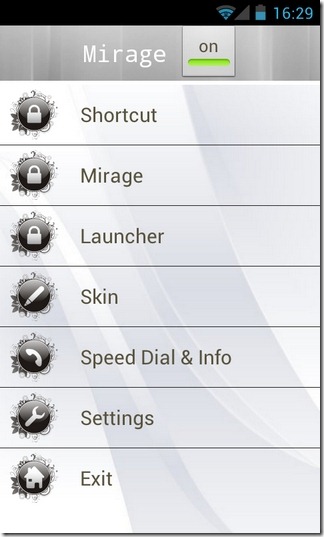 Though the app's interface currently seems a little rough around the edges, its features work exactly as advertised. The main interface of Mirage sports the all-important toggle to switch the app's service on/off. In all, the app supports setting separate pattern-based lock screens in the following three ways:
1. Shortcut:
Set individual pattern locks for as many as five different apps that you wish to access upon screen unlock.
2. Mirage:
Define individual pattern locks for as many as three different app drawers containing apps of your choice. There is no limitation on the number of apps that can be added to a specific app drawer, and unlocking the screen via specified pattern will take you the associated app drawer without letting you access any other facets of the device.
3. Launcher:
Set a pattern to unlock straight to the launcher of choice. You have the option to set individual patterns for as many as three different homescreen replacement apps.
In addition to the aforementioned unlocking categories, the app also adds a Lost and Found button to the lockscreen. Using the Speed dial & Info option on the app's main interface, you can add a couple of your contact numbers along with a custom message that will appear when said Lost & Found button is tapped. In this way, if you happen to lose your device and luck lands it into the hands of an honest person, they'll know how to contact you. That's not all; there is also the option of setting a custom phone number under an Emergency button on the lock screen.
Mirage also sports a built-in theme library from where you can preview, download and apply themes to its interface. The Settings option on the app's main screen comprises a solitary option that allows you to enable/disable vibration after screen unlock.
All in all, Mirage is an easy-to-use, productive, secure and customizable lockscreen enhancement app for Android that can prove to be a handy tool particularly for the security-conscious Android users among us.