Official FOX Sports Rugby World Cup App Hits The Android Market
While I might not be a regular Rugby follower, when the World Cup's around, I can't afford to miss out on the action. It's that time again when the best Rugby teams across the globe gather to lock horns in a attempt to claim their stake at the most coveted Rugby award of them all: The Rugby World Cup. The official Rugby World Cup 2011 just kicked off today with the hosts (New Zealand) scoring a win over Tonga. If you're looking to keep up with Rugby World Cup news & scores, then you must try out the official FOX Sports Rugby World Cup app that (as of now) has been offered to Android users only. Released by one of the world's leading sports news services, FOX Sports, the app could prove to be your premiere source of all the latest news, scores, fixtures, commentary, World Cup fantasy and detailed stats encompassing the entire event. Read on for details to go through the app's complete feature list.
If you somehow missed out on the official Rugby World Cup 2011 client for your Android or if you wish to get comprehensive coverage of one of the most prestigious sporting events through one of the pioneering sports news service, then you do not need to look any further than this app. Dedicated exclusively to said event, FOX Sports Rugby World Cup features detailed coverage of all the 48 scheduled matches and will bring you up to the minute information regarding each. As evident from various screenshots, the app sports a neatly designed interface that makes navigation to its different sections a breeze.
You can have all your Rugby World Cup's live news, match summaries, scores, stats, tables/pools, video replays, social stream and play-by-play text commentary in one place. The app will feature video highlights capturing every single move from the playing arena as the World Cup progresses.
Swipe your way across various game fixtures and tap any game to check out detailed previews (for upcoming matches) and reviews (for recently concluded matches). Keep in touch with live social streams to get an altogether different perspective of players, coaches and analysts about each and every game in the tournament. Enter the RWC Fantasy to manage your Fox Sports Fantasy Rugby World Cup 2011 team (requires login).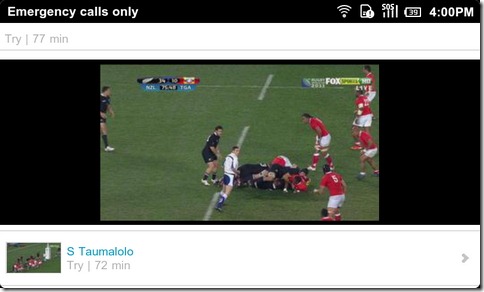 The official FOX Sports Rugby World Cup 2011 app is available on the Android Market free of cost.
Download FOX Sports Rugby World Cup for Android