Download Cool3D HTC Sense 3.5 ROM For HTC Desire
HTC Sense 3.5 is perhaps the hottest UI nowadays which has managed to grab attention of many Androiders. However Sense 3.5 might come officially to some HTC android devices while others might not be that lucky. For those who don't know, HTC Sense 3.5 is the new official continuum of HTC Sense 3.0 and has been juiced out from HTC Bliss official ROM dump. This new Sense UI carries the same lock circle along with plenty of useful widgets and of course; eye candy. The most attractive feature of Sense 3.5 is perhaps integration of portrait screen mode in homescreen and app drawer.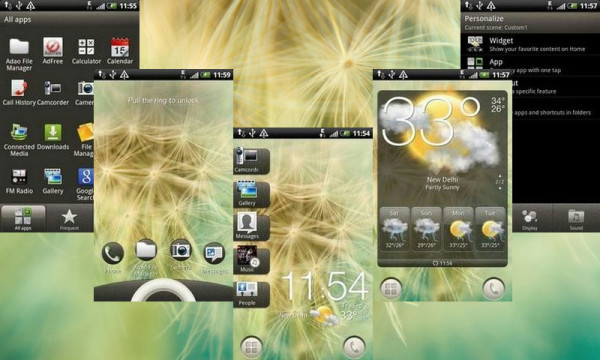 Currently developers are in the process of cooking new ROMs and updating existing ones to include Sense 3.5. Nearly all high-tier Android devices from HTC have received the port and HTC Desire isn't an exception. Coolexe, XDA's recognized developer, has managed to brew up a ROM that carries Sense 3.5 and is named as Cool3D Bliss.
Like all other initial ports, this ROM is also in alpha stages with Bluetooth, Video Recording, LockScreen, Skin Preview and FM radio not working. However the developer is dedicated to the project and we can expect a fully functional HTC Bliss based Sense 3.5 ROM to emerge soon.
The ROM is Android 2.3.4 Gingerbread with following features:
Sense 3.5 UI
JUWE11 RAM Tweaks
Optimized Framework For Speed, Stability And Smoothness
All HTC Themes, Widgets and Addons on board and functioning
Host File SymLink To Data Partition
Zipaligned
Pre-Rooted
In order to install this HTC Sense 3.5 ROM on your Desire, you will need to have the latest Radio and RIL pre-installed. You can download the Android 2.3.4 Cool3D Bliss ROM for HTC Desire and then follow the instructions provided in official ROM thread to install the ROM. Please note that this is a very initial port and isn't really meant for novices. We will advise you to keep checking back the XDA thread linked before for newer and fixed ROM versions.