Palmary Weather Shows Accurate Weather Information On Charts [Android]
One of the most significant aspects of weather apps for smartphones is their aesthetically appealing interface. Palmary Weather is another very good example of a wonderfully designed weather app for Android. The app keeps you updated about the weather forecast of as many as 8000 different destinations worldwide and supports detailed weather charts along with many other useful features.
Palmary Weather retrieves weather forecast info from the Foreca weather service. Once installed, just launch Palmary Weather on your device and get detailed weather forecast for locations from all across the globe. Just search and add a location of your choice by tapping Menu > Add location. Searching and adding new locations in Palmary Weather is super quick. From the same menu, you can also check weather for your current location, sort locations and switch between different views (current forecast & 10-day forecast) for all the locations displayed on the list.
To find detailed weather information about a location, simply tap on its name from the list and get all the pertaining forecast details on your screen. You can check values for temperature, humidity, barometer, visibility, wind speed and the time on which the weather was last updated. There is an option to update weather forecast manually as well.
Apart from checking current weather conditions for a specific location, you can also view weather forecast for the next 24 hours or even for the next 10 days to plan your journeys in a better way. To switch between various locations, simply swipe left/right on your screen. The weather icons at the bottom of the app's home screen display daily forecast info. Tapping on one of these icons displays hourly weather details for the selected day.
Palmary Weather comes with a feature of displaying forecast charts for various weather-related parameters such as barometric pressure, temperature, probability of precipitation, precipitation, wind and humidity. To access this feature, simply tap Menu and select Charts.
That's not all. The app offers you 3 different customizable home screen widgets that bring you the latest forecast info for your chosen location through a slideshow view (OS 2.1 or higher). You can toggle weather auto-update on/off for widgets and specify update timings/days too. To add Palmary Widget(s), long press on a vacant area on the home screen, tap Widgets and select a Palmary Weather widget of preferred size.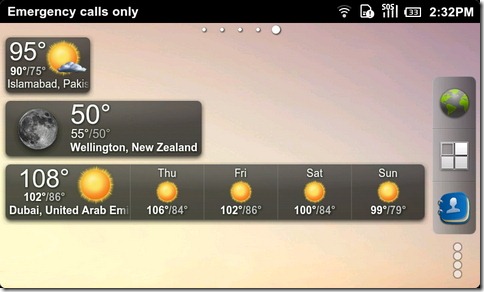 The app resembles recently reviewed Gismeteo, but does have a few added features of its own. Palmary Weather Pro is the paid version of said app and supports quite a few more locations, widgets and features such as airport delays, weather alerts (notifications), 9 different weather maps and lots more at a price of about $3.0.
Download Palmary Weather for Android (Free)
Download Palmary Weather Pro for Android (Paid)