Perform Actions Or Open Apps By Dialing On Your iPhone [Cydia Tweak]
We have been covering some tweaks from Cydia store that help you perform actions or open apps with the help of gestures. There is now a similar Cydia tweak that iolate developed recently known as AppDialer. Android users will find it easy to play with this tweak as it works with the help of Android- esque dialer-pad and pattern-pad.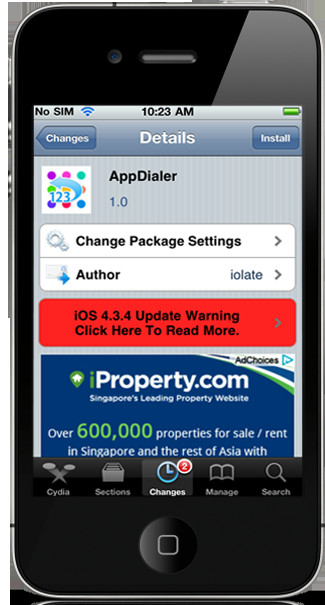 Once you have installed AppDialer from the Bigboss repo, you will find it in the settings where you can assign patterns and numbers to different actions or apps. The first option in the settings is the activation methods. This will help you select the method to activate AppDialer. There are lots of methods listed in there, such as holding the headset button for a short period of time, holding the home button, single or double press the home button and some involve swiping on the status bar. Many methods have a default action assigned to them in iPhone and thus the best method that I prefer which won't interfere with other actions is shaking your device.
After selecting your activation method, you can set patterns and assign dial codes to specific actions or apps. The option to this is available down the list in AppDialer settings. The turning ON and OFF of WiFi and Bluetooth are on the home screen of the actions tab but you can select an action or app from the activator events. You can set as many patterns and dial numbers as you want. The only restriction is the number of actions and apps available on your device. If you want the dial-pad to appear instead of the pattern-pad,  just switch off the pattern mode in the settings.
Here are some screen shots from inside the settings of AppDialer.
This video below will help you to experience visually how this cydia tweak works.