PhotoTimer – Windows Phone Mango Camera App With Capture Delay (Timer)
Windows Phone 7's latest update Mango and its promised 500 new features have become quite famous even though the update is just in its beta testing phase. For now, only developers have access to Mango (officially, at least, but you can get a taste of the Mango pie too using our guide to update to Mango on a locked device). According to rumors that we hope are true, Mango's release is just days away. And even before the release, there's already a healthy amount of Mango apps in the Marketplace. PhotoTimer is one such Mango app which brings timer/ timed capture options to the stock WP7 camera app.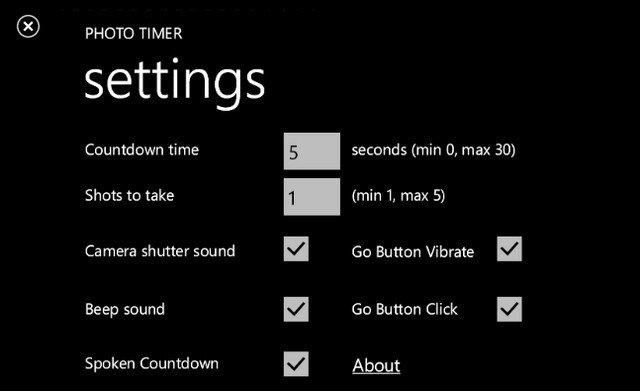 Scheduler
PhotoTimer is an app which can prove really useful for phones like the HTC HD7 which come with a built-in camera stand or any other phone focused on photography. The functionality is simple. You set a specific time period after which the camera automatically snaps a picture. The timer can be set between 1 to 30 seconds.
Multiple Shots
The feature that makes this app even more useful is the multiple shots option. You can take up to 5 shots in a single run. This ensures that your perfect moment isn't destroyed by a blurry or out of focus picture. You can choose from among the 5 shot photos and keep the best one saved.
Spoken Countdown
Don't you just hate it when you set a camera to auto-timer and then keep wondering when exactly it is going to capture your photo? PhotoTimer has the perfect solution for that. Its countdown is accompanied by loud beeps which will keep you informed on how many seconds are left till the camera shoots.
Download PhotoTimer For Windows Phone