How To: Root LG Optimus GT 540 Android Phone
Looking for a way to root your LG Optimus GT540 Android phone? Look no further! The phone has been successfully rooted, and we are happy to bring you the detailed instructions that are easy enough for even absolute beginners to follow. All credit for rooting this device goes to Paul O'Brien of MoDaCo, who has shared this method with the community.
With more and more people becoming Android power users, the need to get root access to all the Android devices out there is becoming increasingly high. Luckily, due to Android's open nature and a vibrant developer community, most devices get rooted shortly after arriving in the market, and LG Optimus GT is no exception. Though unlike most devices, the method of getting root access on this phone is so incredibly easy, a child can do it in under a minute by just following these instructions. It makes one feel LG intentionally built this method into the phone for all their customers to use at will, though that isn't likely the case. While the method does involve a feature built into the phone to get root access, it isn't made public information by LG and may even require a password, which we are providing in the method below of course.
Disclaimer: Please follow any guides for rooting, unlocking or otherwise hacking your devices entirely at your own risk. AddictiveTips won't be responsible for any permanent or non permanent damage that might occur to your device due to this process.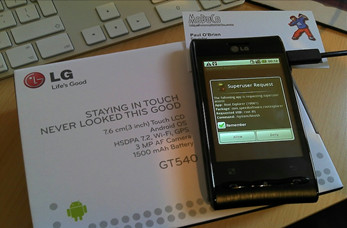 Here is the step by step guide on how to root the LG Optimus GT 540:
Firstly you will need to turn you device on and click on the Phone Dialer.
On the dialer, tap in 3845#*540#
Now select Module Test > Stability Test > Enable Root Permission.
If a password prompt appears enter :SWIFT::GT540: exactly as it is.
This is it! Now you have root access available to you after you reboot your device.
One more step: To be able to utilize the root access with other apps, you must also install the SuperUser app from Android Market, or grab the APK for direct installation from XDA-Developers forums.
In case you are installing the SuperUser app using the APK from the XDA-Developers forum link (in case the Market version doesn't work for your phone for some reason), select the version with 'cd' in the name if your phone has Android 1.5 Cupcake or 1.6 Donut, or the one with 'ef' in the name if it is Android 2.0 or 2.1 Eclair, or 2.2 Froyo.
With the phone rooted and SuperUser installed, you now have full root access to your LG Optimus GT 540 and are ready to run all the apps that require root access, or install a custom recovery to your phone and get into all sorts of customizations and trying out different ROMs.