Sandisk 32 GB Card: Compatible On Nexus One Running Android 2.2 Froyo
Got yourself a Google Nexus One and not happy with the slow performance of your SD card? We've got great news for Nexus One owners who have upgraded their devices to Android 2.2 Froyo! SanDisk's 32 GB microSD card is fully compatible with the Nexus One running Froyo, and works without a glitch at optimal speed. Read on for further details.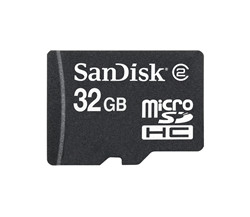 MicroSD card technology is a serious life-saver for people who love to carry their whole virtual world with them, and with increasing capacities, you have the liberty to make more and more of your data portable, available right from your smartphone.
Many users have had issues with slow speed and performance on many SD cards when using them with their Android phones for storage purposes. The issue seems to have been resolved with Android 2.2 Froyo, and now newer cards are fully compatible with it, allowing storage access at great speed.
Now you can download, port and save all your apps, songs, videos etc easily on your phone as we have got confirmed news that Sandisk 32 GB MicroSD card is completely compatible and works like a charm.
This was pretty much expected after Sandisk were continuously expanding their microSD capacities. Last time when 16 GB came in, it wasn't much lauded because there were extensive complaints of dropping down device processing speeds.
After the introduction of JIT compiler, it is evident that integrating huge memory cards in Android 2.2 Froyo geared devices will not cause massive speed-downs of device's processing capability. It will also be worth noticing if the same 32 GB card is fully compatible to other Android 2.2 powered devices.