Scripted: Download & Read Any Movie's Script On Your iPad
For all the movie buffs out there, Scripted is just the app you have been looking for. If you are one of those people who like to discuss what exactly was the meaning of the last dialog in "Shutter Island", or what were Gandalf's words upon returning to the Fellowship in Lord of the Rings, then there's no better to place to look for answers than the actual script of those movies. You can try and search for movie scripts on the internet, but it is sure to prove to be a rather complicated endeavour. If you own an iPad, however, you can simply download Scripted, and dive in to the fascinating world of cinema and movies. Scripted lists screenplays of almost all famous movies, and you can read those scripts online, as well as offline after you have downloaded them. This iOS app's database is constantly growing, and it is the ultimate place to boost your Hollywood knowledge.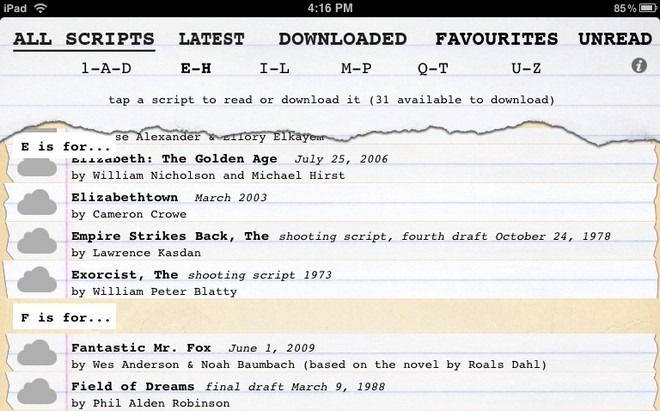 It would be far from the truth saying that you will find scripts of all movies ever made in Hollywood within Scripted, but there are screenplays for all the popular movies, which should prove to be good enough for most people. There is no search button in Scripted, but you can easily look for your desired title using the alphabetical arrangement employed by the app. There is a separate section for Latest movies, which is updated pretty regularly. Against every movie title, you will find its release date and the name of the director.
When you tap a movie's name, a dedicated menu for it pops up, listing the options to download the script for it, view its IMDb or Wikipedia page and the Share button. Using the sharing options on offer, you can publish any movie's details to your social network, or send them to a friend via email. When you download the script to your iPad, you can read it at any time in the app's built-in reader. The reader supports grid view, and you can navigate through the pages via the bottom bar as well. The app's interface is pretty unique and gives users the feeling as if they are reaching the actual handwritten copy of a movie's screenplay.
Scripted might not be a complete repository for movie scripts, but it is better than nothing, and you can get it for free by going to the App Store link provided below.