Set Your Jailbroken iPhone To Auto-Launch Any App On Connecting/Disconnecting Headphones
Activator is one of the most useful Cydia tweaks out there. More than a mere tweak, it is a platform of sorts, based on which many other iOS tweaks are developed, like the recently covered BrightSlide (for controlling screen brightness & LED flash) and SwipeBack, the tweak for going back one step in any app. So, it certainly is an important news when Activator gets an update. The update for the gesture control powerhouse becomes even more significant when new "activations" are added to it. This is exactly what has happened recently, and now Activator is even more useful than before. On the surface, the new gesture might not appear to be something groundbreaking, but it can prove to be really handy in a number of situations. The gestures we are talking about are the two new ones added to the Wired headset menus, and now it has become possible to launch any app when you connect/ disconnect earphones from your iPhone, iPad or iPod touch.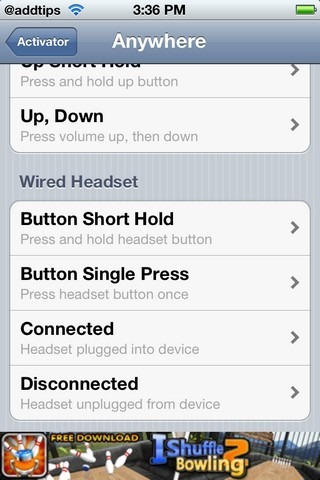 To take full advantage of this new functionality, make sure that you have the latest version of Activator. If that is the case, go to the stock Settings app and look for the Activator menu. In the Activator settings, the last section belongs to Wired Headset. The first two options have been present for some time now, but it's the last two we are interested in. Tap on either Connected or Disconnected, and you will be able to choose any action or app which will be launched when the earphone is plugged in or out.
Apart from the usual app list, these gestures have specific actions listed against them as well, most of them dealing with the playback of music or controls for the stock Music app. The tweak works pretty smoothly, even when we set the launching of third-party apps as the respective actions. So, if you are using Activator, and your iPhone spends a considerable portion of the day playing music, then you will surely love this new Activator update. There are many scenarios in which this new feature of Activator can come in handy, and you just have to get your hands on it if you use a third-party app to play most of your music, rather than the stock Music app. We would have loved to point out any shortcoming in the new feature, but there is none, and you can associate the new gesture with any action you want.