CSV Reader: Portable Application For Reading & Sorting CSV Files
The CSV or Comma Separate Value file extension are files containing numbers and text in plain-text form. A CSV file is used to store any number of records in the form of lists, separated by lines in a form of table with each line consisting of several fields. Usually, every record includes the same sequence of fields. Most of the applications used to create records, such as Microsoft Excel, allow you to save the document as a CSV file as well, which allows users to open the same file in multiple programs without having to change the format. However, an application like Microsoft Excel is pretty heavy on system resources, not to mention costly, and using it just to view a simple table would consume a lot of memory. If you're looking for a simple application to just view CSV files, give CSV Reader, a portable application for Windows, a try. Read on to find out more about CSV Reader after the jump.
CSV Reader is a lightweight application that allows you to view CSV files. The application also enables users to sort the lists according to different headings, and group similar items together. It allows you to view the document in two viewing modes, List and Grid. In the List View, each row is automatically numbered, which allows users to easily go through the list.
CSV Reader allows the users to easily sort the listed items according to each heading included in the file. For instance, in this file, if I want to view the listed accounts with the websites using the same account grouped together, I will just click the related heading, Heading 1 in this case, and all items will be sorted according to the new criteria. Each group will be titled with its corresponding name extracted from the unique text used for sorting.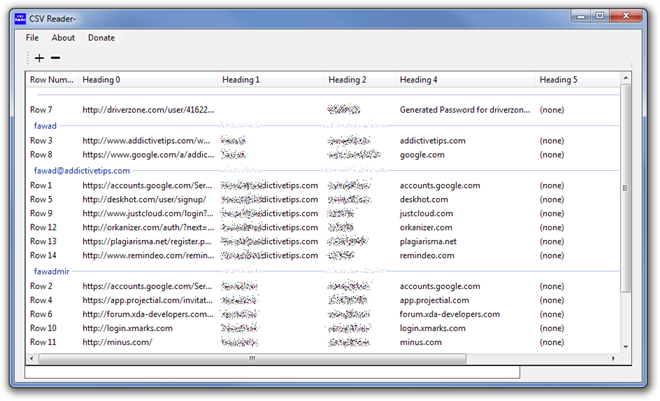 The second view, Grid View, creates a table and lists each item inside of a grid. The grids can also be sorted according to each heading by clicking the Column title at the top.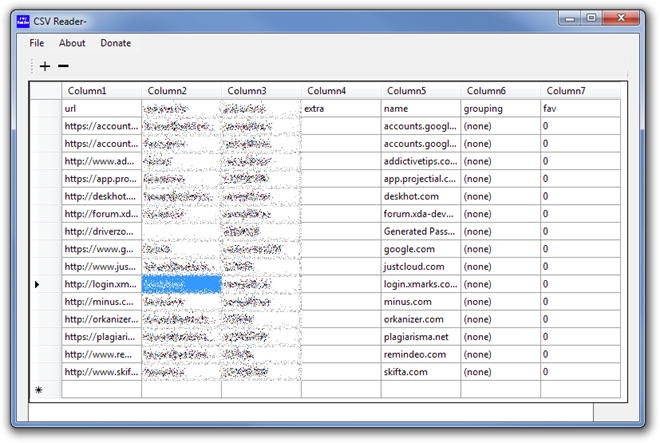 In Grid View, you can also edit the fields by either triple-clicking them or performing two slow clicks. The information will not be saved in the original file and can only be used for sorting the file for the current session.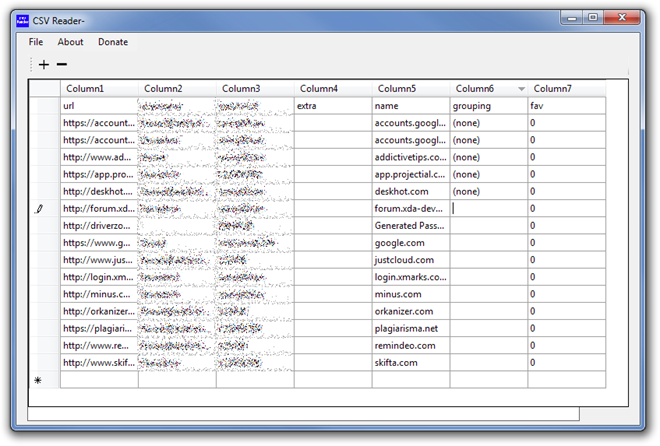 The application works on both 32-bit and 64-bit versions of Windows XP, Windows Vista, Windows 7 and Windows 8.