Set Your Favorite Web Content As Android Homescreen Background
There're tone of widgets and applications for you to keep on your homescreen which keep you updated about whatever you wish. Then again, there is the background, which is pretty static in terms of information. The Live Wallpapers have brought in excellent eye candy but except for that, some would say they're not utilizing a lot of pixels.
XDA Developer _miha_ has actually come up with a pretty neat way of utilizing all your Android homescreen by enabling it to display your favorite photo stream, any of the popular webcam feeds or simply a snapshot of your favorite website and much more. The developer has been extremely enthusiastic over the development of the application and has been rolling out updates on weekly basis adding more features and functionality. For a list of features and how to use them, read on:
Download and install WebLiveWallpaper BETA from the Android Market.
Goto your App Drawer and open up the application. You are presented with 4 Tabs, each of which has options to help you set your wallpaper from your preferences.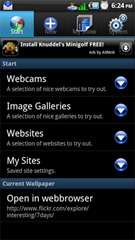 Webcams: The internet has many free webcam feeds available for viewing, few of which are given in the options box. Most of them are pretty enchanting, depending obviously on the time zone, if you are getting a dark black screen, you're probably looking over an ocean in the night time, try out another feed.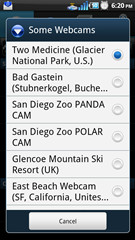 Once you choose the webcam feed, a sample feed will be shown to you along with the option of setting it as your wallpaper, once done, select 'Live Wallpaper Selection' and choose WebLive Wallpaper as your choice. The feed will be displayed over your home screen.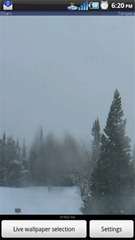 Image Galleries: My personal favorite, gives you a list of professional photo streams available over the internet. This option is best suited for those who need quality wallpapers on the home screen but are too lazy to search them out on the internet. Once the stream is chosen, it will show you a quick sample of the wallpaper which can be set on your homescreen in the same way explained earlier.
New: The New tab allows you to customize your websites that can be displayed instead of a wallpaper. While you would still need a browser to interact with the websites, its useful following up on a stream such as your Twitter feed or your Facebook home page. Yes, I know they are password protected sites, for all these sites the application has an optional login and password setting through which it can log on, extract the image and display it on your home screen with a controllable refresh rate.
For a better display of the content, you can choose to choose to scale the image, use a website snapshot, define website scaling, even horizontal or vertical scaling, which can help you locate exactly which part of the website you want to zoom in on and how much. It takes a little hit and trial but once you have it figured, the idea is brilliant.
My Show: This helps you create your own custom cycle of sources to display on the homescreen, it allows you to look at Webcams, Image galleries, your own custom sites in a neat little cycle to keep you updated on everything that interests you.
System: The system tab provides you with further options such as WiFi only data retrieval for those of us with a budgeted internet plan, a refresh on touch option, the option to see a progress bar while the next image loads and most useful of all, save the passing stream of images on your SD card incase you want to collect the image stream being posted on the home screen.
WebLiveWallpaper BETA is a wonderful application, almost revolutionizing the ways in which the homescreen can be utilized. As stated before, the application is under constant development with frequent updates being rolled out.
To keep up with the development or to report any issues, go to the forum thread at XDA Developers.