Shoot, View & Share Panoramic Photos With DMD Panorama For iPhone
Jailbroken iOS users get the awesome option of enabling the panorama mode within the stock Camera app in iPhone, iPad and iPod touch (as covered here). It is cool to be able to shoot photos in panorama mode without having to install any third-party app, but if you don't have access to the Cydia store, you have to rely on apps to snap panoramas. There are many apps available in the App Store which let you do that, but DMD Panorama has a certain advantage over them, as not only is it a camera replacement app, but also has a network of its own, where you can discover beautiful panorama images and share them over your social network. The app has other really handy sharing options as well, and you can know all about them by reading on.
DMD Panorama is not laid out to be too confusing for a casual user, and thus, starts off with the main camera screen. If you want help in determining the app's working, just tap the "i" button in the bottom right corner of the camera screen. To start creating a panorama, you have to hold your iDevice vertically, i.e., in portrait mode. Point the camera to the spot from where you want to begin the panorama. Now, keeping the camera vertical, hit the Start button. The first image of the panorama will be snapped, as indicated by a flash on the screen, and you have to slowly move the camera in the desired direction. The next photo will be snapped when the Yin Yang symbols on the top of the camera previewed screen come together. Sensing the shift in the device's direction, the symbols will move accordingly to let you snap a panorama which does not have any broken areas. Once you are satisfied that all the details have been captured, hit the Finish button.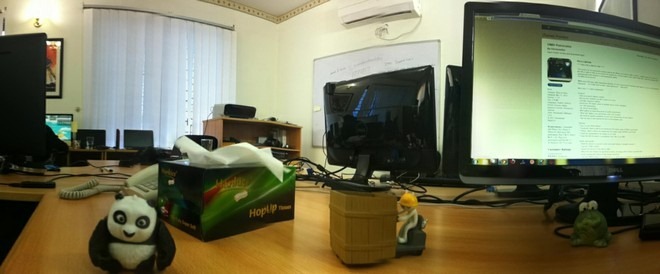 The panorama images created using DMD Panorama can be merely saved to the camera roll and the app's cloud service (needs an account), or there is the option to share the photo via email, Facebook or Twitter. Before doing so, users can also provide a location, name and description for the image. DMD Panorama has a Public Gallery of its own, where popular shares by other users can be viewed. If you have an app-specific account, it becomes easy to add any image to Favorites and share it with others.
DMD Panorama just went free for a limited time, and you can grab it at the download link given below.