SimpleDrop: Stream Media & Sync Data, Contacts Between Desktop, iPhone & Android
iOS users have always wanted to get the option to sync their device data wirelessly with their desktop system. With iOS 5, this wish finally came true, but what if you are on an older version of iOS or own an iOS 5-unsupported device? That's where SimpleDrop comes in. This amazing app allows you to send and receive data (music, videos, photos, files and contacts) to/from its desktop client, given that the PC and iDevice are on the same Wi-Fi network. That's not all. The app even lets you sync data between your desktop system and Android devices, stream media from one device to another and even sync data directly between and Android and iOS device.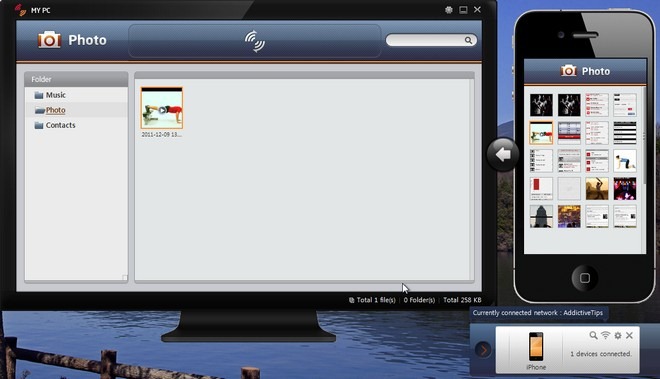 The first thing you need to do to use this app is to sign up for an account. The procedure may be carried out from either the desktop version, or from within the app itself. For some obscure reason, you need to enter your phone number in the sign up form as well, but if you don't want to do that, just put a dummy number starting with zero. Now go to the download link given at the end of the post, and grab SimpleDrop's desktop client. Installation is pretty straight forward. After it is done, all you have to do is launch the app on both your phone and computer. Be sure that you are signed in with the same account on both devices.
To get started, tap the computer graphic on the mobile client's homescreen and a menu will show up, listing all the types of data which can be transferred using the app. The items include Music, Videos, Photos, Files and Contacts. You don't have to worry about sorting each item into its category, as living up to its name, SimpleDrop sorts everything out by itself. You just have to drag an item onto the desktop client, and it will automatically go to the appropriate folder.
In the iOS client, all supported data will be pulled from the device automatically, and appear under the correct category. SimpleDrop not only syncs data between phone and desktop, but can also be used for data transfer between two mobile devices, even if one is running iOS and the other, Android. To transfer data, select all items that are to be transferred and tap the arrow button in the middle of the screen.
A feature that can make SimpleDrop appealing even for users who have access to iTunes Wireless Sync is its ability to remotely stream data from any other other connected devices. For instance, you can use your iPod touch to listen to songs stored on your computer.
That's all there is to the app. Be sure to give it a try, and remember, you need both the desktop and smartphone clients to make the app work its magic. Note that we did not test the Android version of the app for ourselves, but we can guarantee that the iOS app works as advertised.