SuperCharged OC Buzz Kernel Overclocks HTC Desire HD To 1.49 GHz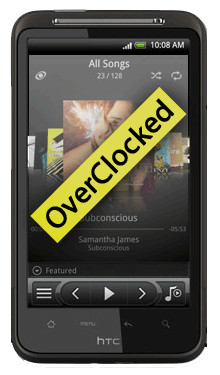 SuperChraged Overclock Buzz kernel has been released by senior XDA member, Apache14, in order to overclock HTC Desire HD. Apache14 is the same Android developer and hacker who previously released a standalone Undervolt kernel for Android devices. In order to make this kernel work on your HTC Desire HD, you will need to setup Fastboot as well as ADB and SetCPU.
These requirements might sound a bit scary but there is no way around until we have Clockwork Mode Recovery enabled for this handset. The kernel's stability is a trick question, as the author categorically states that he won't be responsible if your Desire HD freezes or crashes after overcolocking is committed. You can overclock your phone to 1.49 GHz with the help of this kernel.
Here is the step by step guide on overcloking your HTC Desire HD with Supercharged OC Kernel as per Apache14:
[INSTALL]
As we as yet dont have Clockwork Mod recovery its two steps to install.
What You Need
— Fastboot Set Up
— OCBuzz Kernel
— ADB set up
— Set CPU
1) Boot into bootloader (fastboot mode)
2) Put the zImage from the .rar file in the fastboot directoy
3) Run

fastboot flash zimage zImage

5) Run

fastboot reboot

6) Wait for android to boot
7) put the .ko frile from the .rar file in your adb director
8)run

Adb push bcm4329.ko /system/lib/modules/

9) use SetCPU reboot an enjoy some extra speed
Further research reveals that the optimum overcloking speed should be kept at 1.46 GHz from SetCPU after the kernel is flashed. This will help in keeping your overclocked HTC Desire HD stable and there are thin that you will be facing any sudden freezes or crashes. Please note that soon there will be ClockworkMod Recovery available so it is advised for novices to hold their guns till that time. It is important to note that overclocking is basically tinkering with your hardware which can result in dire consequences for your phone. In case you are facing any difficulties with this method, then you can check the official XDA thread for support and further info.
Disclaimer: AddictiveTips will not be responsible in case you brick or incur any other damage to your device following this guide.