Take Screenshots On Rooted Android 3.0 Honeycomb Tablets With Screenshot ER
Screenshot ER is the first Android screen capture app to support rooted devices running Android 3.0 Honeycomb. But that's not the only good part about it. The app sports an assortment of options that can prove to be very handy in certain scenarios. In addition to the screen capture convention of snapping on shake, Screenshot ER has the ability to take timed screenshots via a homescreen shortcut and a notification icon, both of which can be enabled or disabled from the app's settings menu.
The above mentioned feature is ideal for larger Android devices or users who would rather avoid shaking their devices repeatedly. Please note that Screenshot ER works on all versions of Android, from 1.6 to 3.0, but has been developed keeping Honeycomb tablets in mind. Read on after the jump for more info.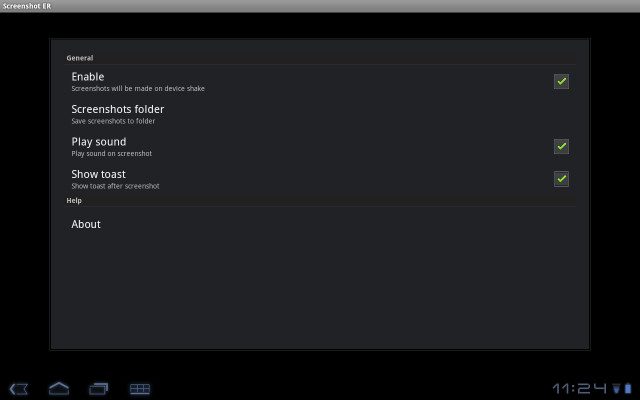 Screenshot ER, when enabled, runs as a background service that takes snapshots of the screen when invoked, saving them to the \ScreenshotER directory created by the application on the SD card of the device, as per default settings.
Launching Screemshot ER displays a plain settings menu wherefrom users can enable or disable background service. You can set the app to take screenshots when the device is given a good shake, do the same when the notification icon in the status bar is tapped or both. You can set a delay of 1 – 15 seconds for the Snap on notification icon option. Snap on shake is instant. This option is only useful for display instances where the notification bar is visible. A handy feature, nonetheless.
Additionally, the app allows you to place a shortcut on the home screen that works in the same way as the aforementioned notification icon. All you have to do is tap it and after the defined delay – within which you can get back to whatever you want to capture – the application will take a snapshot of the screen.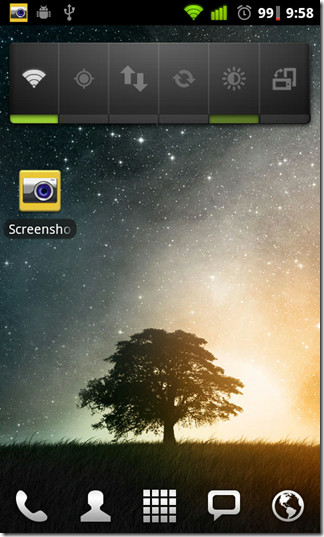 From the General settings at the bottom of the settings menu, you can set the app to play a sound, display a toast (a pop-up showing a brief confirmatory text message) or both after each screenshot. You can also switch between the two available image formats (PNG & JPEG) and change the SD card directory to which the app saves the screenshots.
The free version of the application is not available on the Android Market as of yet. You'll have to download it from the link provided below, transfer it to the SD card of your device and install using a file manager. Your device must be rooted for it to work.
You can purchase the donate (paid) version of the app from the Android Market if you wish to support the developers. Link and QR code are provided below.
Download Screenshot ER Demo For Android (Free)
Download Screenshot ER For Android (Donate version)