Top 40 Must Have Windows Phone 7 Apps [Marketplace]
Now that Windows Phone 7 is out, it is time to look at some of the best apps available in the Marketplace. The first thing users do after configuration their new phones is to search for useful apps. In this article we have listed the top 40 must-have apps from both startups and independent developers.
Unlike Android apps which can be installed using QR codes, there is currently no way to quickly install these WP7 apps. The only way would be to search for them in the Marketplace using your Windows Phone 7.

Google Voice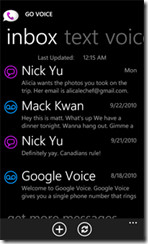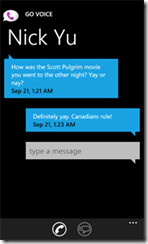 Google voice for Windows Phone 7 is an unofficial release by a third party. Users can view their inbox, call history and voicemails. According to the developer, Notifications and Live Tile will be coming in the next version shortly. ($2.99)
Poynt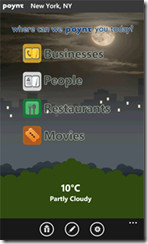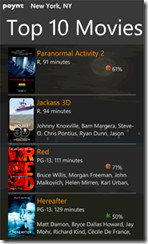 Poynt is a location based app which lets you find local business, restaurants, movie theaters and local weather. The app works around your GPS and pulls down location, phone number,  websites, and map direction for these points of interest via Bing. The app also lets users reserve a table in restaurants and buy movie tickets. The app is currently only available for users in United States and Canada. (Free)
PhotoBucket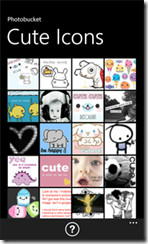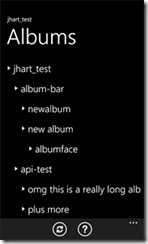 PhotoBucket is an official app that lets you upload photos and videos present on your WP7 device to your online PhotoBucket account. Access your online account, browse and search different available categories. You can also download content from PhotoBucket to use them as contact icons and wallpapers. (Free)
Yelp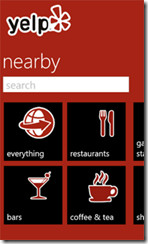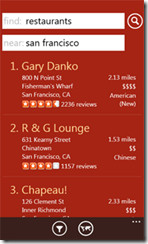 Yelp is a popular location based service that lets you find and review local restaurants, shops, bars etc nearby. The app brings all of it to your WP7 device. Sadly, it doesn't pull down content from your online Yelp account to view personalized bookmarks and favorites but will hopefully be included in the  next update. (Free)
Adobe Reader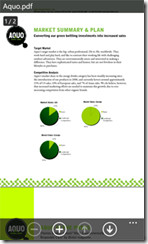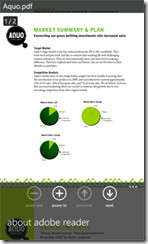 Adobe Reader application lets you download and read PDF files from your Windows Phone 7 device. The app is capable of reading PDF email attachments and websites. Adobe Reader completely supports multi-touch gestures and accelerometer which helps with the view and orientation of PDF documentation. Hopefully search support, bookmarks and page jumps would be an added feature in the next update. (Free)
Fandango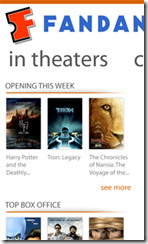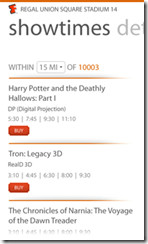 Fandango lets you find local movies by using your GPS location. You can purchase and secure tickets from your WP7 device. Please note that you will have to create a Fandango account in order to make ticket purchases. The app provides a list of reviews and trailers of movies, and also lists upcoming movies. This free app is integrated with search and browsing tool for quick and easier access. (Free)
Outsider (Formerly '…i'm a WP7!')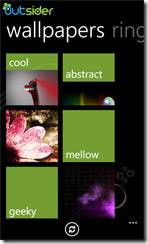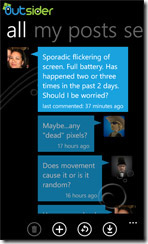 Outsider (formerly '…i'm a WP7!') is one of the most popular apps on Windows Phone. Basically, Outsider is a social network made exclusively for Windows Phone users, but apart from that, it is a useful app to have on your device if you are new to the platform and want to familiarize yourself with the Metro UI and other aspects. Outsider has been responsible for the leaks of many firmware version details before their actual release, thanks to its ability to let users flaunt their device and operating system details. The app is continuously updated with new WP tips and tricks, wallpapers, ringtones and videos. The GamerHub in Outsider acts as a messenger for all users with an Xbox account, and also lets you share your gaming experiences with others. (Free)
Wallpapers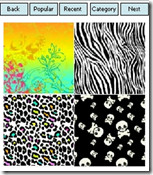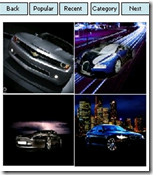 The famous wallpapers app from Android is now available for Windows Phone 7 as well, giving you access to more than 8000 wallpapers for free. The app contains 50 different categories in total and new wallpapers are added daily. Users can save images or set them directly as there phone's wallpaper from this app. (Free)
AP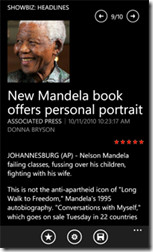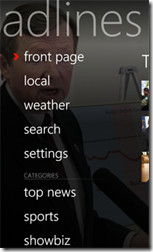 Get all your news with AP mobile. This app includes breaking news stories, exclusive photos, and videos from Associated Press. The news are gathered from more than 1200 news sources. The app is integrated with sharing capabilities with social networks like Twitter and Facebook. (Free)
Weather Bug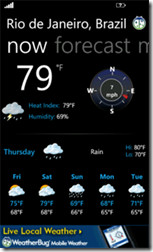 Weather Bug for Windows Phone 7 has similar functions when compared with that of Android and iOS. It includes local weather conditions, forecast, Doppler radar view, live weather cameras and more. Weather Bug app easily be added to the homescreen with an active live tile, showing the current and latest weather conditions. (Free)
Graphic.ly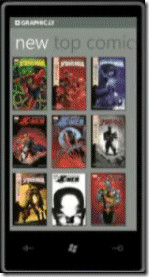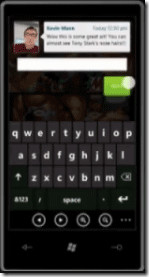 Graphic.ly is a famous comic reader for desktop and iPads. There are more than thousand comics available to download for both platforms. And yes, this amazing tool is now available for Windows Phone 7. The deep zoom capability of inbuilt Silverlight, offers users a great comic book reading experience. Moreover, users can share comments about particular comics with friends list from within the app. (Free)
Netflix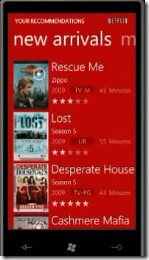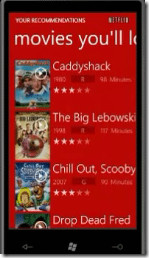 Netflix, the famous movie streaming app for desktops, mobile and TV have an official app for Windows Phone 7. Users are enabled to browse selection, read synopsis, check rating and stream movies directly on there WP7 device. Netflix is completely equipped with show subscriptions and will use Microsoft's Silverlight technology to stream shows and movies. (Free)
Shazam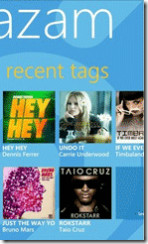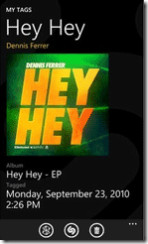 The famous app for iPhone, Android, Nokia and Blackberry now comes to Windows Phone 7. Shazam lets you identify music immediately when you hear it and allows purchasing of songs via Zune marketplace. Sort and store tag option is available to quickly find and access your tagged music. (Free)
Voxofon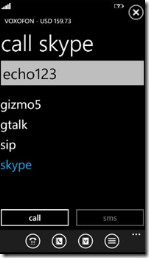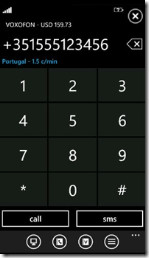 Voxofon allows users of WP7 to call Skype, Google talk and more right from their device. Calls to Skype and Gtalk are free, though you have to pay for other VoIP services being used. According to the developers, it works anywhere you have cell phone coverage and doesn't require Wi-Fi connection. Call rates for Voxofon can be found here. (Free)
Oinc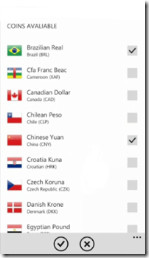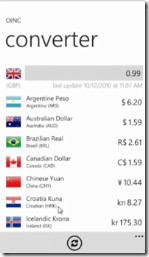 Oinc is an foreign exchange rate app with currency converter. You can set a base currency for conversions and define currencies to be converted, similar to other currency converter apps for other mobile platforms. Coins available option in the app is basically the currencies it supports. It currently supports more than 60 different currencies. The exchange rates are updated automatically every 24 hours via Yahoo Finance. ($0.99)
Kindle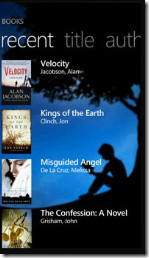 Amazon's app for Windows Phone 7 gives user access to more than 725,000 books. It includes Whispersync technology which will automatically sync your place across kindle and kindle compatible devices including PC, Mac, iPad, Blackberry and Android phones. Some features include personalized book recommendations on the home screen and ability to send book suggestions to your friends from the app. Users would be able to read in both portrait and landscape mode with customized reading options varying from font sizes and backgrounds.  (Free)
MyThings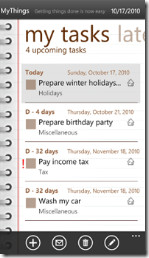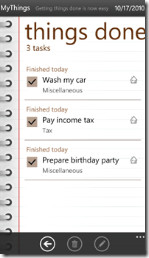 MyThings is a task management and productivity app for Windows Phone 7. You can store, manage and share created tasks and to-do lists easily. Tasks can be formatted within a project. Tasks can be shared via email and SMS instantly, and task-related addresses can be added based on locations. (Free)
Polyglot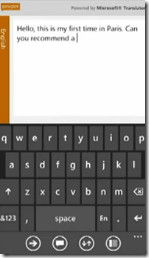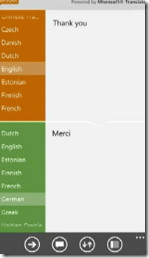 The default Microsoft Translator in Windows Phone 7 only supports 5 languages. Polyglot on the other hand, supports more than 30 languages. Developers of this app call it 'Your Personal Translator'. It is powered by Microsoft Translator with a dead-simple UI in both portrait and landscape orientations. It also plays back audio of the translation being a great companion for travellers. ($0.99)
PageOnce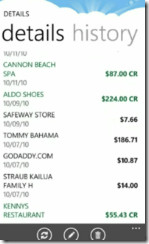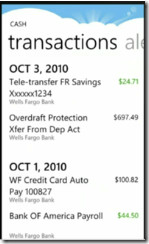 PageOnce is one of the top ranked personal finance manager for mobile devices. It features account monitoring, transaction insights, bill tracking, spending history and real time alerts. Users can view their spending in terms of details as well as graphs. The user interface is stylish with all the information placed very neatly. (Free)
Password Padlock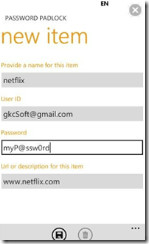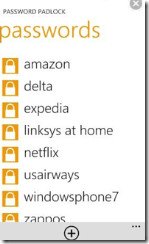 Store passwords more securely with Password Padlock. It is a simple password manager app for Windows Phone 7. Users can use a single master password to encrypt all their saved passwords. Microsoft doesn't let such tools integrate with the built-in browser but this app does encrypt all your password using AES encryption. ($0.99)
Foursquare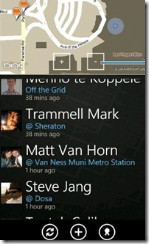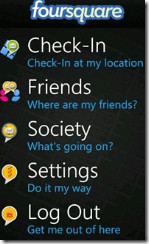 Foursquare is a location based social network that incorporates with gaming elements within the device. User share their location with friends via the app or a text message and points are awarded for checking in at various venues. Some added features from its counterpart include directions within the app and a society area. (Free)
Seesmic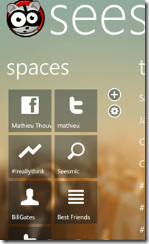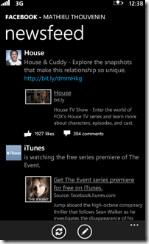 Seesmic for Windows Phone 7 lets you easily access and manage your social networks (Facebook, Twitter etc.) in a very neat and straightforward interface. By using this app, you can share photos, locations, see inline previews, attach your location to your tweets, see your friends updates on a map, and much more. (Free)
Colorize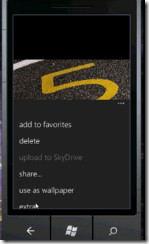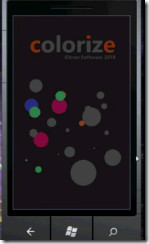 Give your pictures a dramatic look with Colorize. It lets you keep the desired picture detail in perspective, converting everything else in black and white, and can save multiple projects. Pictures can be uploaded to social hubs, such as, Facebook. ($1.29)
Draw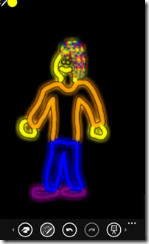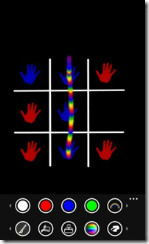 Draw is a simple finger drawing tool for Windows Phone 7. You can load pictures from your phone, camera or web and draw on them with different brushes. The app is loaded with colorful stamps for adding art such as animals, cars, planets etc. User can undo up to twenty actions and can shake their device to clear the screen. Moreover, the app has  support for multiple languages. ($0.99)
Pictures Lab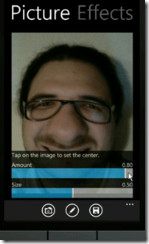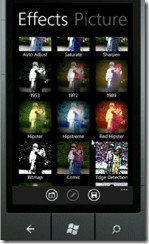 Pictures Lab is believed to be the ultimate image effects app for Windows Phone 7. It comes with more than 20 easy-to-use and controllable effects like vintage, lomo, soften, sharpen, comic, black & white, sepia etc. A quick list is created with dynamic previews of the effects making it easy to pick the desired effect. The app puts an effect in the original resolution of the picture making it possible to print. ($1.99)
Media Control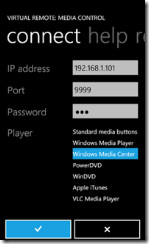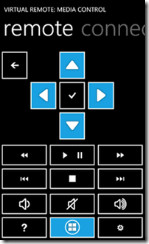 Media Control converts your Windows Phone 7 into a remote control for your media player. It supports Windows Media Center, Media Player, WinDVD, PowerDvD, iTunes, and VLC Media Player. Typical media controls are available such as play, pause, stop, next, previous, rewind, forward, and volume. It converts your phone into a networked device  connecting it to your PC. ($2.99)
gReadie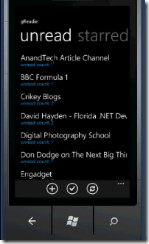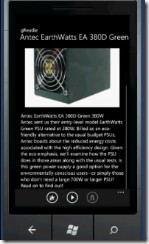 GReadie is a GoogleReader client for Windows Phone 7. Users can search for a feed using the URL or keywords. The app launches the browser to show the full story and can take you back once you hit the back button. Built in integration with Google reader lets users read, update and add feeds. It supports starred posts as well as tags and folders. Feeds can be emailed and shared on Twitter & Facebook. ($1.99)
HandyScan

HandyScan is your personal document scanner for Windows Phone 7. It enables you to use the phone's camera to scan physical documents and send them via email in JPG or PDF format. Multiple pages can be scanned, aligned/rotated and cropped. Text can be added to documents, as in filling forms. Users can choose the size and quality of documents before sending them. ($4.99)
Torrent Remote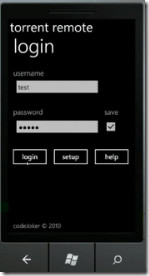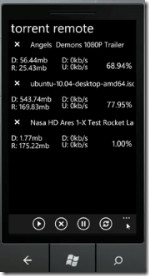 TorrentRemote is a Windows Phone 7 app which lets you remotely manage your uTorrent client on a PC. You can login with your credentials and add, start, stop, pause, delete, and change settings of torrents from your phone. ($1.99)
RoboPrint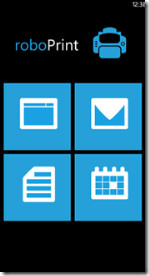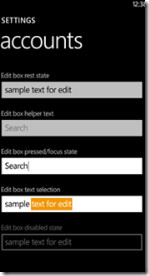 RoboPrint allows WP7 users to print their documents to any configured printer, anywhere at anytime. Profiles can be created for different printers separately. It comes in with a Windows Host application that you install on the computer attached to the printer. Users can print Gmail, AOL mail, Yahoo Mail, PDF and images. It supports PDF, DOC, DOCX, XLS, XLSX, PPT, PPTX, TIFF, JPG, GIF, PNG, TXT and HTML files.
Loopt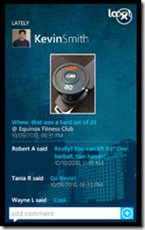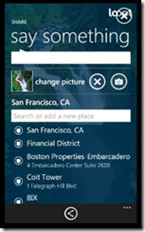 Loopt is a location based social network app for Windows Phone 7. You can see your friends on the map, check photos and places they have been to, view updates and ping them to connect. On the top of that, it lets you discover places your friends would like to visit. You can quickly and easily share your updates, by uploading pictures and updating places.
MusixMatch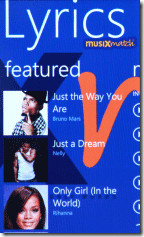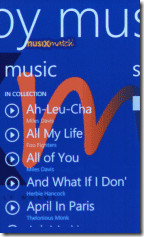 MusixMatch is a famous song lyrics search tool and has been incorporated with an app for Windows Phone 7.  It is a stand alone app for searching lyrics. This app is integrated with Zune media of your WP7 device. Simply play a song and slide over to add-on and the app will automatically launch to find the lyrics of the playing song. (Free)
Collecto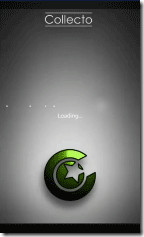 Collecto makes you store all your item collections on your WP7 device. With the help of creating your own collection type, you can manage your items, search them and monitor your loans. With inbuilt Facebook integration, share your items with your friends. You can authorize your friends to see your collection list and lend them items as well. (collecto)
XBMC Remote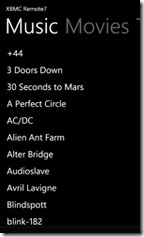 XBMC Remote is a library browser and remote control developed for Windows Phone 7. You can mange unlimited XBMC installations from anywhere in the world. Build-in library browser includes both metadata and album art. You can send input to XBMC using the touch screen of your WP7. All relevant information is displayed in from a single panel. ($3.99)
Where is My Car?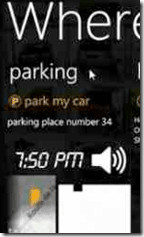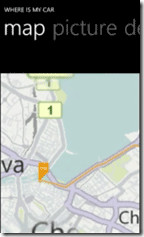 This simple WP7 app allows you to save information of your parked car so that it becomes easier to find it. It does so by collaborating GPS location, picture, voice and description. Simple enter description, tag on the map, add a picture and save it. The app integrates itself with Microsoft's Bing Maps. ($0.99)
Simple Audio Analyzer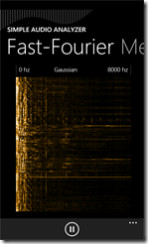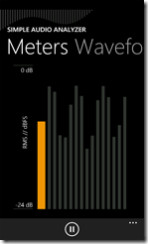 Simple Audio Analyzer captures data from phone's microphone and put forwards the data as FFT graph, meters and waveform. It includes three meters i.e. sound pressure level, peak and RMS. User can change the parameter by simply sliding the finger and tapping. Analyze captured audio signals in various ways with this free WP7 app. ($0.99)
Parcel Genie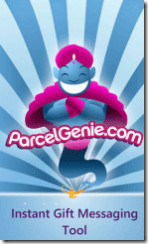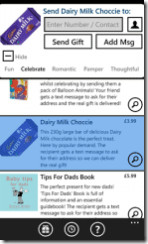 You can now send gifts to your friends and family right from your device, using Parcel Genie for Windows Phone 7. Send gifts by using your email address or phone number and pay. Once sent, the recipient receives a text message and asks them for a delivery address. Simple as it could get! (Free)
iheartradio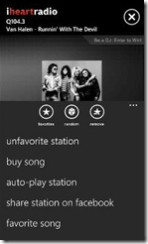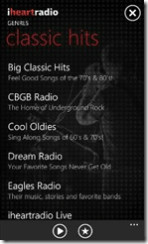 iheartradio, famous music service by vertigo is now on Windows Phone 7. Users have access to more than 750 of America's favorite local radio stations and celebrity hosted radio channels. Users can buy commercial free premium account to stay away from running advertisements. The build-in offline mode allows users to listen to podcasts without connectivity with the ability to toggle and skip. (Free)
Flickr Manager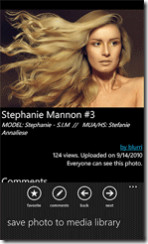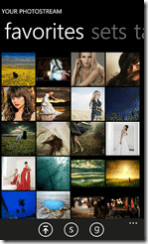 Flickr Manager lets you manage your Flickr account on your WP7 device. Upload and manage photos, add comments, mark photos as favorites, and check basic account traffic, directly from your phone. (Free)
Sling Player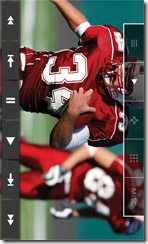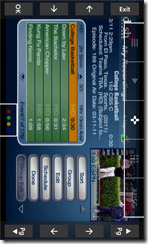 Sling Media launched Sling Player exclusively for Windows Phone 7. You can access shows  from Slingbox over both Wi-Fi and 3G connections. In addition of viewing TV right from your WP7 device, you get the ability to control DVR and stream recorded programs directly to your device. If you are a SlingBox user, then this app is definitely worth a try. ($29.99)
Conclusion
From what we can see above, most of the apps are initial release. More features will be added over time once the developers get used to this new platform. Moreover, we have only reviewed those apps which are new, ignoring the popular apps, such as, Facebook, Twitter, etc. If  there is an app that should have made the above list, let us know in the comments.