Total Commander: The First Ever Dual-Pane File Manager For Android
Although there are quite a few file explorers available in the Android Market, none of them come with dual-pane support for easy file transfer/management of device directories. But the wait seems to be finally over for Android users because Total Commander is closing in on its official release. Total Commander is a handy file explorer that can be lauded as a first-of-its-kind effort in Android spheres as it brings the concept of dual-pane file exploring on your smartphone/tablet along with some of the most sought-after file management tools. Update: Total Commander is now available on the Google Play Store. Link added at the end of the post.
Since the good old days of dual-pane file explorer programs for desktop operating systems, users have become accustomed to using similar interface for efficient and quick file transfer and management among various directories. So far though, Android users had to resort to single-pane file explorers on their devices to maneuver files and folders – something that demanded ample time to switch between source/destination directories. The hectic and tedious routine demanded a change that has finally been provided by Total Commander. The app opens to a home screen packed with multiple features and shortcuts to the most frequently used folders including the SD-card folder, photos folder, downloaded files, file system root and installed apps folder. Dual-pane option is available in both portrait and landscape orientation but its usage is bit different for each mode. When viewed in portrait mode, users can switch between panes by tapping on the three arrows appearing at the top-left or top-right portion of the screen, depending on which pane is being viewed. Or, they can simply swipe left/right across screen to toggle between panes. The two 'equal (=)' signs can be tapped anytime to view exactly the same directory in both panes for easy file sync.
However, it is the landscape orientation that allows users to avail the dual-pane feature of Total Commander the conventional way (side-by-side). Users can easily make a pane 'active' by tapping on the preferred pane or by tapping on the arrow provided in the task bar below. File selection in Total Commander is even easier. Tap on the icon/thumbnail of a file to select it. You can select multiple files at once in this manner. To open a file, just click on its filename. After selecting preferred files, users can perform routine file management functions such as copy, move, rename, delete, paste and create a new folder.
Moreover, Total Commander supports APK file handling, multiple languages, encrypted ZIP and RAR files, built-in text editor, one-tap home screen access, integrated help, full-screen without the notification bar, advanced search tools, configurable task bar with host of options and much more. Selected files and folders can be copied or moved by feeding in the destination directory manually or via in-app directory list. Total Commander also supports files/folders sharing via Bluetooth.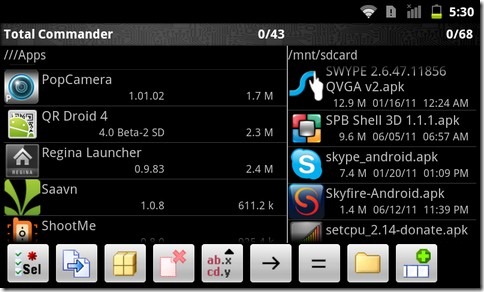 Going through the comprehensive list of features present in Total Commander, one is left to wonder why it isn't being given more attention. Well, one reason could be that the app is yet in beta and hasn't been released to the Market. To download the app's APK or to gain detailed info on its features, head over to the developer's website. To install the APK on your device, go to Settings > Applications and check Unknown sources. You may now proceed with APK installation by following on-screen instructions.
Update: Total Commander is now available on the Google Play Store. The link provided below will take you to its Play Store page.
Download Total Commander for Android