TuneSync HomeStream: Stream iTunes Playlists & Songs From Desktop To Android
Looking for a way to remotely stream iTunes music and playlists from your PC or Mac to your Android device? Try TuneSync HomeStream. The app lets you remotely stream your iTunes library from your desktop to your Android device through a desktop server application, sports an elegant interface and a nifty little built-in music player. The only requirement is that your device and computer should be sharing the same Wi-Fi network.
The app's desktop server, named TuneSync Server, is currently available for Windows and Mac OS X, and can be downloaded from the TuneSync website for free (link provided at the end of the post).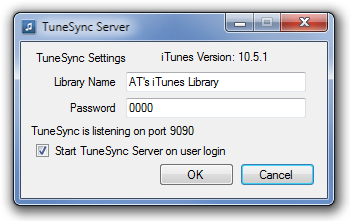 It should be noted that TuneSync HomeStream is not the only app of its kind in the Android Market. Previously reviewed Emit also provided the option to stream media and playlists from your iTunes library to your Android device. However, said app lags slightly behind TuneSync HomeStream when it comes to aesthetics and seamless streaming of audio.
What's even better about this app is the minimal configuration that it requires. To be precise, the app's desktop server, once launched, doesn't require any configuration whatsoever, as it automatically assigns a default Library Name and Password for device identification. Both parameters can be changed later if required. All you need to do is ensure that both the server application and iTunes are up and running on your computer at the same time.
Configuring the app on your Android device is quite simple too. On the app's homescreen, tap Host Computer, select the required desktop (identified by the iTunes Library Name specified in the server application) from the ones on your local network, and that's it!
The screen that follows lists all the Artists, Genres and Playlists from your iTunes library under separate tabs. Just select the track that you wish to listen to, and the app begins streaming it though its neatly designed music player that carries some basic media controls, and displays various track details such as its title, album name and album art. The player supports fast-forwarding tracks as well.
Tapping Menu on this screen lets you toggle shuffle and repeat on and off. That's not all, the app also supports playing tracks while running in the background so that you can enjoy reading your eBooks, or surfing the internet while listening to your iTunes tracks.
Download TuneSync HomeStream for Android
Download TuneSync Server Application