TwiStats: Keep Real-Time Track Of Twitter Followers Count From Your Home Screen [Android]
Smartphones of today have transcended beyond the means to connect you to your contacts through just the cellular network. Instead, these nifty little gadgets are nowadays being used as full fledge socializing tools. Whatever status message you need to post, interesting things that you wish to share with your online buddies, or keep an eye on what is trending on various social networks, your smartphone has you covered. In fact, now we are heading into times where users are able to keep a close tab on their overall activities on their preferred networks, statistically.  TwiStats for Android offers what even the official Twitter client, or numerous other third-party social media aggregators (such as TweetDeck, Seesmic Ping TweetCaster, StreamLife and Social Jogger 2) don't; not yet, at least. Through an elegantly designed homescreen widget, it displays real-time statistics for any Twitter account of your choice. Once the widget is installed on your homescreen, just feed in the desired Twitter username, select the time zone, hit the Get Stats! button, and you're done. Ranging from the total number of followers to an overall count of your daily tweets, and much more in between, the widget packs all the vital statistics pertaining to your Twitter account that you might otherwise be checking from within the official Twitter client, or its website for that matter.
Launching TwiStats from within the app drawer displays a four-step guide on how to set up the widget.
Tapping the widget itself reveals a guide that briefs you about various fields included in the widget interface in a simple way. As the guide will tell you, the Followers field on the right-hand side of the widget won't display any statistics immediately. For that section to fill up, you'll have to wait for at least 24 hours, after which you'll be able to see all the following that the selected Twitter account gains or looses on the network on daily, weekly and monthly basis. The number beside the Today field keeps you apprised of the total number of tweets that you've posted in the day so far.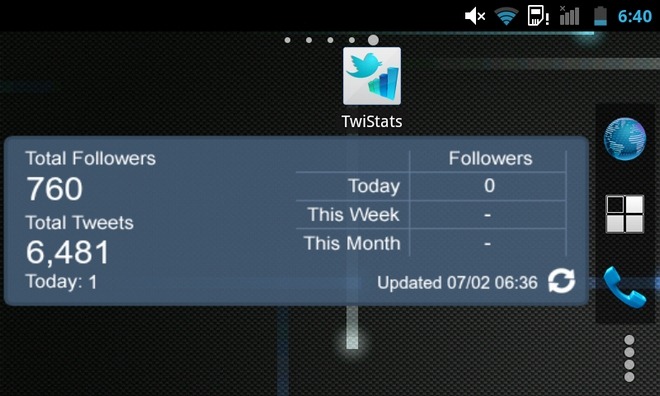 However, what the widget does display instantly are your Total Followers and Total Tweets so far. The tiny refresh button at the bottom-right of the widget lets you manually fetch all up-to-the-minute statistics for the selected Twitter account.
In short, TwiStats is a handy tool for all hardcore Twitter users who like to keep abreast with their Twitter following in real-time.