UniBar: Search Google From Within iPhone Safari Address Bar [Cydia Tweak]
Almost all web browsers (mobile and desktop) out there come with the search option integrated with the address bar. This means you can type search queries in the address bar in addition to URLs. This saves users the trouble of going to a search engine's website and typing in the query there. Unfortunately, iOS's default browser (Safari) lacks this feature and comes with a separate search bar. But what's the jailbreak community and Cydia for? There's now a tweak for that and it's called Safari Unibar. While most desktop browsers that don't come with an omnibar, like Mozilla Firefox, still let users search if they put a valid query in the address bar rather than a URL. In Mobile Safari, however, there are two things that don't let users do that. The browser lacks a space bar in its keyboard, rendering it useless for entering longer queries, and apart from that, the app will treat anything entered in it as a URL, and adds the prefix and postfix automatically even if you key in a simple word.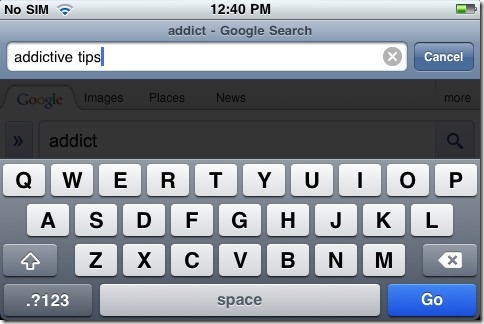 The tweak is available at the Big Boss repo and is free. So basically, you are getting a much-awaited new functionality in your Phone or iPad's Safari browser for no cost at all. At first, users complained that the tweak does not allow you input a space while typing in a query, but this issue seems to have been resolved now as it worked perfectly for us during our little test-run.
Once you have installed the tweak, you won't get any new options or customizable settings. Just go to Safari and take a look at your browser, the search box will have disappeared and in its place, you'll see an extended address bar, just the way it is when you are entering any text in the address area. Another thing that is changed in Safari by UniBar is the app's keyboard. You will see that as soon as the tweak is installed to your jailbroken iPhone, the keyboard that shows up in Safari changes, and a space bar is added to it. Type in any query and you will be shown what Google has to say about it. A pretty decent option if you ask us, so head over to the Cydia store and give this useful little tweak a try. UniBar gives you a new functionality, without talking away any of the existing ones, and for that, you should give it a go.