VtweetIT: Stream Live Video Recordings Over The Internet [Android]
VtweetIT by MAARS is a brand new video streaming app for Android that lets you instantly capture and broadcast live videos from your device over the internet on its very own website. Apart from viewing your own video streams/uploads,  the VtweetIT website allows you to check out some of the most popular videos shared by other app users. In addition, you can also view on a map, the location from where each video has been shared. Sporting a simplistic UI and fast, high quality streaming, VtweetIT can prove to be handy if you're looking to share live video streams of a memorable event with the world.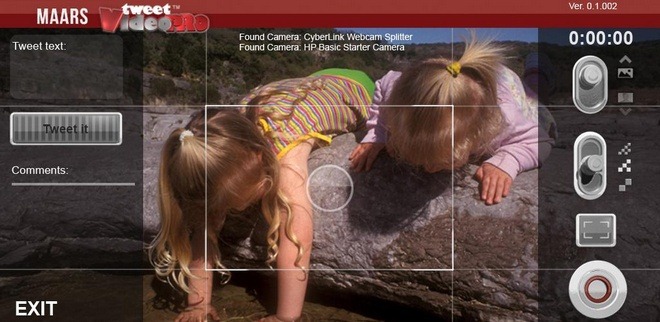 Just for the reminders, VtweetIT is not the only app of its kind on the Android Market. Previously reviewed Live Reporter was based on more or less the same concept. However, we found VtweetIT to be much better in terms of quality and speed of streaming. In addition, it allows you to change video quality and orientation while recording. You can also set the camera's viewfinder to display a grid.
In order to use the app, you must be logged in with a valid VtweetIT ID. Not a registered member? Hit the Register button on the app's welcome screen.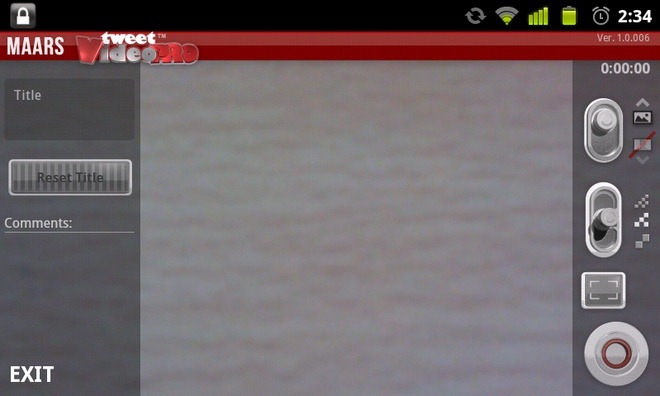 Once logged in, you're straightaway taken to the app's video capturing interface that carries the recording button as well as various toggles for adjusting video quality, orientation and the aforementioned grid overlay. To begin recording, just specify a video title of your choice, add some comments (optional), adjust video settings and tap the record button in the bottom-right corner of the screen.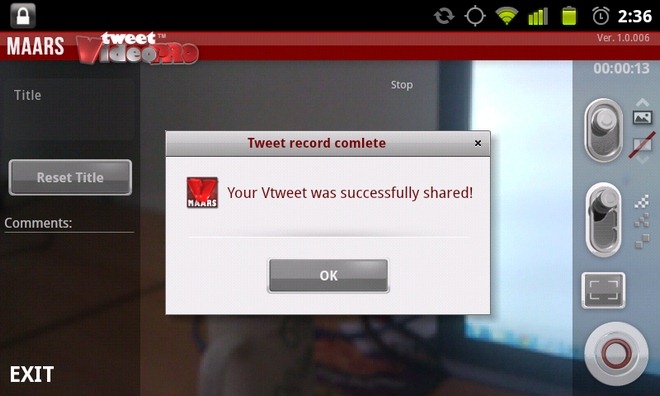 As mentioned earlier, streamed videos are instantly (and publicly) available on the MAARS VtweetIT website. Each new video stream is assigned a new URL on the website. You can share this URL over Facebook, Twitter and other social networks right from within the page.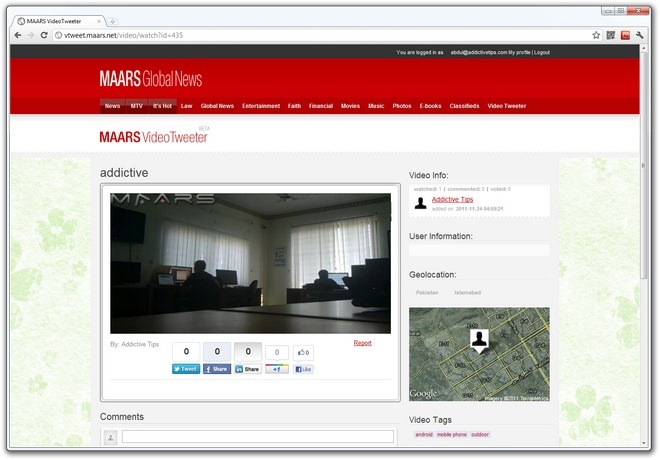 Using Google Maps, the website displays each streaming video's location alongside it. After recording is completed, the video is permanently saved on the website.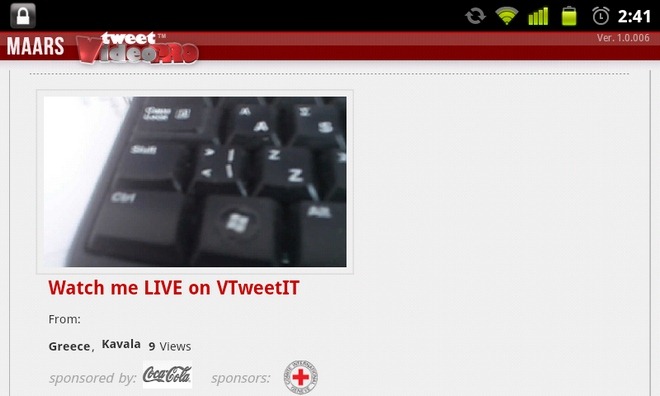 Oddly, there is no way to keep the screen of your device active while recording. The end result: as soon as screen times out, recording continues but the online video stream displays nothing but a plain blank screen. However, said issue can be addressed by just increasing your device's screen timeout duration.
Note: VtweetIT requires Adobe AIR to run, that can be downloaded from the Android Market for free.