Bring Auto Save Feature To Notepad++ With AutoSave [Plugin]
Word Processors like MS Word can recover your data in case the system shuts down, reboots or the document is accidentally closed due to system crash. This document recovery option gives users the security of saving their data from accidental deletion. If you're an avid Notepad++ user and need auto-save feature to automatically save the documents after defined amount of time, add Auto-Save to Notepad++ plugin list. The extension lets you create an auto-save schedule, so that you can customize the 1-time auto-save option as per requirement. Apart from custom auto-save option, it can automatically save your current document upon application losing focus.
Like all Notepad++ plugins, you can install AutoSave either by downloading the DLL file or from Plugin Manager. If Notepad++ fails to download the extension from Plugin Manager, download the plugin DLL package (link given at the bottom of the post), unzip the package and copy AutoSaveU.dll to Notepad++\plugins folder, followed by a restart of the application itself. First off, click Plugins menu, and then select Options from Auto Save sub-menu to configure document auto save settings.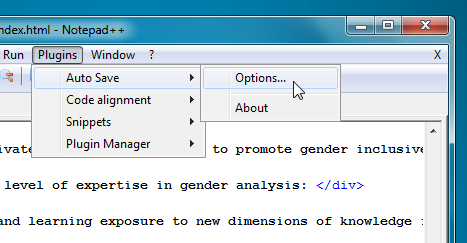 Auto Save Options dialog lets you auto save either current or all opened documents. You can change default auto-save time interval, exclude documents larger than specified size (KB), enable auto-save option when Notepad++ loses focus, and configure  auto-save versions naming settings.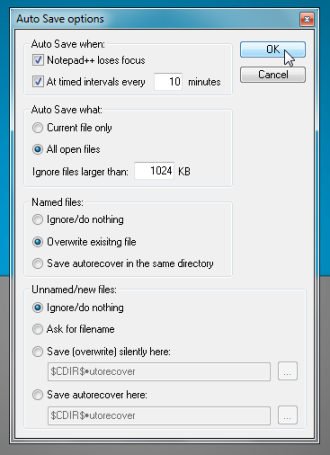 In Unnamed/new files section, you can choose Ignore/do noting option to ignore the unnamed files, ask for file name before saving them, or specify the location for saving overwrite and auto-recover versions. AutoSave is compatible with Notepad++ version 5.7 and higher. We tested it on version 5.9.3.