Web Scroll Capture For iPhone: Take Full-Length Webpage Screenshots
There are quiet a few people out there whose line of work involves capturing screenshots of webpages (graphic designers, for instance). Now, there may be a lot of extensions for desktop browsers that let you capture the entire length of a webpage but the same functionality is rare for mobile platforms, which is what makes Web Scroll Capture an excellent addition to the iTunes App Store. The app lets you take screenshots of whole webpages, from top to bottom, while browsing on your iPhone, iPad or iPod touch.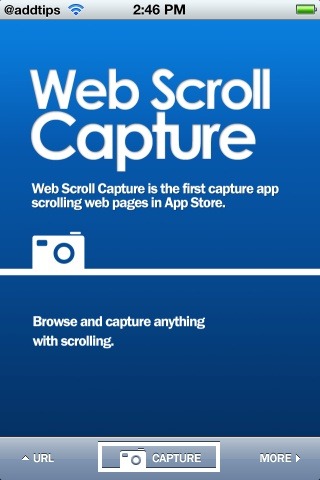 The procedure is simple. Just launch the app, tap URL to go to the webpage you want to Capture. By default, the app does not capture the entire length of a page, just the part visible at the time you tap the Capture button. You will have to tap More to enable the Scroll option to capture whole pages. Also, the browser of the app tends to crash at times, and does not support the pinch-to-zoom functionality. Captured images can be saved to Camera Roll (Photos) or sent as an Email to a friend.
The legibility of text within a captured screenshot depends on the length of the webpage. The lengthier the webpage, the more illegible will the text be. Still, it is better than having to capture multiple screenshots for a single webpage.
Web Scroll Capture is ideal for web developers, graphic designers and web enthusiasts in general looking for a faster, simpler way to capture and share the design of a website. The app is available for free in the iTunes App Store and can be downloaded from the link provided below.