What Is Windows Phone 7 Diagnosis Menu & How To Tweak Your Phone With It?
Windows Phone 7 comes under heavy fire from its opponents for a variety of reasons. First there was the "copy/ paste" saga, then issues like MMS errors and Bluetooth file transfer plagued its progress. But to be fair, underneath all that, lies an operating system that is pretty neat and user friendly. If you use WP7 with an open mind, you might just fall in love with it.
However, WP7 sure is a newer OS and thus, majority of users don't know about many of the hidden features/functions present in there. For example it took me weeks to find out that you can select individual alphabets while typing by simply pressing and holding the empty text area. One such ignored feature is the Diagnosis menu in Windows Phone 7 devices. This is a hidden menu which can be accessed using a code (manufacturer dependent), providing you with a ton of options to tweak low-level settings and let you interact with the phone's hardware directly. The Diagnosis menu is built into devices for the use of manufacturers during device testing. Also, when you send your device back for repairing, Diagnosis menu plays a major role in tracking down the problem.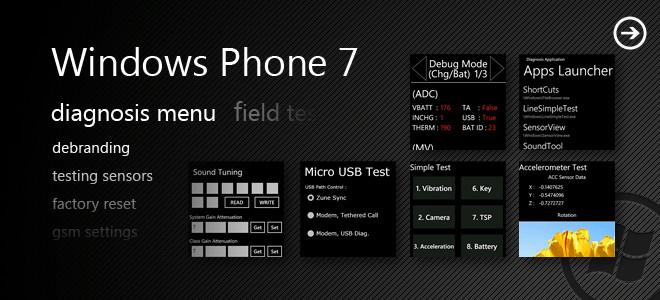 Diagnostics of your WP7 let you change and configure settings without having a developer unlocked device, and that's the biggest advantage. Let us discuss Diagnosis menu one by one related to different manufacturers. It should be noted though that most of these codes will work for any manufacturer, simply give it a try.
Samsung Devices
When discussing Windows Phone 7, the term Diagnosis menu strictly refers to Samsung devices. There are similar variations of this hidden menu in devices made by other manufacturers, but usually they are not called Diagnosis menu.
Accessing it is simple enough. Just remember the magic code, ##634#. Put this code in your phone's dialer and congratulations! You have now entered the Diagnosis mode. In addition to that, an app named Diagnosis will start showing up in your app list. This is merely a shortcut to the menu, and if you want, you can even delete it, it won't have any impact on the menu's working.
Looking at your screen after entering the code, don't worry that you have failed somehow. The new dialer screen you see is the coveted menu. To run diagnostics on your phone, you need to know the codes specified for each task. The list of these codes is not given anywhere in the menu, but that's what we are here for.
Useful Tasks That Can Be Performed In The Diagnosis Menu
The list doesn't end here by any means. There are so many codes that we don't think any user knows the complete list. However, here are some of the codes that regular users might find useful. Some of these codes (especially the testing ones) might prove to be useful if you are buying a used WP7. The testing codes can ensure if the device's components are all in working order or not. But first make sure that you enter Diagnosis before you start inputting these codes.
General Hardware Test: Enter *#0*#
This will open up a new screen in which you can test each of the three base colors individually. The options to check all sensors (accelerometer, proximity, vibration, touch, etc.) are also present in this menu.
Automatic Hardware Test: Enter *#05#
This covers pretty much all the functionality of the previous code, but this time, everything is automated. The diagnosis menu guides you through each step of testing.
Bluetooth Test: Enter *#232333#
But first make sure there is an active Bluetooth device in the vicinity.
See the EXE files on your device: *#914789#
Gives you a detailed, registry-level list of all the files present in your app launcher.
Check the lock status of your phone: *#7465625#
Gives you network lock status, subset lock, SP lock and CP lock.
Call timing log of your phone: *#22558463#
Perform Factory Reset: *2767*3855#
Please note that this code will erase everything from your phone, including SMS, contacts, account, apps, media. Only apply this in extreme conditions.
Check brightness controls: *#3*#
This can be used to check the maximum and minimum brightness levels. And also to test if the auto bright feature is working properly or not.
Clock Settings: *#0782#
Tune Sound: *#0002*28346#
Location settings: *#1472365#
Helps in monitoring how the GPS and other related stuff are working.
This list is not even close to complete. There are a lot more codes out there, we just chose the most productive ones for normal, every day users.

LG Devices
LG Quantum and LG Optimus 7 are the major Windows Phone devices from LG, with a few more expected to be released soon for Mango. In LG devices, the Diagnosis menu serves pretty much the same functionality as its Samsung counterpart, but under a different name. On LG phones this useful, hidden menu assumes the name of MFG (acronym for Manufacturing) menu.
How To Access The MFG Menu?
The code to open up MFG menu is the same as Samsung and Dell. Simply go to your LG phone's dialer and enter ##634#. But here comes the big difference. For LG, you need to input a token password (which is not really a secret pass) before you can access the MFG app. When asked for the password, enter 277634#*#
This, by the way, stands for APPMFG (just to help you memorize it). Once you have done that, you will get the diagnostic menu screen which lists all the options available to you without having to enter or memorize any codes, unlike Samsung Diagnosis. The most relevant and useful settings are present in the Engineering menu, which can be accessed by tapping 7 from the MFG main screen.
So What Can You Accomplish With MFG Menu?
LG's hidden menu can be used to configure a lot of settings according to the need of users. For starters, you can de-brand your LG phone using MFG. This means you will be freed of all the restrictions put on you by your service provider (carrier) and your phone will receive OS updates as soon as Windows officially releases them (no wait for carrier release).
As MFG is a diagnosis menu, it can help you diagnose most problems with your device hardware. But that's not all, you can resolve WP7's long-standing MMS issue with MFG too. The method described in our guide simply tells you how to turn on MMS by editing the hardware's settings according to your carrier settings.
Apart from these two tasks, you can perform all Samsung tasks with MFG too, and it's even simpler. Just browse through the menu's options until you find what you're looking for. It's all listed there, without the need to remember any secret code.

HTC Devices
HTC phones running Windows Phone 7 present a unique case with regard to the diagnosis menu. Officially there is no Diagnostics tool available in HTC phones for WP7. However, there is a similar app (menu) which should do the trick for you. It's named Field Test, and is once again, a hidden menu in WP7 devices manufactured by HTC.
Accessing The Field Test Menu
Go to your phone's dialer and input ##3282#. An LG MFG-like menu will appear on your screen. Through this menu you can perform a variety of tasks including the following.
Testing GSM settings
Checking out GPRS and AMR configuration
WCDMA
Test options related to 3G
While these settings are already clearly visible in Field Test, there is one other very special setting which isn't as easy to find. Here it is.
Limit SMS Storage On Your Phone
You might have noticed that WP7 puts no limit on SMS storage memory. This is a good feature, but there are scenarios when this can become an unnecessary burden. With the upcoming Mango update having picture and video integration with the stock messaging app, limiting your SMS memory storage might be a good idea. This can be done by accessing the Field Test menu as described above and then instead of selecting any of the listed options, navigating to the settings screen by tapping the three dots present at the bottom of the screen. A "Limit SMS Memory" option will be there. Simply toggle it on and you are done.
Dell Venue Pro
Almost all WP7 phones have some sort of hidden menu that can be accessed and then used for diagnostic purposes. The name might vary from one manufacturer to another, but the basics and functionality remain unchanged. One example of this is the Dell Venue Pro. It is Dell's first (and for now, only) Windows Phone 7 device. The diagnosis menu is called EM in Venue Pro. The access code remains the same as that of LG and Samsung, that is ##634#. No password is needed (unlike LG) and you can perform tasks like gaining USB tethering on your Dell Venue Pro. Besides that, EM performs all other diagnosis tasks using an interface similar to LG's MFG.
Diagnosis menu can prove to be your ultimate friend when it comes to checking if your device is in full working order or not. And that's not all, it comes with some pretty handy extra features that can help you get the most out of your phone.
That is it for now. We hope to make this a dynamic post and will keep updating it with the release of newer WP7 devices. Stay tuned!