We are reader supported and may earn a commission when you buy through links on our site.
Learn more
5 Best IT Help Desk Software: Cloud-based or Locally Installed?
Computers are possibly the most important tool in any business. Many rely on them to get their work done and their productivity depends on them. This means that they have to keep working whenever they're needed. Unfortunately, they sometimes fail or don't work as expected or as we would want them to do. This is when the IT help desk comes in. It's typically manned by knowledgeable people with a knack for fixing things. There so much technology out there that modern help desks must handle the support of a vast array of products. And to keep costs down, many help desks are minimally staffed. This is where help desk software systems can help. Today, we're reviewing some of the best IT help desk software.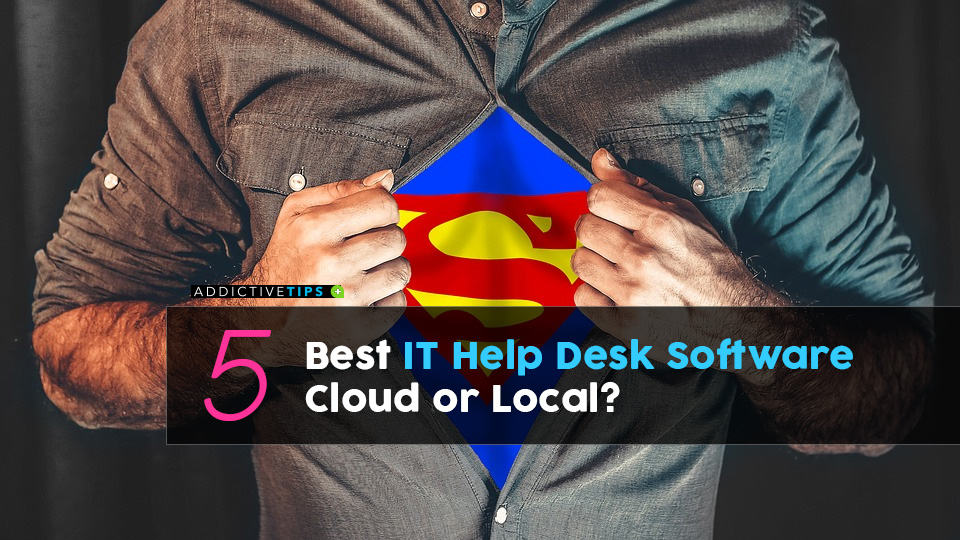 Before we can have a look at what the best IT help desk software is, we'll step aside for a moment and discuss what makes this type of tools tick. We'll review the different components that are commonly found in help desk systems. There's much more than just ticket management. Modern help desk software actually incorporates features that used to be in separate packages for more convenience. And with cloud computing so prevalent these days, it's no surprise that several cloud-based help desk software exists. We'll try to evaluate the pros and cons of cloud-based vs local packages. And finally, we'll review some of the best IT help desk software packages available today.
The Components Of Help Desk Software
There used to be a time when help desk software packages were not much more than ticket management systems. Today, they are much more than that and include several functionalities that were once available as separate packages. Having as much functionality as possible included into one package has some obvious advantages.
First and foremost, the learning curve is much smoother. Although different components serve different purposes and, therefore, operate differently, an integrated software will have a common user interface that operates the same way.
Another major advantage of integrating several tools into one is cost saving. Of course, an integrated package will often cost more than just a ticket management system but it will usually cost less–sometimes much less–than purchasing separate components from different vendors. Let's have a look at what the main components are.
Ticket Management
This is the most basic element of help desk software. Trouble tickets are what makes the help desk work. When a user contacts the help desk to report an issue, a ticket is open. It will typically contain all the relevant information about the user, his equipment, the issue he or she is experiencing and the conditions where and when the issue arises. The ticket is also where each resolution step will be documented. It will show what was done, when and by who.
In addition to providing a storage location for all relevant information about an issue, a ticketing system will often also include some workflow management. For instance, tickets can be assigned to different team members depending on different factors such as skills. A help desk team, for example, may have someone who specializes in printing problems and all tickets related to printing would be assigned to that person.
A ticketing system usually has Service Level Agreement (SLA) functionalities and priority management. Some types of business-critical issues might require resolution within the hour while other less-important ones might tolerate being resolved the next day. A good ticketing system will track this. Escalation is also a common functionality of ticketing system. After a certain delay, unresolved tickets can be automatically escalated to the next level. This can dramatically improve the response time and reduce the number of SLA breaches.
Asset Management
Asset management is a feature that has gotten more and more common in help desk software. The reason is simple. As stated in the previous section, a trouble ticket should include detailed information about the equipment where the issue is happening. Wouldn't it then be easier if that information could automatically be added to any newly opened ticket?
Asset management systems are inventory databases that contain detailed information about each piece of equipment an organization owns. They typically also contain information about users and will easily list all equipment assigned to a given user.
When integrated with ticket management systems, asset management systems can populate tickets with equipment details. It can either be fully automatic or allow the help desk first response attendants to pick from a list of equipment associated with the caller.
Of course, asset management implies that all equipment inventory must be entered in the database which constitutes a gigantic task in some organizations. To alleviate this, some systems will allow adding equipment details as you go. For instance, when a user calls for the first time, one could document his equipment which would be added to the asset management system.
Knowledge Base
The last major components of help desk software are knowledge bases. Some issues are redundant. For instance, many problems related to user training will be experienced by several users. Knowledge base systems will provide a quick and easy solution to recurrent problems by looking up historical data about past issues.
Some of these systems are automatic and will search past resolved tickets for similar parameters such as symptoms and equipment and suggest a solution. Others are independent systems that must be populated from ticket data. The usefulness of these systems varies greatly depending on the system itself but also on the type of issues your help desk are handling.
Other Components
Several other component or functionalities can be added to help desk software. One of the most interesting ones is telephony integration. Computer-telephony integration is a complicated field but recent phone systems make it easier than ever. An integrated help desk system could, for instance, automatically pull user information from the telephony system when a user calls. That information could include information about that user's past tickets and resolutions. And combined with asset management capabilities, a help desk agent could have detailed information about a user and his equipment even before he answers the phone.
Remote control is another popular option with many of the best IT help desk software packages. Remote control systems let help desk attendants take control of a user's computer. They can work on the computer as if they were sitting in front of it. This often makes for much faster resolution as a technician does not have to visit the user to fix the issue. It is particularly useful in larger organizations with multiple locations and a centralized help desk and in organizations that rely heavily on remote workers.
Local Install vs Cloud-based
With cloud computing getting more mainstream, it is no surprise that there are several cloud-based help desk software packages available. There are, of course, advantages and disadvantages to each option. For instance, cloud-based solutions typically require less maintenance as it is usually handled by the supplier. Backups are similarly handled by the vendor.
On the other hand, a locally installed solution will often integrate better with your other systems. You might, for instance, already have an asset management system and want your help desk software to interact with it. While it could be done with a cloud-based solution, it's usually easier with a local software.
To be totally honest, choosing a cloud-based or a locally installed package should not matter much and you should certainly base your decision on more important factors such as the product having the feature set you need.
The Best IT Help Desk Software Packages Available
With all this information fresh in our heads, we're now ready to have a look at the best IT help desk software. There are many packages available. In fact, there are too many of them. We've tried to find the best ones but there are certainly excellent packages that we overlooked. It doesn't mean they're not good, just that we can't review them all.
SolarWinds is a common name in the field of network and system administration tools. The company's flagship products, the Network Performance Monitor and the NetFlow Traffic Analyzer are respectively among the best SNMP monitoring tools and the best NetFlow collectors and analyzers. And the company has task-specific tools in most areas of system and network administration and troubleshooting, including many free tools.
For your IT help desk, SolarWinds proposes the SolarWinds Web Help Desk. Don't let the name mislead you, though. This is not a cloud-based system. It is web-based but it is locally installed. Web-based means that you don't need any client software and your help desk attendants only need a browser to gain full access to the system. Let's have a look at some of the product's most interesting features.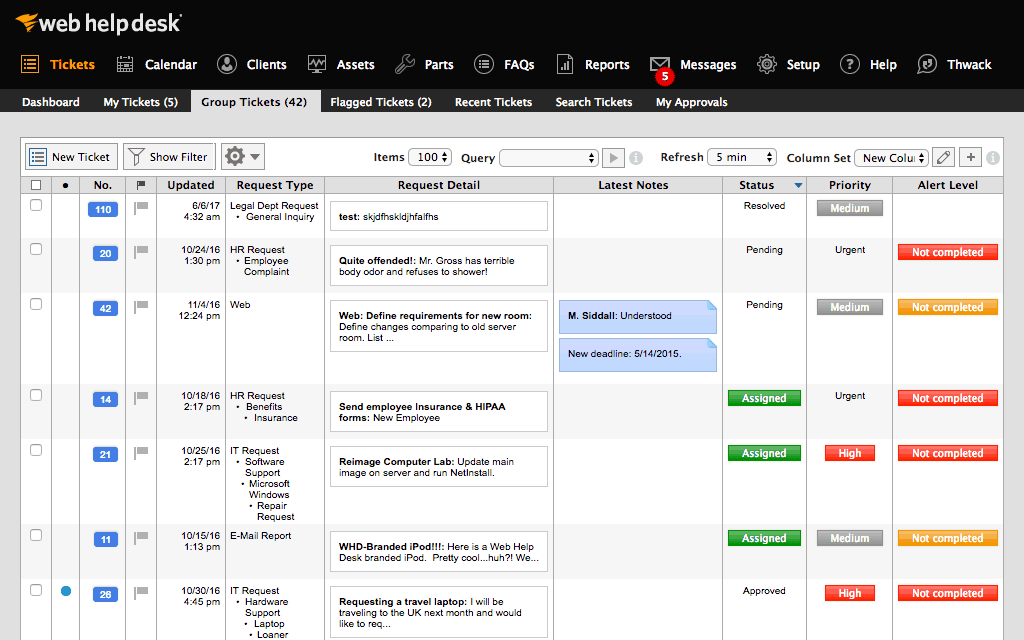 In addition to automated ticket management and a centralized knowledge base, the tool has excellent change management features. Change requests with automated approval workflows can be created with the SolarWinds Web Help Desk. SLA management is just as good with timed notifications.
The SolarWinds Web Help Desk also integrates with Active Directory and LDAP as well as third-party asset management systems. Another feature that is quite useful is the automated conversion of emails to tickets which allows you to set up a help desk mailbox where any received email is automatically converted into a ticket.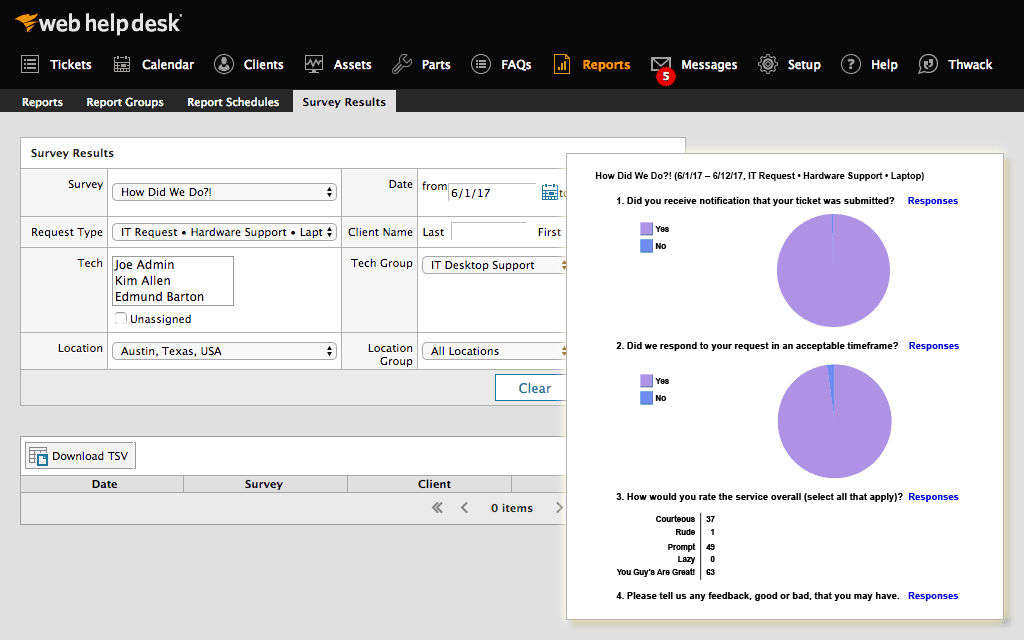 Reporting and follow-ups are also some important features of this excellent software. Its built-in reports and dashboards let you track ticket status, technician performance, and customer support needs. There are also automated feedback surveys that you can have users complete upon ticket resolution, allowing you to remain on top of customer satisfaction and help desk performance.
The SolarWinds Web Help Desk is priced based on the number of help desk technicians you have. Prices start at $700 per technician, regardless of the number of end users. A free 14-day trial can be downloaded from SolarWinds. For more information, a guided tour and a live demo are also available from SolarWinds' website.
2. ZenDesk Support
ZenDesk Support is a complete help desk management solution. It has several unique features that make it a very interesting option. For instance, ticket forms can be created for different types of request and only include fields relevant to that specific kind of request. They ensure that your help desk agents ask all the right questions and that no time is lost collecting unnecessary information. The forms also support conditional and custom fields, allowing you gather organization-specific details.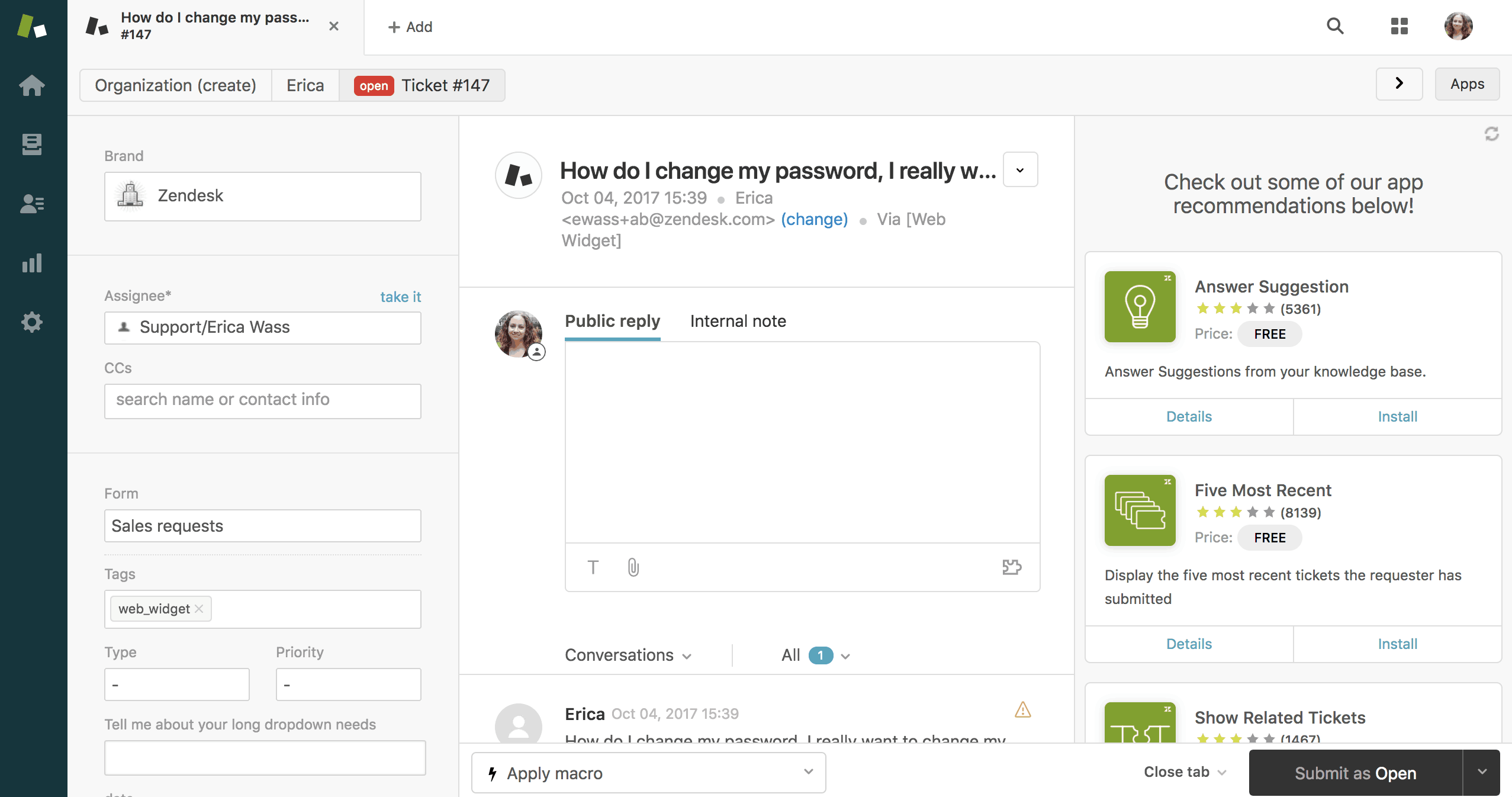 ZenDesk Support is a help desk-centric package. It uses skill-based routing to assign tickets to the proper agent. The system can also initiate customizable ticket workflows based on certain changes or time-based conditions. This tool also supports macros to respond quickly to standards requests with predefined actions. Macros can be used to change a ticket status as well.
Collaboration extensions are available, allowing agents to communicate with other teams and get them involved in ticket resolution as needed from within Zendesk Support. The tool also has several customer insight features such as CSAT ratings and Net Promoter Score surveys. Plus it has Performance Dashboards to give visibility into ticket volume, agent performance, and other key support metrics and custom reports to better understand your customers, measure operational efficiency, and improve your team's workflow.
Prices for Zendesk Support range in five tiers from $5/agent/month to $199/agent/month, depending on the selected feature set. All plans support an unlimited number of end-users and a 30-day trial is available.
3. Jira Service Desk
Jira Service Desk from Atlassian has an interesting twist. While it will suit any kind of IT help desk, it is specifically designed for the support of in-house software. It fully integrates with Jira Software, a project and issue tracking package for software development, also from Atlassian. Here's an overview of the product's most interesting features.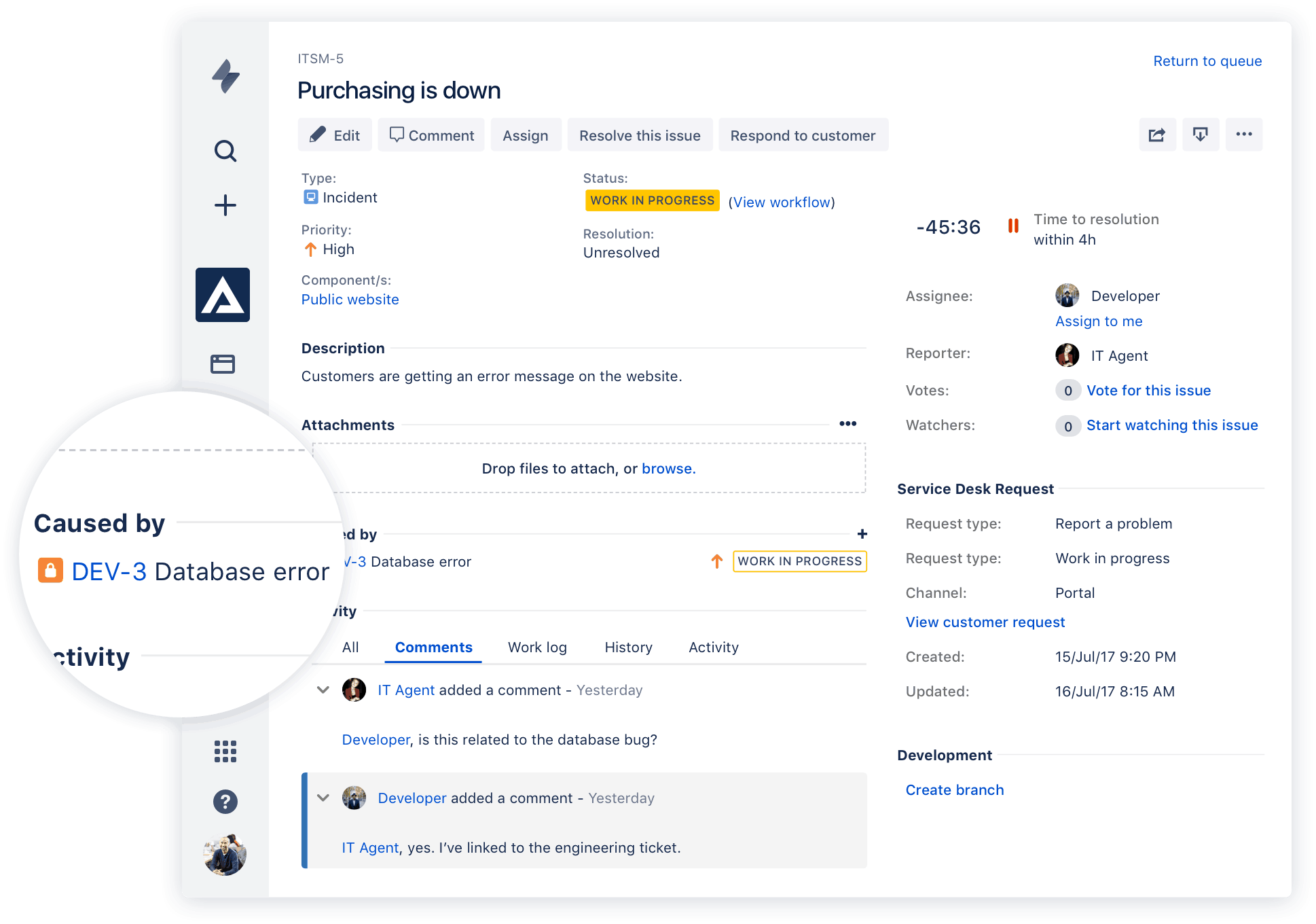 Jira Service Desk is one of the few packages that offer a self-service help desk where users can open tickets by themselves. It also has automation as well as SLAs and CSAT reporting. One of the emphases of the product is on making it simple and quick to set up. Contrary to some competitors, you could be running within just a few days.
Somewhat like what we have for Android or iOS, there's a Jira marketplace where you'll find over 800 apps that can interact Jira Service Desk and other Jira products.
Jira Service Desk does not have knowledge management built-in. However, the software can interact with Jira Confluence a type of knowledge base/artificial intelligence system that can be coupled with the self-service help desk to assist end-users in solving issues with no human intervention.
Considering its capabilities, Jira Service Desk is relatively inexpensive. A flat fee of $10/month will be sufficient for up to three help desk agents. Between 4 and 15 agents, you'll have to shell out $20/agent each month and volume discounts are available if you have more than 15 agents. A free trial is available but it only lasts 7 days. It's a good thing that the software installs quickly.
4. ManageEngine Service Desk Plus
Like SolarWinds, ManageEngine is a well-known name in the field of system and network management software. Its Service Desk Plus package is one of the few that is available either as a cloud-based service or an on-premise software. It is quite unique in that regard and both options offer a similar feature set.
Talking about features, Service Desk Plus in one of the most ITIL-centric help desk software we've seen. If you're familiar with this standard, you'll feel right at home with this product. Most of its features are ITIL-based and its modules correspond to ITIL processes. For instance, the tool has incident management, problem management, and change management. It also features a service catalog and a Configuration Management Database (CMDB). Assets management and project management complete this already well-endowed help desk suite.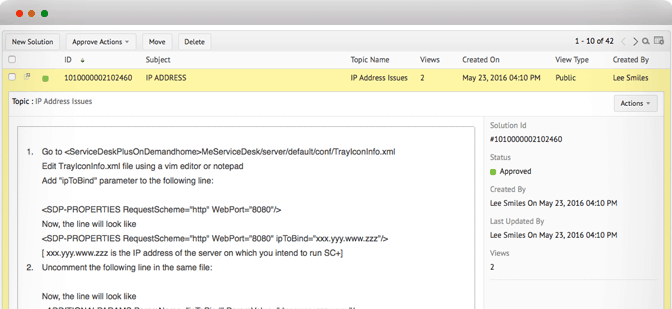 Reporting is another of the product's strong suits. Service Desk Plus comes with over 150 predefined reports. You can get information on completed tickets based on various parameters or keep tabs on technician performance. Reports can be exported in a variety of formats like HTML, PDF, XLS, or CSV. You can also build our own custom reports in minutes without writing a single line of code.
The ManageEngine Service Desk Plus is available in three tiers with increasing features. The Standard version only includes the help desk software, the Professional version adds the asset management features and the Enterprise version also has project management and all the ITIL features. Pricing starts at $1 195 annually.
5. Freshdesk
Last on our list–but certainly not least–is Freshdesk from Freshworks. This is a cloud-based full-featured package that claims to offer an intuitive, feature-rich, affordable customer support solution. It has way too many features to discuss them all but let's see what the most interesting are.
This product has several interesting automatic assignment features. First, tickets can be automatically assigned to agents or groups based on keyword, requester or properties. Furthermore, intelligent assignment can assign tickets to agents base on their current workload or skill set.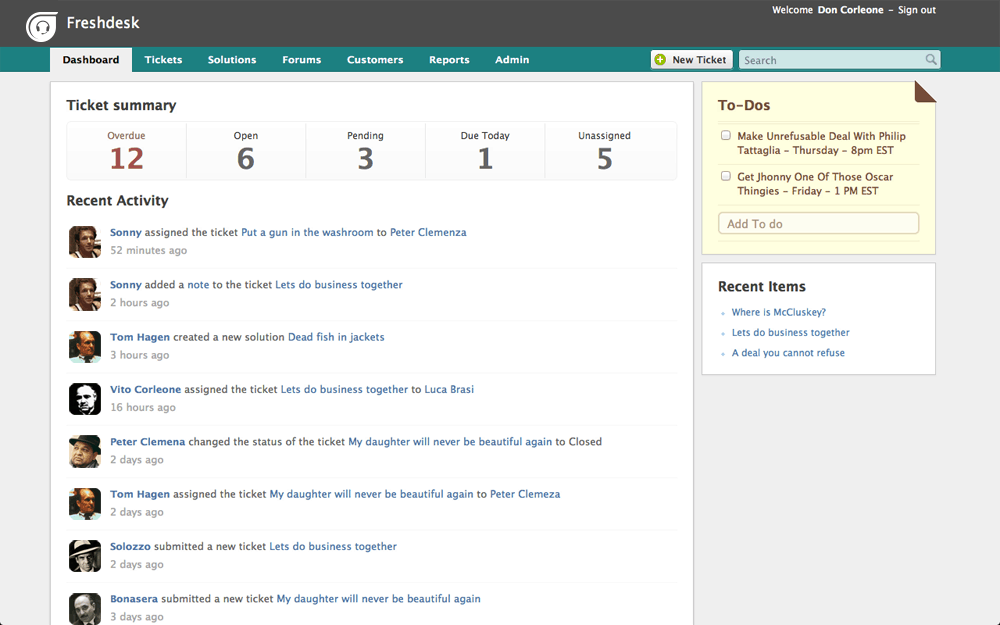 Freshdesk also features some excellent self-service features such as the automatic suggestion of solutions. And for managers, its dashboard and reports are as good as it gets. It has both predefined reports—including customer satisfaction—and customizable reports for the best flexibility.
Price-wise, Freshdesk is available in several versions with increasing feature sets. Sprout, the lowest tier is free but has a limited feature set. Prices for the other tiers vary from $19/agent/month to $99/agent/month, depending on feature set. A free 21-day trial is available on all licensing tiers.