We are reader supported and may earn a commission when you buy through links on our site.
Learn more
Best IT Service Management Tools (ITSM Software)
IT service management typically refers to any and all activities related to the delivery of IT services. It deals with the management of people, practices and procedures, and technology. Its goal is to enable organizations to get the most of their investment in various IT resources.
The definition might seem simple but it is actually rather complex. Well, not THAT complex. In fact, it is composed of multiple simple elements that work together. And to make things even simpler, many tools exist that were specifically created to handle one or many of the different components of IT service management. This is what this post is all about, and we're happy to bring you our best IT service management tools.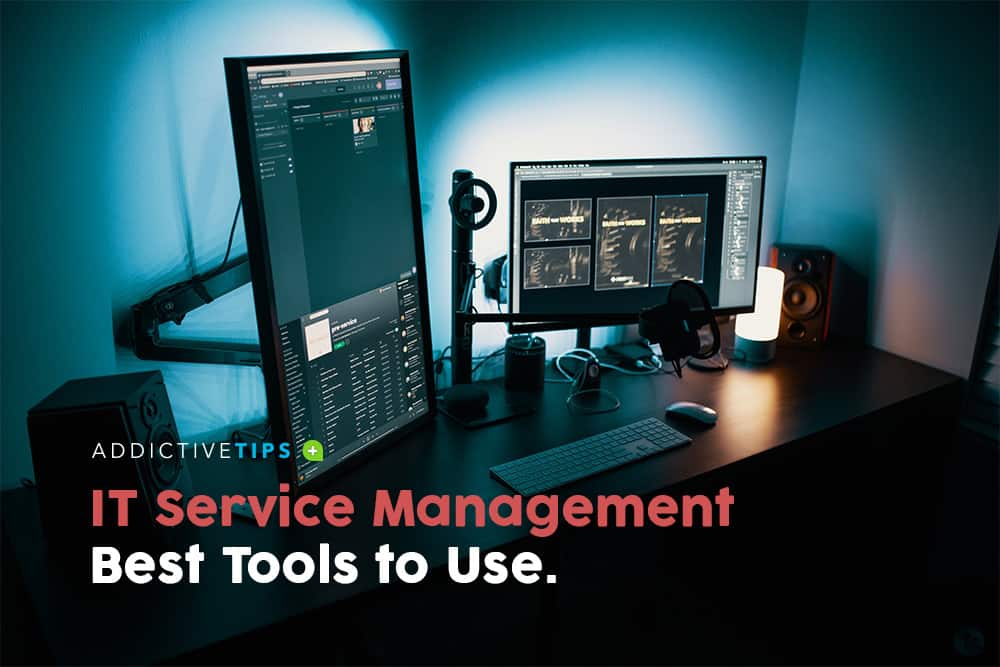 As we often do, we'll start off with some background information. It will allow you to better understand and appreciate the various features of the IT service management tools we're about to review. We'll begin with a deeper look at IT service management and what it is. We'll then have a very brief look at the various types of tools which are available. Again, we don't want to make you experts in the field, only to give you enough information. Armed with all the information, we'll then proceed to the core of our subject, the actual review of the best IT service management tools.
About IT Service Management?
IT service management is different from other technology-oriented approaches such as network management and systems management. Instead of focusing on technology, IT service management is, according to Wikipedia, "characterized by adopting a process approach towards management, focusing on customer needs and IT services for customers rather than IT systems, and stressing continual improvement."
This approach stems from the fact that some IT managers realized at one point that their teams were not always "in the loop" with every part of their organizations. This brought observations such as the different needs of the marketing team and the customer service team, for instance. Likewise, a travelling employee has different needs from one who works from a desk in the office ad from one working from home.
The ultimate goal of IT service management is to improve the correspondence between what a customer (employee or client) needs and what the IT team can offer. Without that primordial match, many IT team will be left struggling to deliver adequate services.
RELATED READING: The Best Managed Service Provider Software Tools
Different Types of ITSM Tools
IT service management tools come in all shapes and sizes. There are, however, three types of tools that are often mentioned with talking about IT service management: service desk tools, help desk tools, and server and application monitoring tools.
Service desk and help desk tools are not that different and there is often a lot of confusion between the two. The primary purpose of the former is to streamline internal as well as external communication. More than anything, service desk tools are communication tools that provide a single point of contact between an IT team and its customers and/or employees.
MUST READ: Best IT inventory management tools
As for help desk tools, they are somewhat similar, yet they typically have the specific focus of helping resolve issues by providing various incident and issue resolution services. Help desk tools generally include some ticket management features. In fact, it is most often their primary feature. Many also bast additional features combine to generally improve the incident resolution time as well as the time spent by IT teams on incident resolution.
The purpose of application and server monitoring tools is self-explanatory. These are tools that are designed to monitor and manage the performance of your IT infrastructures, systems, and applications. They are your eyes and ears on an otherwise invisible aspect of your network and they can provide data on application dependencies, transaction times or overall user performance.
The best IT Service management tools
Enough theory; the time has come to have a look at some of the very best IT service management tools. We've managed to include tools of all three types mentioned above not because we had to but because it just so happened that there were all three types of tools among the six best. All of the products reviewed herein have a free trial available. Your best course of action is probably to have a look at each product's details specifications and features and try a couple of those that look the most interesting to you before making the final choice.
SolarWinds is a common name in the field of network and system administration tools. The company's flagship products, the Network Performance Monitor and the NetFlow Traffic Analyzer are respectively among the best SNMP monitoring tools and the best NetFlow collectors and analyzers. And the company has task-specific tools in most areas of system and network administration and troubleshooting, including many free tools. And when it comes to IT service management, SolarWinds has a few tools to offer.
The first one is the SolarWinds Service Desk. It used to be known as Samanage before SolarWinds acquired it. It is a cloud-based IT service management tool which is just as reliable as it is robust. The product's feature set ranges from change management tracking to self-generating knowledge bases, making it a great tools for many aspects of IT service management. The SolarWinds Service Desk lets users manage service tickets and company assets from any smartphone or tablet. This is a very useful feature when off-hours support teams are working remotely. Your staff won't have to lug a heavy laptop around and they can intervene from anywhere using a portable device.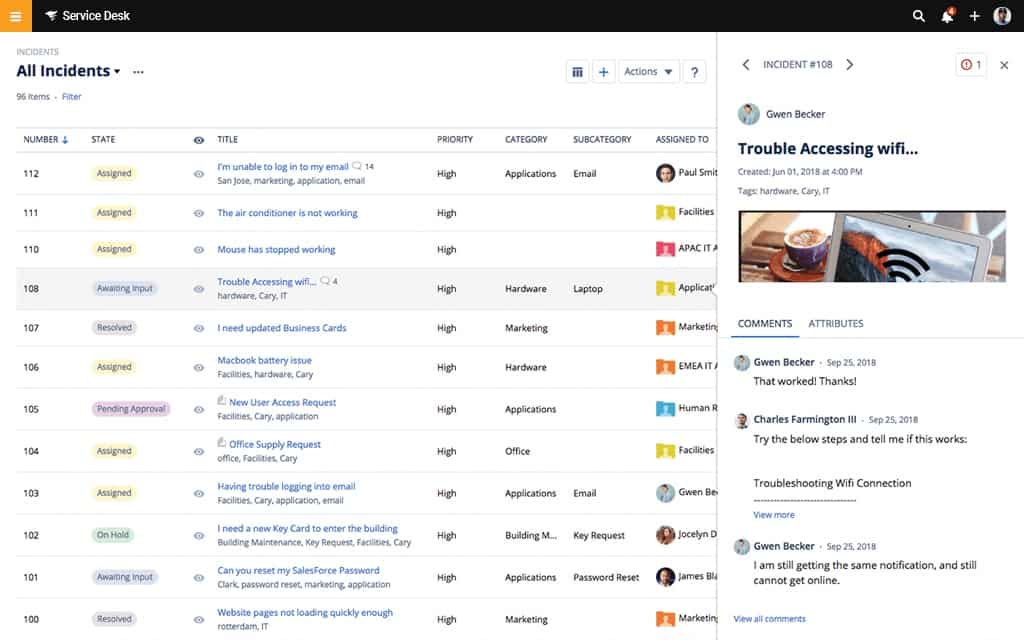 A key feature of the SolarWinds Service Desk is its single sign-on (SSO) functionality. Contrary to several other service desks which will support single sign-on either via Google Apps or Microsoft Active Directory, this product supports both. This is a key advantage that makes it quite easy to integrate with various applications such as Salesforce.com or OneLogin, to name a few. This product has all that one would expect from a full-fledged IT service management package. It has incident management, a service catalogue, fully integrated IT asset management, and a service portal where users can submit tickets and requests.
SolarWinds Service Desk appeared top of a recent market-wide report, you can download the comparison here.
But even more so than its impressive feature set, one of the things that impressed us the most about the SolarWinds Service Desk is how easy it is to install, set up, and customize. In fact, installation is the only step you have to take. The product comes ready to use right from the get-go and chances are that you won't have anything to do to customize the tool to fit your specific needs. It is that good.
The pricing structure for the SolarWinds Service Desk is a bit complex. It is available in three licensing tiers with increasing feature sets. The bottom level is called Team and will cost you $19/month per agent plus $0.10/month per managed device. This level includes the incident management, service portal, and knowledge base modules. Next is the Business plan which adds the service catalogue and change management modules plus a few other. It goes for $39/month per agent plus $0.30/month per device. Then you have the full-featured Professional package at $69/month per agent plus $0.50/month per device. For your convenience, a free 30-day trial is available on all plans.
30-day Trial: https://www.solarwinds.com/service-desk/registration
The second product offering by SolarWinds for IT service management is called the SolarWinds Web Help Desk. Don't let the name mislead you, though. In addition to automated ticket management and a centralized knowledge base, the tool has excellent change management features too. Change requests with automated approval workflows can be created with the SolarWinds Web Help Desk. The product also has SLA management with timed automatic notifications.
The SolarWinds Web Help Desk will integrate with Active Directory and LDAP as well as third-party asset management systems. Another feature that is quite useful is the automated conversion of emails to tickets. This feature lets you set up a help desk mailbox where any received email is automatically converted into a ticket. But one of the best features of this product is its intuitive dashboard. Navigating between tabs and platforms is easy and users will have to trouble to track a support ticket or checking if an asset is available.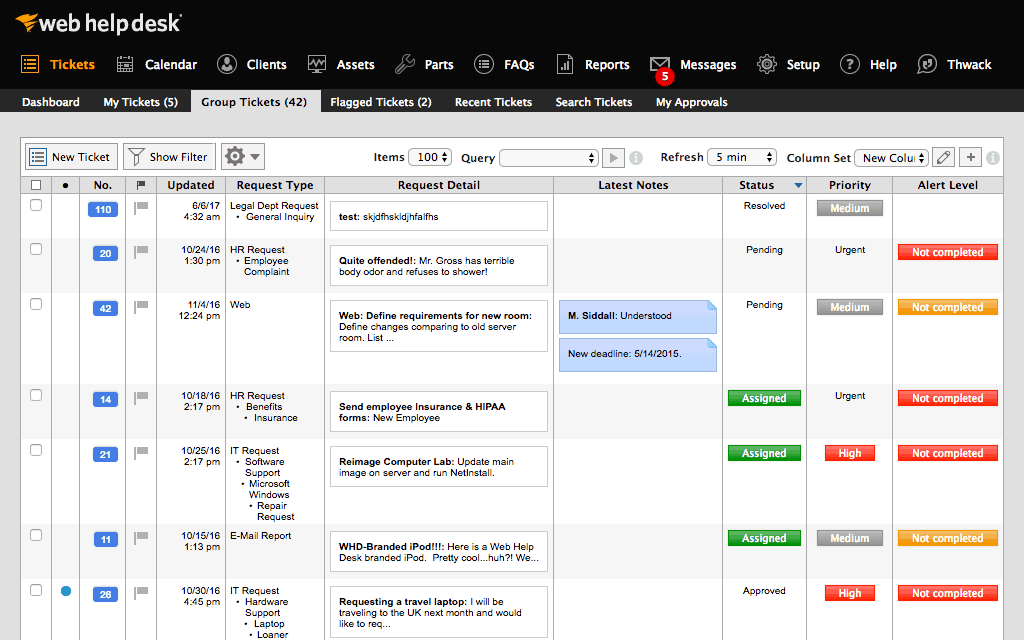 Reporting and follow-ups are also some important features of this excellent software. Its built-in reports and dashboards let you track ticket status, technician performance, and customer support needs. There are also automated feedback surveys that you can have users complete upon ticket resolution, allowing you to remain on top of customer satisfaction and help desk performance.
The SolarWinds Web Help Desk is priced based on the number of help desk technicians you have. Prices start at $700 per technician, regardless of the number of end-users. A free 14-day trial can be downloaded from SolarWinds. For more information, a guided tour and a live demo are also available from SolarWinds' website.
Free 14-day trial: https://www.solarwinds.com/help-desk-software/registration
Though not technically a true IT service management tool in the real sense of the term, this third offering from SolarWinds is still a very interesting package which addresses an important part of IT service management better than the other tools reviewed so far. This tool is called the SolarWinds Service & Application Monitor. It is, as its name implies a tool that you can use for the monitoring aspect of service management.
The SolarWinds Server & Application Monitor was designed to help administrators monitor servers, their operational parameters, their processes, and the applications that are running on them. It can easily scale from very small networks to large ones with hundreds of servers—both physical and virtual—spread over multiple sites. The tool can also monitor cloud-hosted services like those from Amazon Web Services and Microsoft Azure. Furthermore. The tool's dashboard, dependencies, and alerts can be fully customized to better fit your environment and specific requirements.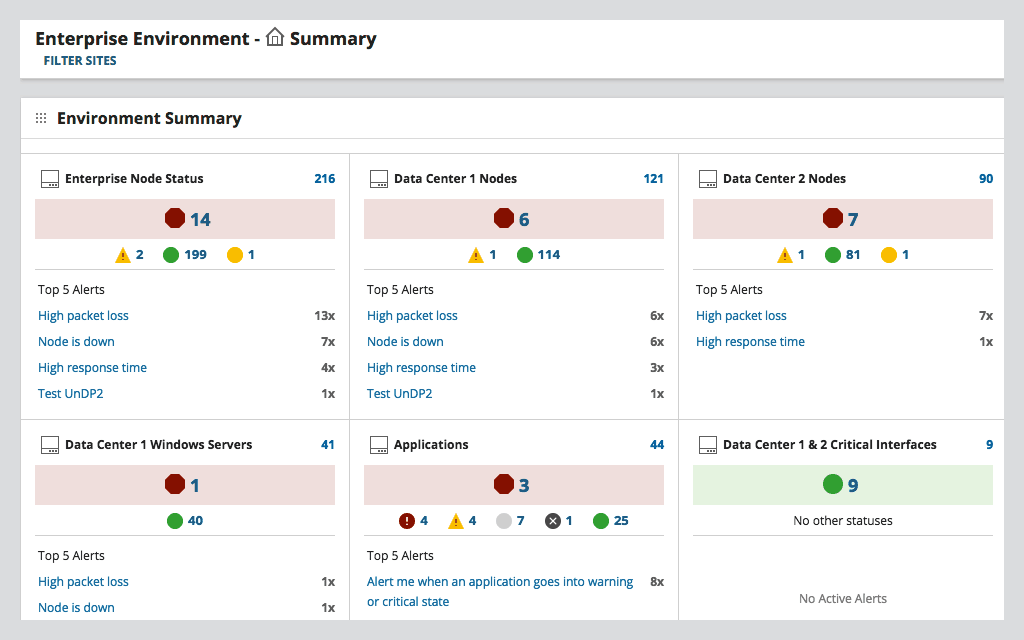 The SolarWinds Server and Application Monitor is very easy to set up and its initial configuration is just as easily done, thanks to the help of its auto-discovery module, which is a two-pass process. The first pass will discover servers, and the second one will find applications. Although it can take a bit of time, it can be sped up by supplying the tool with a list of specific applications to look for. Once the tool is up and the discovery is complete, its user-friendly GUI will make using it a breeze. You can choose to display information in either a table or a graphic format.
Prices for the SolarWinds Server and Application Monitor start at $2 995 and vary based on the number of components, nodes, and volumes monitored. A free 30-day trial version is available for download, should you want to try the product before purchasing it.
30-day free trial: https://www.solarwinds.com/server-application-monitor/registration
4.
ManageEngine Service Desk Plus
Like SolarWinds, ManageEngine is a well-known name in the field of system and network management software. Its Service Desk Plus package is either available either as a cloud-based service or on-premise software. This lets you pick the installation option that best suits you need and either option offers an identical feature set.
Talking about features, the ManageEngine Service Desk Plus in one of the most ITIL-centric IT service management tool you can find. If you're familiar with that IT management framework, you'll feel right at home with this product. Most of its features are ITIL-based and its modules correspond to the various ITIL processes. For example, there are incident management, problem management, and change management modules. The tool also features a service catalogue and a configuration management database (CMDB). And if that's not enough, asset management and project management complete this already feature-rich service management package.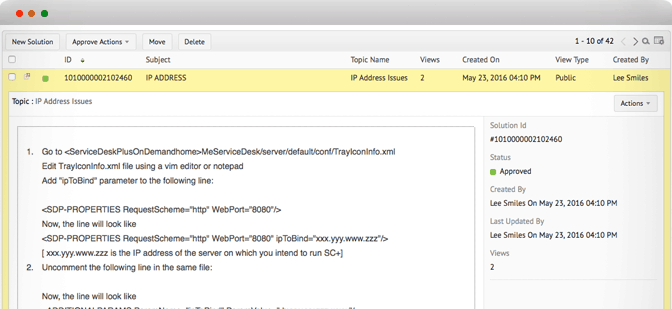 Reporting is another of the product's strong suits. The ManageEngine Service Desk Plus comes with over 150 predefined reports. You can get information on completed tickets based on various parameters or keep tabs on technician performance. Reports can be exported in a variety of formats like HTML, PDF, XLS, or CSV. You can also build our own custom reports in minutes without writing a single line of code.
The ManageEngine Service Desk Plus is available in three tiers with an increasing feature set. The Standard version only includes the help desk software, the Professional version adds the asset management features and the Enterprise version also has project management and all the ITIL features. Pricing starts at $1 195 annually. A free trial is available should you want to test the product's features
5.
Jira Service Desk
Jira Service Desk from Atlassian is available as either a cloud-based or an on-premises IT service management solution. The tool is best known for its efficient self-service feature. It lets customers open tickets by themselves and even lets them self-resolve issues and queries by accessing the tool's knowledge base. That makes it a unique and very customer-friendly product. The product will suit any kind of IT service management need but it was specifically designed for the support of in-house software. As such, it fully integrates with Jira Software, a project and issue tracking package for software development, also from Atlassian.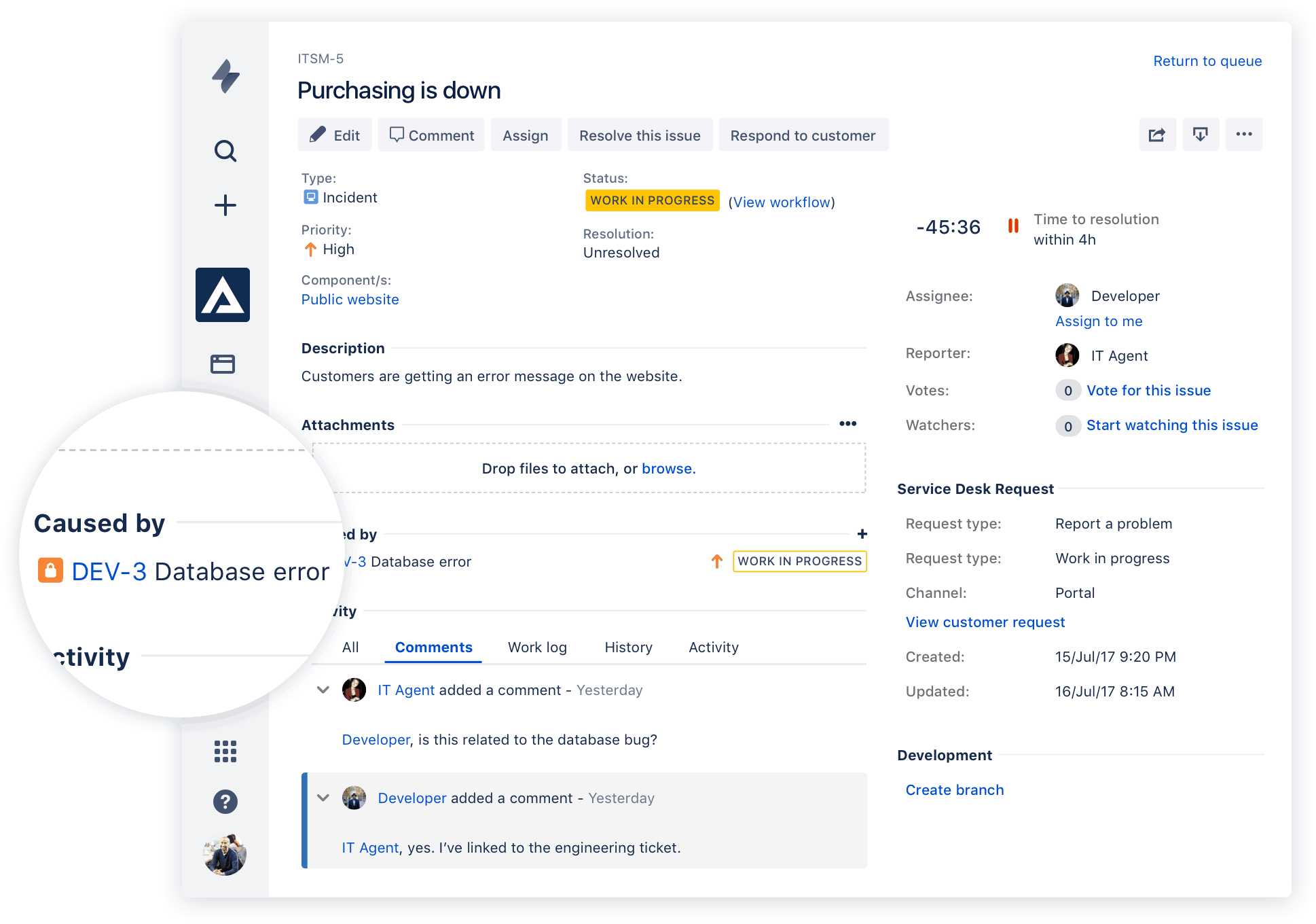 In addition to its famous self-service features, Jira Service Desk also has automation as well as SLAs and CSAT reporting. One of the primary focuses of the product is on making it simple and quick to set up. Contrary to some competitors, you could be running within just a few days. And if you need to extend the functionality of this already feature-rich tool, there's a Jira marketplace—which is somewhat like what we have for Android or iOS—where you can find over 800 apps that can interact Jira Service Desk and other Jira products.
One of the drawbacks of the Jira Service Desk is that it does not have knowledge management built-in. However, the tool can interact with Jira Confluence, a knowledge base/artificial intelligence system that can be coupled with the self-service help desk to assist end-users in solving issues with no human intervention.
Considering its capabilities, Jira Service Desk is relatively inexpensive. A flat fee of $10/month will be sufficient for up to three help desk agents. Between 4 and 15 agents, you'll have to shell out $20/agent each month and volume discounts are available if you have more than 15 agents. A free trial is available but it only lasts 7 days. It's a good thing that the software installs quickly.
6
.

Zendesk Suite
ZenDesk Suite is a rather complete IT service management solution. It has several unique features that make it a very interesting option. For instance, ticket forms can be created for different types of request and only include fields relevant to that specific kind of request. They ensure that your help desk agents ask all the right questions and that no time is lost collecting unnecessary information. The forms also support conditional and custom fields, allowing you to gather organization-specific details. One of its most unique features is certainly the live chat. It is deployed through a centralized console and lets agents communicate with their customers more easily.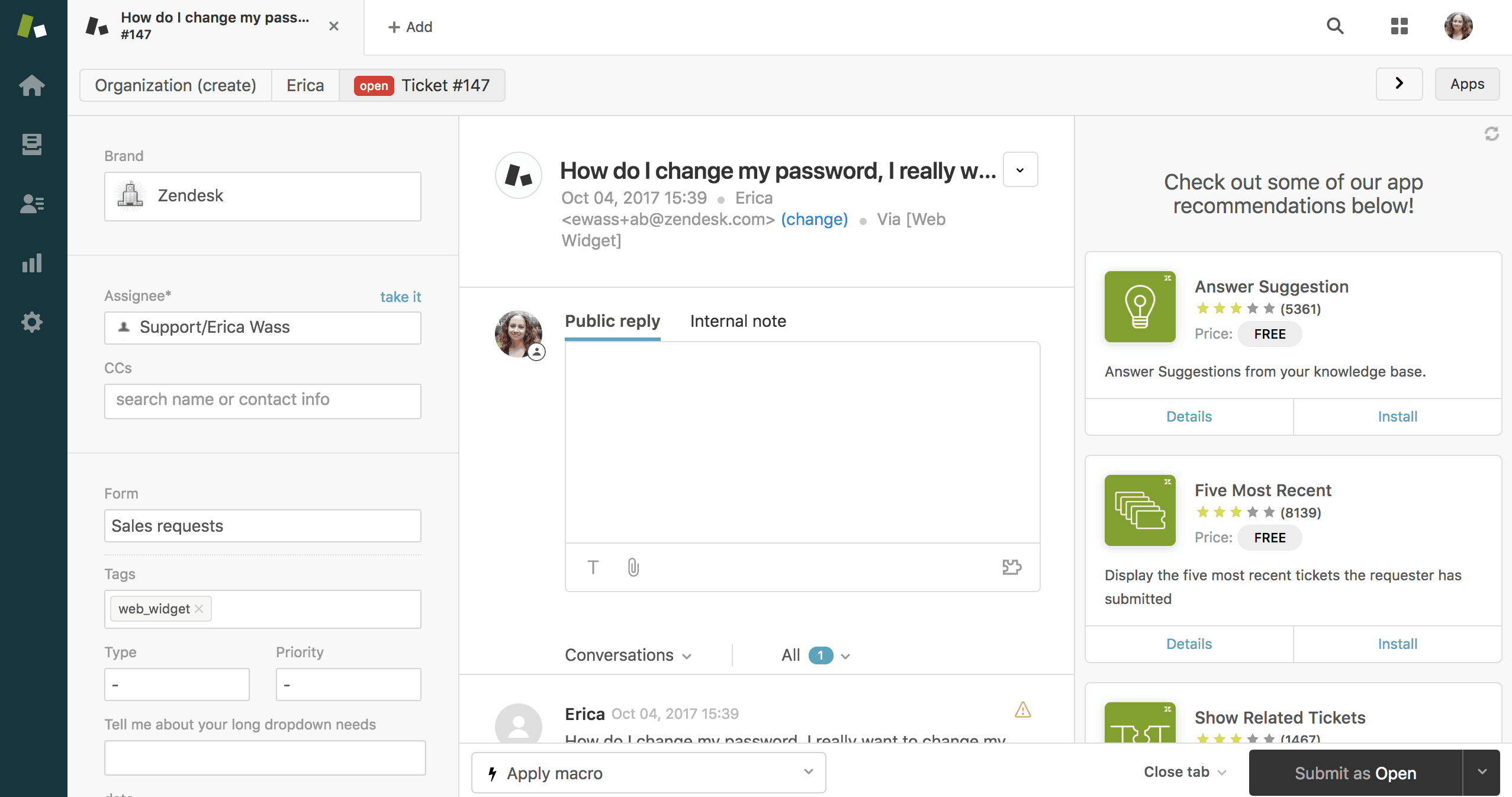 ZenDesk Suite is a helpdesk-centric package. It makes heavy use of skill-based routing to assign tickets to the proper agent. The system can also initiate customizable ticket workflows based on certain changes or time-based conditions. This tool also supports macros to respond quickly to standards requests with predefined actions. Furthermore, macros can also be used to change a ticket's status.
The tool has several collaboration extensions available. They allow agents to communicate with other teams and get them involved in ticket resolution as needed from within Zendesk Suite. The tool also has several customer insight features such as CSAT ratings and Net Promoter Score surveys. Plus it has performance dashboards to give visibility into ticket volume, agent performance, and other key support metrics and custom reports to better understand your customers, measure operational efficiency, and improve your team's workflow.
Zendesk Suite is available in two versions. The feature-limited Professional plan will cost you $89/month per agent. It includes omnichannel support with email, chat, phone, social media, and messaging, knowledge base for self-service, reporting and analytics, platform extensibility with private and public apps, and multiple ticket forms. You can also opt for the full-featured Enterprise version at $149/month per agent which adds several advanced features to the mix. All plans support an unlimited number of end-users and a 30-day trial is available.