We are reader supported and may earn a commission when you buy through links on our site.
Learn more
9 Best Mobile Device Management Tools for 2021
With the current ubiquity of mobile devices such as smartphones and tablets, it is not at all uncommon to see organizations wanting to take advantage of it. A few years ago, organizations started by allowing mobile device users among their workforce to use the corporate wireless network for Internet access. Today, they seek to let their employees use their personal mobile devices for work. This means that they need to give mobile device users access to corporate resources rather than just the Internet. And to safeguard the security of the network, some means of managing what users can do with their mobile devices and of ensuring they comply with some basic standards must be put in place. This is where Mobile Device Management (MDM) comes in. Today, we're going to be reviewing some of the best mobile device management tools.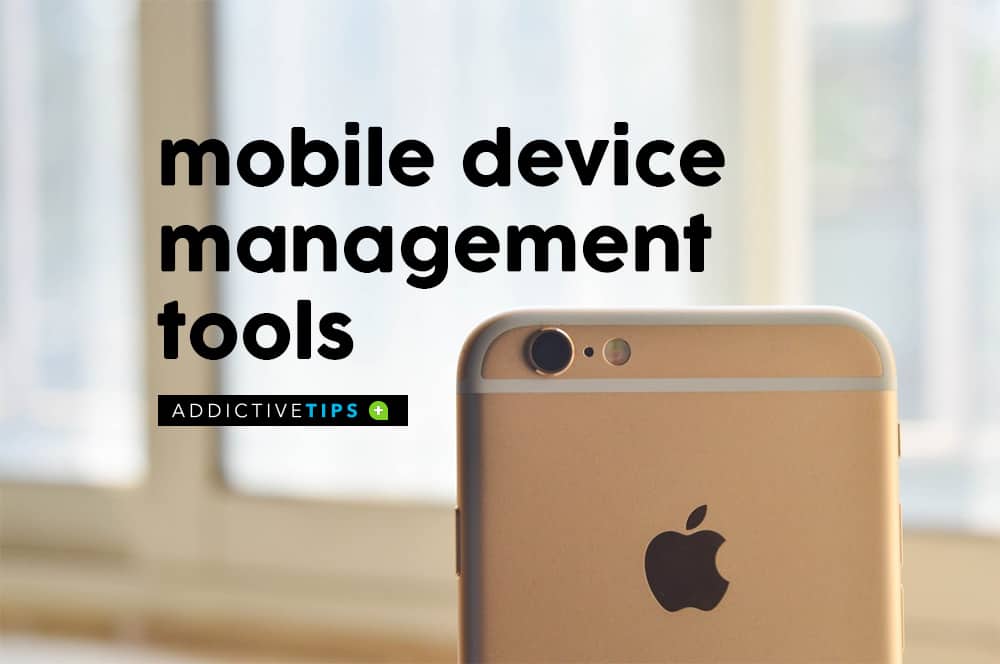 Before we get to reviewing the best mobile device management tools, we'll first briefly look into mobile devices in greater details. We feel it will help better appreciate the upcoming product reviews. We'll see how mobile devices made their entry into the enterprise world and how what initially started as a nuisance that had to be controlled quickly turned into an opportunity to increase productivity. Next, we'll have a look at managing mobile devices and try to explain what there is to it. We'll also discuss the need to separate the professional and personal aspects of mobile devices. Once we're all on the same page, we'll be ready to have a look at some of the best mobile device management tools. We'll introduce each products main features, their advantages and their shortcomings.
Mobile Devices In The Enterprise
Different people react differently to the same thing. For instance, when mobile devices started gaining in popularity and when applications promising increased organizational efficiency and productivity became available, people reacted in different ways, often depending on their role within an organization.
The first group expressed a high degree of enthusiasm for these new opportunities that could be brought by mobile devices and saw them as one more tool in their arsenal. Other adopted a more cynical posture and expresses major concerns. They asked "is this necessary? Do we really need company data spewing out onto another platform? Are we still secure?" These are all very valid concerns and the second group quickly succeeded in raising some awareness among members of the first.
People in the second group—typically IT administrators and IT security officers—needed to be reassured. This is likely one of the main reason why mobile device management (MDM) tools saw the light. These systems and services can monitor and protect all the mobile assets in an organization while also protecting corporate networks against any malware that could be running on them. MDM tools offer the best of both works and ensure people from the first group can jump in and benefit from the tools while those from the second group are confident that their concerns are addressed.
BYOD – Turning A Problem Into An Asset
The whole BYOD—an acronym for Bring Your Own Device—fad started when employees who owned mobile devices took them to work and wanted to use the corporate WiFi network to use their devices for personal matters during their free time such as lunch and coffee breaks. Many organizations ended up setting up a separate WiFi network specifically for them. This network provided Internet access but prevented employees personal devices from accessing the corporate network.
As employees got more and more familiar with their mobile devices and as those devices became more and more common, it soon became clear that there could be an advantage for organizations to let employees use their mobile devices for work-related tasks. This is how BYOD started out.
Managing Mobile Devices
Letting personal devices connect to the corporate network was not without risks, though. Contrary to corporate equipment where organizations have complete control over what software is installed, what malware protection is in place, and what security patches have been applied, personal devices are not necessarily the most secure.
This is why the concept of Mobile Device Management, or MDM, was invented. MDM typically entails the deployment of a combination of on-device applications and/or configurations, corporate policies and certificates, and back end infrastructures. Their purpose is simplifying and enhancing the IT management of end user devices.
Concretely, MDM systems can provide a huge variety of functionalities such as ensuring that diverse user equipment is configured to a consistent standard / supported set of applications, functions, and/or corporate policies. They will often handle updating equipment, applications, functions, or policies in a scalable manner while ensuring that users use applications in a consistent and supportable manner and that equipment performs consistently. Most systems also permit the monitoring and tracking of equipment (location, status, ownership, activity) while also providing some means to efficiently diagnose and troubleshoot equipment remotely
Separating The Professional And Personal Domains
An important aspect of mobile device management has to do with separating the professional and personal aspect of employee-provided devices. You need devices to adhere to some standards when connected to the corporate network while leaving complete control to each device's owner when he's not connected to the corporate networks.
This can be achieved in several different ways but not all tools provide such a clear separation. The best ones work by encapsulating the user's session within a captive application running on his mobile device while connected to the network. This provides a great deal of control over what can be done, what apps can be used and how secure the session is. Another great advantage of this method is that as soon as the user disconnects, he has full access to his devices with no permanent or remaining corporate restrictions.
The Best Mobile Device Management Tools
Mobile device management tools differ widely from one another. This is due in part to the fact that not everyone agrees on the exact functionalities that should be included in MDM tools. As you'll see while reading our reviews, our selection of tools reflects that huge variety. Our list contains 6 full-fledged MDM tools (or tools offering a full complement of MDM functionalities) as well as a handful of smaller tools which we felt were worth mentioning.
Many network administrators are familiar with SolarWinds. The US-based company makes some of the best network and system administration tools. Its flagship product, called the Network Performance Monitor is known for being one of the very best network bandwidth monitoring tools. SolarWinds is also famous for its many free tools, each addressing a specific need of network administrators. The Advanced Subnet Calculator and the Kiwi Syslog Server are two great examples of these tools.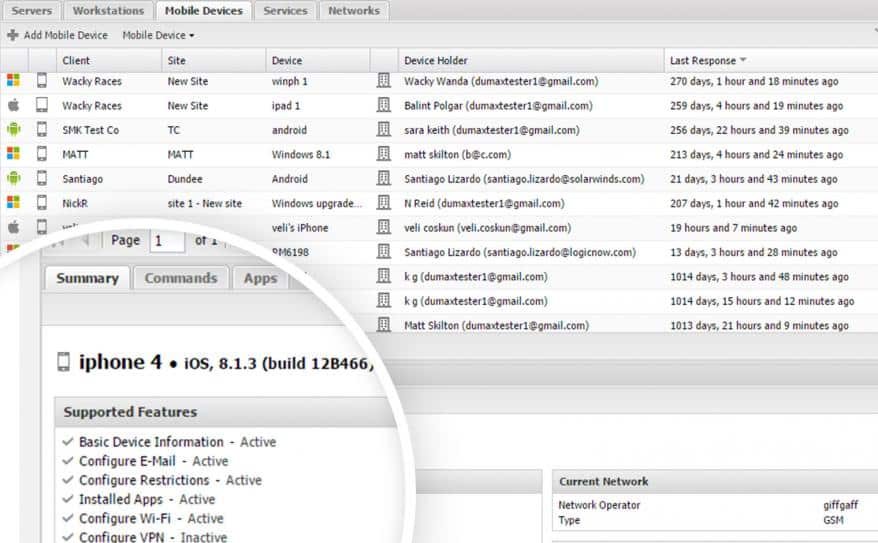 When it comes to mobile device management, while SolarWinds does not offer a dedicated tool, extensive MDM functionalities are built into its Remote Monitoring & Management (RMM) platform. As you could easily guess from its name, this tools offers way more than just mobile device management. In addition to MDM, this product claims to offer all the IT tools one needs in one convenient dashboard. The SolarWinds RMM offers an extensive set of tools to efficiently secure, maintain, and improve your IT environment, including:
Network path visualization
Remote access
Automated monitoring and maintenance
Patch management
Prescriptive data analytics
Data-breach risk intelligence
Backup and recovery
Managed antivirus
Web protection
As for the tool's mobile device management feature, it leaves nothing to be desired. The SolarWinds Remote Monitoring & Management lets you easily manage and secure mobile devices. The MDM feature is scalable, easy to configure, and easy to manage. It makes device management more efficient while helping you reduce risks with fast, automated setup and maintenance of mobile devices. By combining mobile device management with the other features of the Remote Monitoring & Management tool, you can conveniently manage multiple types of devices from a single web-based console.
Here are some of the product's main mobile device management features:
Security: Configure detailed security settings on business-owned devices.
Location tracking: Use the built-in GPS on mobile devices to locate lost or stolen smartphones or tablets.
Ownership details: Keep track of devices registered to individuals and associated handset details.
Data usage monitoring: Help make sure you don't pay extra data usage fines by setting up RMM monitor data usage on your users' registered devices.
Remote features: Lock phones, set passwords, or wipe devices without leaving the RMM console. Additionally, you can remotely configure email and Wi-Fi access on remote devices.
Multiple device types supported: The mobile device management tools support Apple iOS, Google Android, and Microsoft Windows devices.
The SolarWinds Remote Monitoring & Management platform is from SolarWinds MSP, a division of SolarWinds which delivers comprehensive, scalable IT service management solutions to empower managed service providers to create highly efficient and profitable businesses. Pricing information can only be obtained by contacting SolarWinds MSP sales. A free 30-day unlimited and full-featured evaluation version is available.
2-
ManageEngine Mobile Device Manager Plus
ManageEngine is another well-known name in the field of network administration tools. Its MDM tool, aptly called the ManageEngine Mobile Device Manager Plus, lets you manage your organization's mobile assets while maintaining strong security. It is available either as a cloud-based Software-as-a-Service or as on-premise software. The tool supports both Apple and Android devices.
The ManageEngine Mobile Device Manager Plus boasts a wide array of features and tools. Its device enrollment module, for instance, provides platform-specific bulk enrollment options, and its device management module enables the remote control of devices in real-time with the ability to set up profile policies based on department or corporate hierarchy.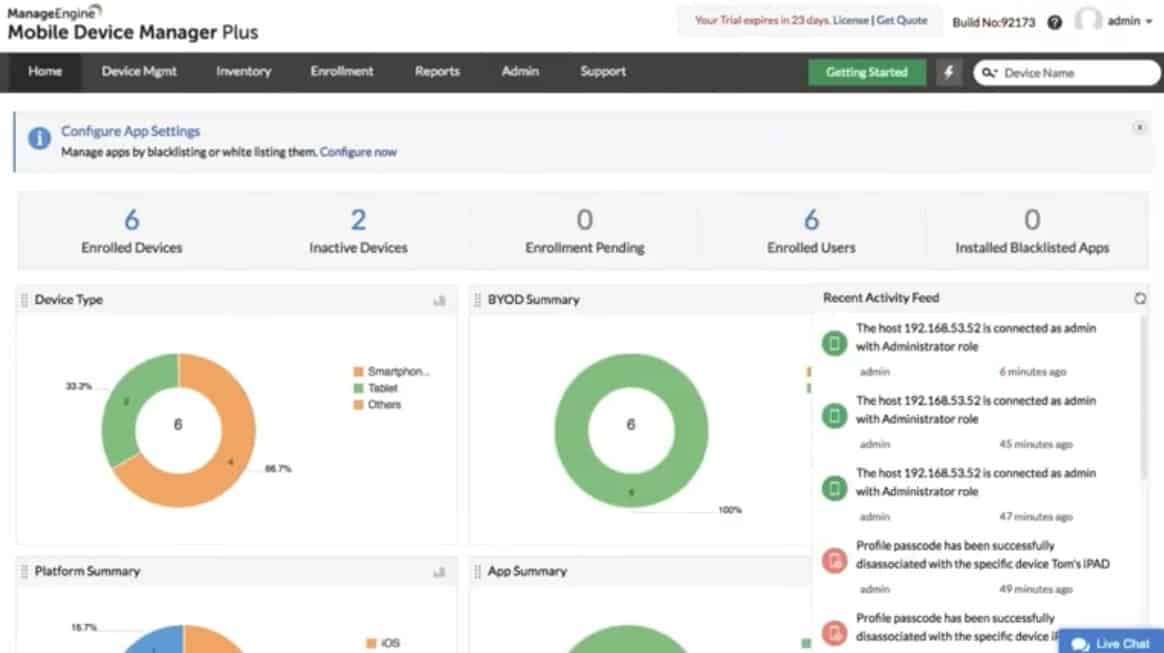 The tool also offers app management which can blacklist certain apps on the business side of a user's device as it is kept separate from their personal profile. Mobile security that safeguards assets and information through passcodes, geo-fencing and remote locking and wiping are also part of the product.
Remote troubleshooting lets you remotely view and control devices in real-time and mobile content management pushes documents and other resources to employee personal devices. Finally, audit tools can be used to keep administrators informed on the device count in the network, visualized what apps are being used by whom, and detect when a device ventures outside of the set boundaries.
The ManageEngine Mobile Device Manager Plus is free for up to 25 managed devices by one administrator. For more users, prices start at $645/year for the cloud-based version and $495/year for the on-premises version with prices varying based on the number of managed devices and the number of managers. A free 30-day trial is available from ManageEngine
3-
Jamf Pro
If you're an Apple fan or if your place of work is a Mac-only deal, Jamf Pro might very well be just the tool you need. It offers a comprehensive management solution for Apple mobile devices in the enterprise. The tool is self-proclaimed "The Swiss Army knife to handle your users' needs." The tool can be used by network administrators to troubleshoot iOS devices, keep them up to date, manage their security, and ensure all users have the apps and services they need on their devices. All those tasks can be automated, providing a great convenience factor. Furthermore, the user interface is clear and simple to use. Any seasoned administrator will get used to the tool in no time. And even a total beginner will quickly get used to working with the product.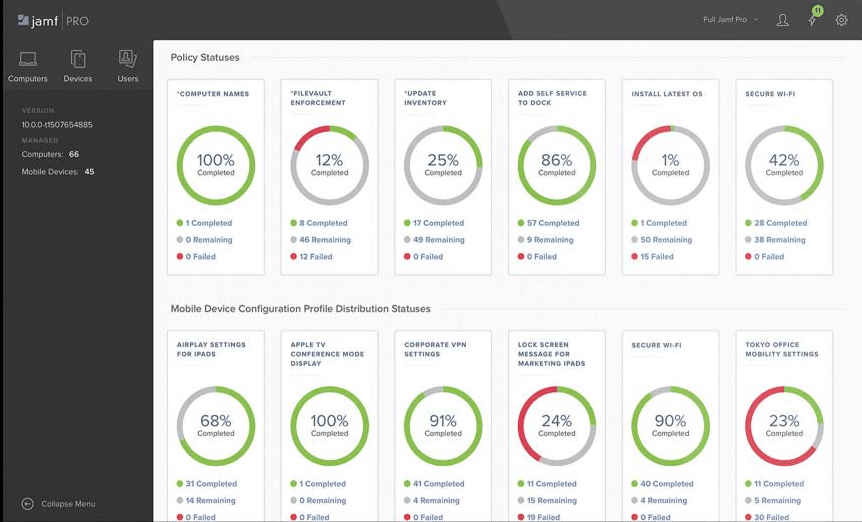 Jamf Pro can be run as a cloud-based service or as on-premise software. It interacts well with asset management tools, network access controllers and other services thanks to its built-in integrations. Email, phone and live chat assistance is available during business hours, should the need ever present itself, A Premium Support service also available for additional technical and strategic expertise.
Price-wise Jamf Pro is reasonable with price plans starting at $6.67 per Mac per month.
4.
Mobilock Pro
When Android devices first appeared in the enterprise, many expressed concerns and thought of the operating system as somewhat insecure when compared to BlackBerry devices or iPhones. Mobile device management solutions like Mobilock Pro were made precisely to address these concerns and with them, IT managers and network administrators are way more confident about the Android presence in their respective organizations.
MobiLock Pro is a cloud-based platform which enables users to control all the Android devices on their networks. One of the most notable features of the system is its ability to lock devices into kiosk mode, replacing the standard device home screen with a customizable display that limits which apps and websites can be accessed by users. This is the type of feature one would use for a publicly accessible device such as a kiosk where clients can register to receive special offers by email.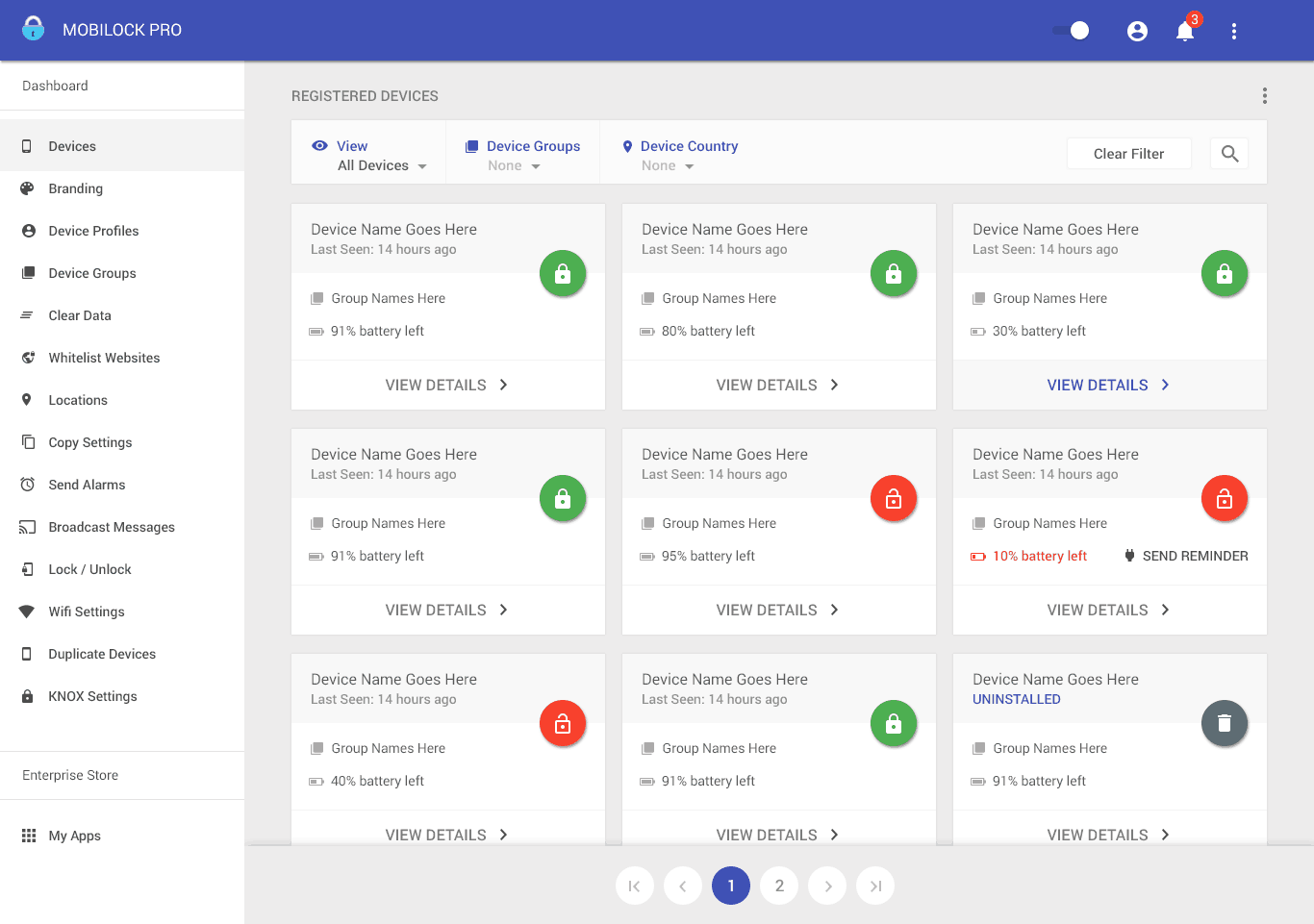 Deeper control of mobile devices is also possible such as making certain OS functions inaccessible or preventing employees from modifying certain device settings or installing unapproved apps while blocking and whitelisting websites.
The tool can be used by administrators to push files to devices from the dashboard, to remotely send alarms to make devices ring, to send out one-way message broadcasts to any number of registered devices, and to remotely wipe all images, videos, and audio files from device galleries.
MobiLock is free for managing up to one hundred devices. If you need to manage more devices MobiLock Pro's pricing starts at $12 per device per year.
5-
Miradore Online
Last on our list is a tool that is aimed at small and mid-size businesses. Miradore Online is another cloud-based MDM. You can use the platform for all your smartphones and tablets management needs, no matter if they're running Android, iOS, and Windows Phone.
Some of the tool's control features include passcodes, device encryption and remote locking, plus the ability to wipe the device of all data if it ever is lost or stolen. Lost iOS devices can be remotely put into Lost Mode using the software, thereby locking the phone or tablet and displaying a contact number to the attention of anyone who may find it.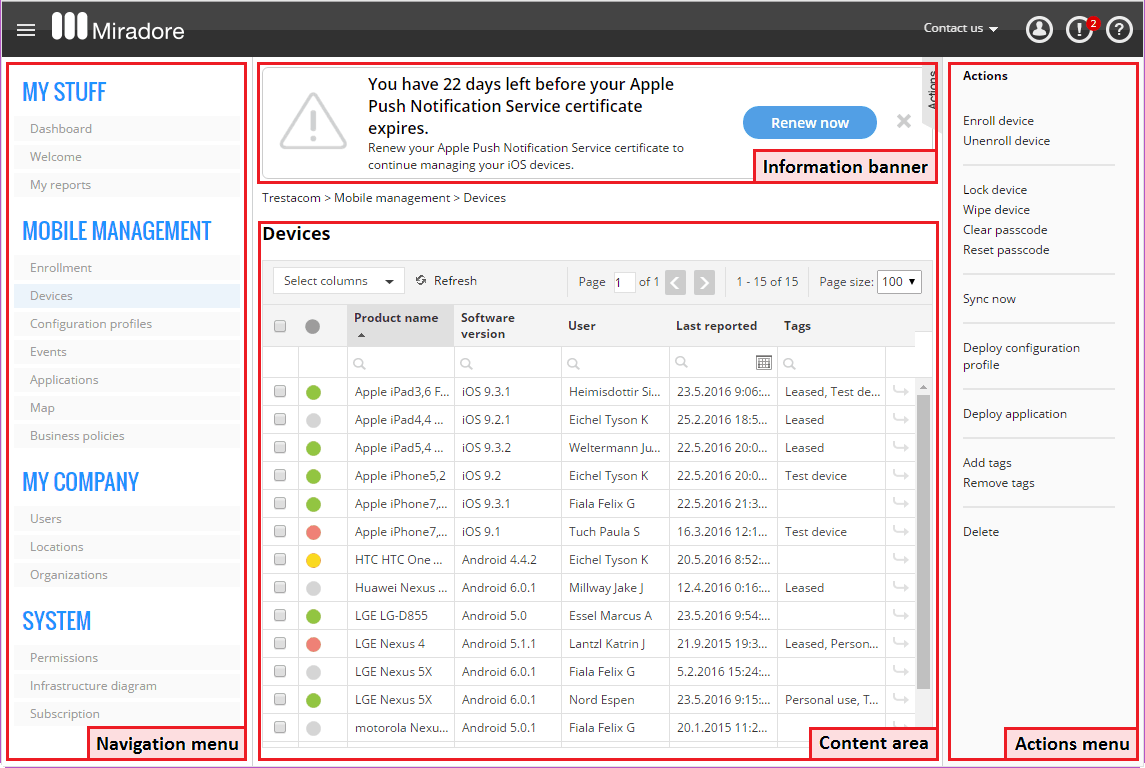 The tool features a useful selective wipe feature which enables the removal of any and all company-owned data from mobile devices, a handy feature for Bring Your Own Device (BYOD) environments. While the tool will remove all company-specific data from a device, it will leave its personal data intact. Also incorporated are tools that let you track the location of any device (with information including longitude and latitude, zip code, and street address), the ability to configure email, Wi-Fi, and VPN settings, plus restriction options can which be set on data roaming, web content, and app availability. Price-wise, this is one of the cheapest tools with prices starting at $1 per device per month.
Other Products Worth Mentioning
While researching the best mobile device management tools, we stumbled upon several products which, while they wouldn't (or couldn't) make it to our list, were still interesting choices providing some much-needed assistance when dealing with mobile devices.
6- SureMDM
SureMDM is yet another MDM service that can be used to manage iPhone, Android and Windows. It is described by 42Gears, the tool's publisher, as a simple and lean solution for the enterprise, targeting small and medium businesses and startups. Its main features include application deployment, security policies, location tracking, screen sharing and remote troubleshooting.
7- Simple MDM
Contrary to the preceding tool, Simple MDM specializes solely in the management of Apple devices, somewhat like Jamf Pro reviewed before. Using this tool, organizations are able to secure company assets and data on mobile devices by hiding apps, disabling functionality, implementing passwords, blocking "dangerous" iOS features, and more.
8- Hexnode MDM
Hexnode MDM is another multi-platform solution, which can work with iOS, Android and Windows. It will let you stay on top of devices in your network and provide individual and group management. Other interesting features include a kiosk mode, app management, web filtering, tracking, geofencing and expense management.
9- AirWatch
Finally, AirWatch can also handle devices running any one of the three popular mobile operating systems. It is packed with multiple tools and features. The tool lets you choose between three management tools (each of increasing functionality and price) which can keep devices up-to-date and secure via a well-designed and easy-to-use centralized dashboard.