We are reader supported and may earn a commission when you buy through links on our site.
Learn more
SolarWinds Server and Application Monitor In-Depth Review and Rating
SolarWinds is a name that's familiar to many network administrators. The company has been building some of the best network and system administration tools for a couple of decades. Its flagship product, called the Network Performance Monitor is viewed by many as one of the best SNMP bandwidth monitoring tools. SolarWinds is also famous for its free tools, each addressing a specific need of network and system administrators. Two excellent examples of these free tools—and some of the most popular—are the Advanced Subnet Calculator and the Kiwi Syslog Server.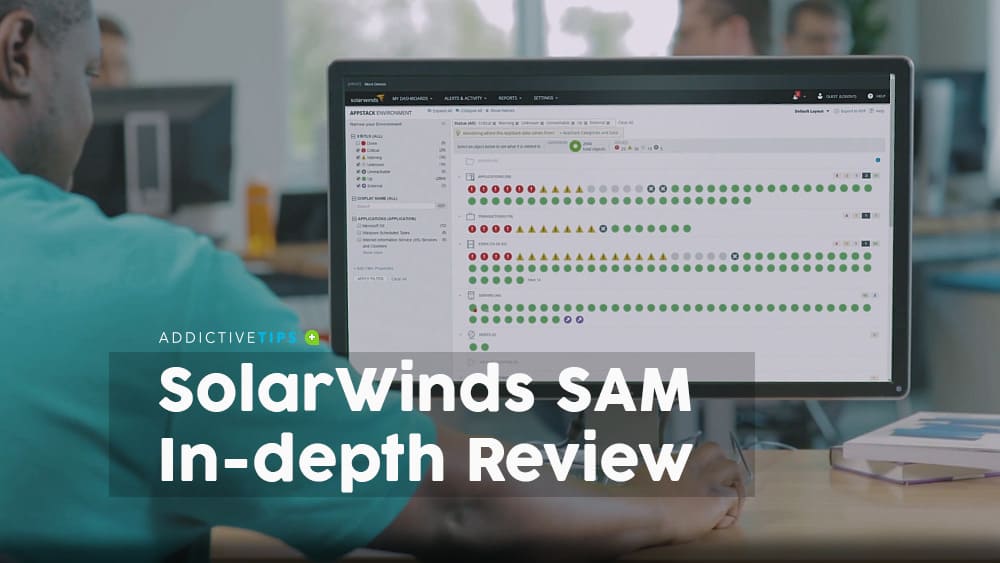 Today, we're having an in-depth look at the SolarWinds Server and Application Monitor (SAM) which, as its name implies, is a tool to monitor servers and applications. We'll elaborate on what that means in a moment. At its base, the tool's primary use is monitoring servers. It will constantly watch their important operational metrics and trigger alerts whenever something abnormal is detected.
The SolarWinds Server and Application Monitor does not only monitor servers, though. As you would have certainly guessed, it also monitors applications. By applications, we mean those that reside on the monitored servers. They could be various services such as the DHCP or DNS servers. They could also be third-party applications such as backup software. Email servers are just another type of software that the tool will monitor. In fact, the system can monitor about 1 200 different applications right out of the box. And if your favourite server-based application is not there, you can also add custom ones.
What you get from the SolarWinds Server and Application Monitor is a comprehensive monitoring environment which is suitable for organizations of all sizes. Furthermore, its extensive WAN activity monitoring capabilities and low-bandwidth requirements make it particularly suitable for larger enterprises with big, complicated, and distributed IT operations.
SolarWinds Server and Application Monitor's Main Features
There's a lot to be said about the SolarWinds Server and Application Monitor. Perhaps too much to cover it all in a simple review like this one. We'll do our best to describe what we felt to be the best, most important, and most interesting features of the product as we feel that it will give you the best appreciation of what the tool is capable of.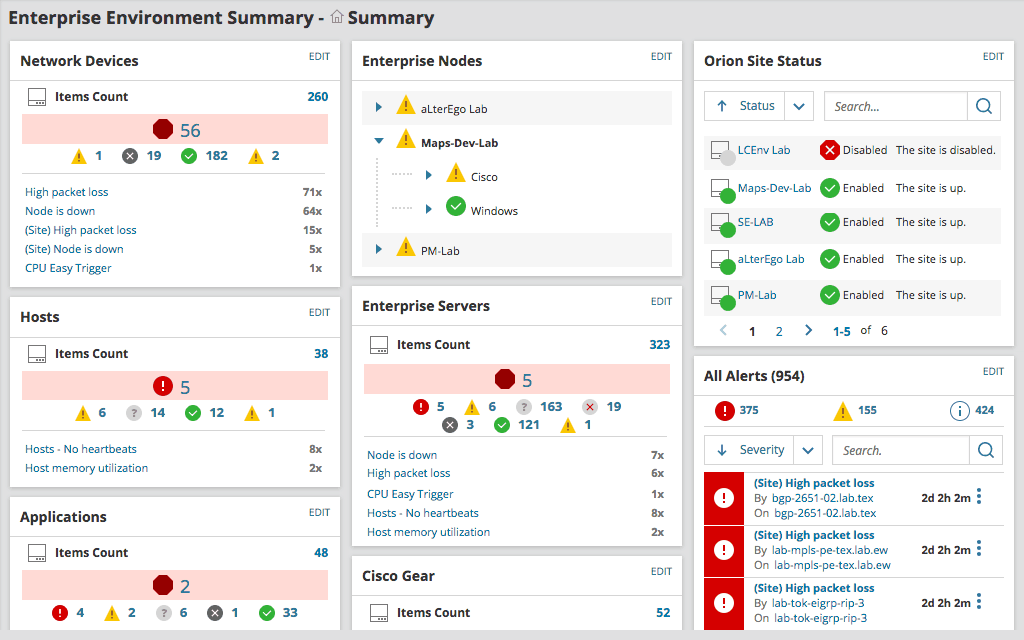 Hardware Compatibility
The SolarWinds Server and Application Monitor can only be installed on a computer running the Windows server operating system. Don't take that for an indication that it will only monitor Windows machines, though. The server operating systems that the system can monitor extend to several different vendors and versions of their respective products. As for the hardware that the system can monitor, it includes a handful of back end elements such as racks, power supplies, and temperature control systems. The tool is particularly apt at—but not limited to—monitoring these series of servers from various vendors:
IBM eServer xSeries servers
Dell PowerEdge servers
Dell PowerEdge Blade racks
HP ProLiant servers
HP BladeSystem enclosures
VMware vSphere Hypervisor
The physical metrics of your servers that the system can keep an eye on include storage capacity and usage, CPU usage, and array, fan, and power supply status, just to name a few.
Operating System Compatibility
As for the operating systems that the SolarWinds Server and Application Monitor can monitor, they include:
Microsoft Windows Server
Linux
Solaris
Unix
HP-UX
Considering that the primary data gathering scheme uses SNMP, any OS with an SNMP stack avaialble—either built-in or as an external agent—can more than likely be handled by this tool.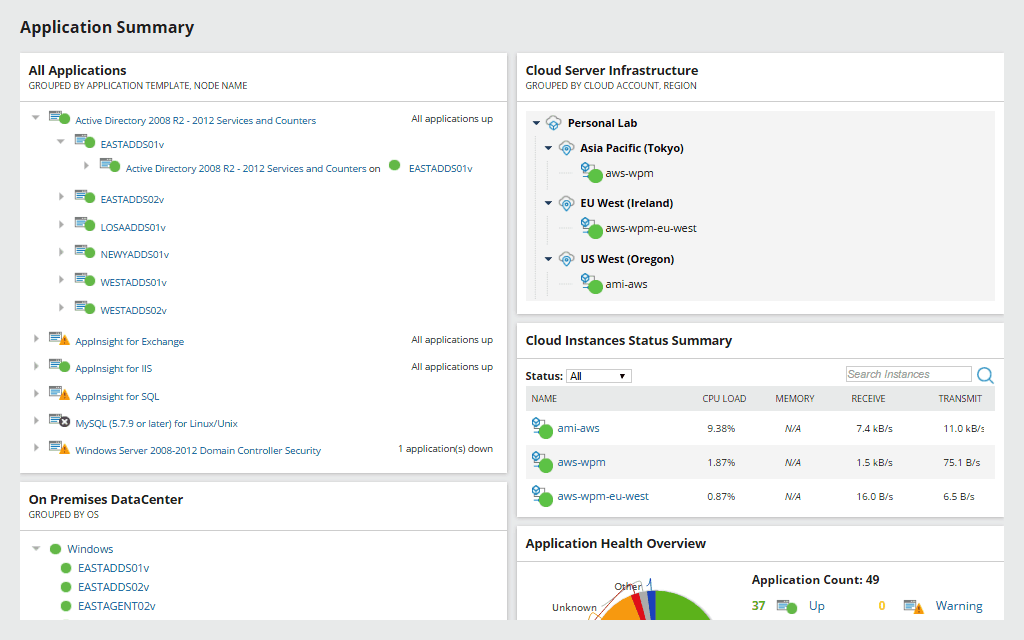 Application Monitoring
We've mentioned a little earlier that the SolarWinds Server and Application Monitor has the ability to track more than 1 200 different applications. Well, these applications fall into the following categories:
Application servers
Authentication servers
Web servers
Web services
Collaboration systems
Customer relation management
Database server systems
DHCP servers
Directory servers
ERP systems
Infrastructure managers
Virtualization environment systems
Mail servers
Security applications
Application monitoring makes use of a system of templates. It is possible to create custom templates to monitor applications that are not on the list of applications that the tool can track natively. The same custom templates will let you also track the status and activity of applications developed in-house.
Scripting Abilities
The SolarWinds Server and Application Monitor allows you to write your own scripts. They could be used, for instance, to set up combined alert conditions or to specify actions to perform should those alert conditions be encountered. If you have previously used a Nagios-based network monitoring system, you can even import Nagios scripts and adapt them to the SolarWinds environment. This SolarWinds tool is shipped with more than 1,000 action scripts which are referred to as "templates."
Virtual Environment Monitoring
More and more servers are virtualized than ever. It is not uncommon for data centers to be entirely composed of virtual servers are rare are those without at least one virtualization host. It this is your case, the SolarWinds Server and Application Monitor will suit you as it can easily monitor the performance of Hyper-V and VMware ESX hosts.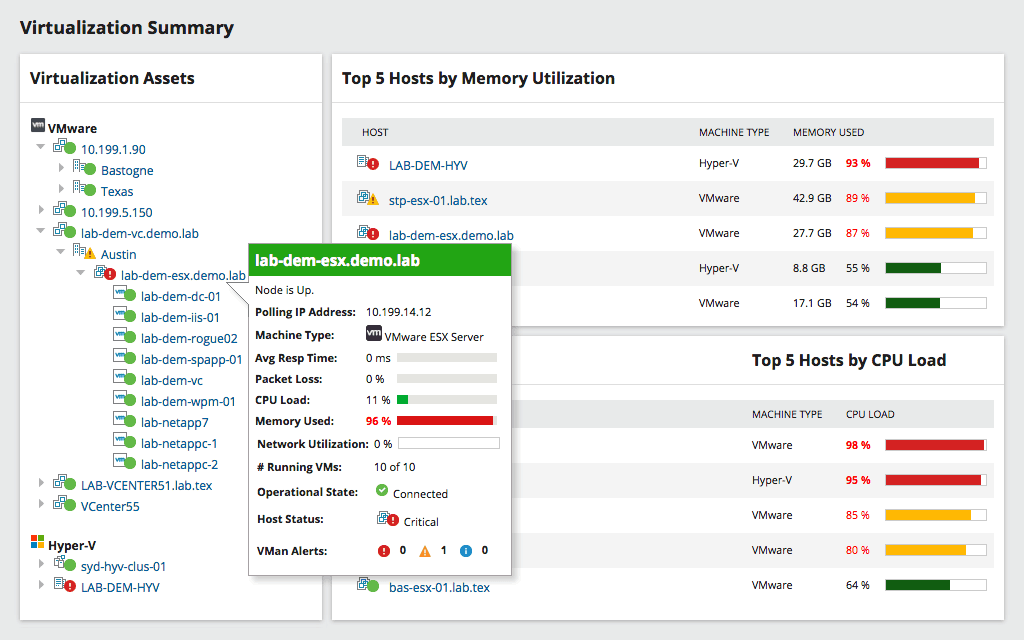 The virtual environment monitoring functions integrated into this tool are mostly offering an overview of your virtualization hosts. This tool won't perform deep inspection of your virtual environment activities. If you have an extensive VM implementation, perhaps you'd be better off with the SolarWinds Virtualization Manager. That specialized tool integrates directly with the Server and Application Monitor, adding some welcome functionality for virtual host monitoring.
Cloud Compatibility
If you're using cloud-based services such as Microsoft Azure or Amazon AWS, this tool has got you covered as well. After all, aren't these cloud-hosted environments just virtualization hosts where one rents the resources. It will offer the same level of monitoring for cloud-based services as it offers for on-premises monitoring tools.
The tool's monitoring can also demonstrate interactions between resources including cloud services, data centers, and activities at remote locations, as well as on-site network and virtual services.
AppInsight And PerfStack
The AppInsight module of the SolarWinds Server and Application Monitor gives you the ability to get a deeper insight into certain applications. It is a limited facility that is only available with a few very specific applications such as Microsoft Exchange servers, Microsoft Internet Information Services, and Microsoft SQL servers.
As for the PerfStack feature of this tool, it lets you assemble a page of metrics by dragging and dropping elements from other pages of the console. Explaining it certainly doesn't do the feature justice. You have to try it to fully understand it. It is, however, is a great option for helping you identify key performance issues that impact your most important applications.
Multi-level Visualization With AppStack
The SolarWinds Server and Application Monitor includes an excellent feature called AppStack. It enables you to see the underlying services and infrastructures supporting an application. It provides a point of view that enables you to quickly pinpoint the cause of application performance issues. Understanding the interdependence between the running software and the resources which enable it to run is a very important aspect of problem-solving and crisis avoidance. The AppStack module of the SAM will show a symbolic representation of each application with underlying levels of services beneath it. Each element shown on the stack is colour-coded so problems can be highlighted at a glance.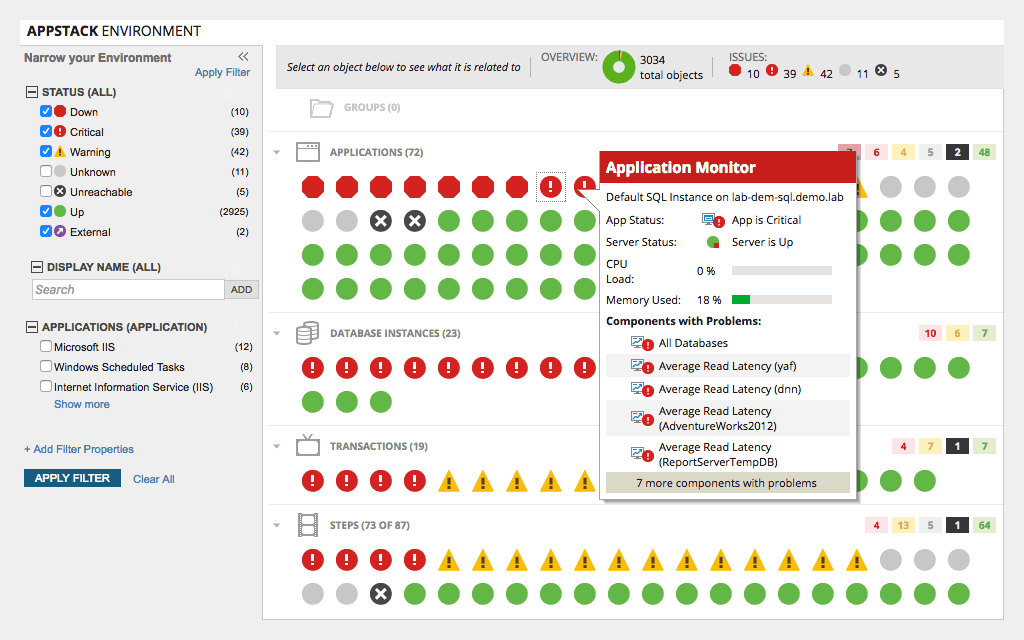 Automatic discovery
After you first install the system, it will perform an auto-discover scan. This process first scans the network for monitorable hosts and add them to the tool's configuration. A second discovery pass then takes place to discover the supported applications running on them. This scan is performed regularly even after the initial installation as it is a key element of keeping the monitoring system up to date.
Furthermore, the discovery process doesn't just find servers and their applications. It also examines dependencies with the goal of assembling a global picture of the probable causes of poor performance or failure.
Economic Benefits
Reducing Application Downtime
Application downtime can cause your business to lose money, especially if your apps directly contribute to revenue. SAM monitors the availability and performance of applications and server infrastructure, providing you with key health metrics that help you improve service reliability.
Increasing The Return On Investment (ROI)
SAM users experience a return on their investment typically in just a few months. This can be evaluated in different ways:
Reduced cost and impact of downtime
Faster time to resolution
Time savings for IT pros in diagnosing application issues
Reducing The Total Cost Of Ownership (TCO)
The SolarWinds Server and Application Monitor is an affordable application performance monitoring tool that delivers the functionality you need to detect and remediate issues. The tool is offered as a perpetual license. The initial cost of purchase includes the first year of maintenance and support, which is typically less than enterprise software suites' annual renewal fees.
There are no professional services required for SAM deployment. IT pros can typically download and deploy the tool in about an hour. And there is no need to have dedicated personnel to manage the product. It's so easy to use, anyone from the IT team can learn it themselves, eliminating the need to invest in personnel training and management overhead.
Pricing
The SolarWinds Server and Application Monitor is available in six capacity tiers of increasing cost. Functionality-wise, all tiers are equivalent and offer the exact same features. The main accounting unit of the tool is the "monitor". A monitor can be one of several things.
First, there are Component Monitors. Any monitored server parameter counts as one monitor. For instance, a performance counter, a process, a URL, a service, or a script are all monitors. Next are nodes which are any device connected to the network. Nodes can include such things as a server, a power supply, a virtual machine, an ESX host, or a printer. The last type of monitor is the volume. This one corresponds to a logical disk on a monitored server.
The six available pricing tiers are suitable for 150, 300, 700, 1 100, 1 500, and unlimited monitors. Their prices, including the first year of support and maintenance, vary from $2 955 to $38 620
The best way you can learn all there is to know about monitors is to check out the online demo. It will help you figure out how many you need. Alternatively, you can take advantage of a 30-day free trial of the SolarWinds Server and Application Monitor and measure the number of monitors required to implement the tool in your environment. It has the double advantage that it will also allow you to take the product for a test run.
The license purchase for the SolarWinds Server and Application Monitor is perpetual. It gives you the right to use the software forever. However, the purchase price only gets you support and maintenance for the first year. After that, you need to pay for support annually. If you opt not to continue paying for support, community pages on the SolarWinds website offer help from other users. Often, new versions and patches are produced by software houses in order to close off recently discovered security weaknesses, so it is always important to keep all of your corporate software up to date.
System Requirements
The SolarWinds Server and Application Monitor will only install on Windows Server 2012 or Windows Server 2016 in the English, Japanese, German, or Simplified Chinese language. You also need to have Microsoft Internet Information Services (IIS) 8.0 or later and the .NET 4.6.2 framework installed on the server.
There are two components to the Server and Application Monitor: the system software and a supporting database. Each of these two components must be installed a different server. You, therefore, need a minimum of two Windows servers in order to install the system. Also, both servers need to be in the same physical location. If you have a WAN, you can't install the two elements on servers in different sites. Finally, neither component of this SolarWinds tool can be installed on a server that runs Microsoft SharePoint, Microsoft Exchange, or Research in Motion. If you have any of those applications, you will need a separate server for them. In fact, it is highly recommended that you install both components on a dedicated server.
As for the required database, it has to be Microsoft SQL Server 2012, Microsoft SQL Server 2014, Microsoft SQL Server 2016, or Microsoft SQL Server 2017. Furthermore, all installations of the SolarWinds Server and Application Monitor do require quad-core processors or better as well as at least two 146 GB 15K hard drives.
The memory and disk space requirements for the system vary with the number of monitors. Here are the requirements for the server that hosts the main monitoring software:
Small networks with up to 300 monitors need a server that has 6 GB to 8 GB of RAM and the application can be expected to take up 10 GB to 20 GB of disk space.
Medium networks with up to 300 to 1100 monitors need a server that has 8 GB to 16 GB of RAM and the application can be expected to use 15 GB to 40 GB of disk space.
Large networks with more than 1100 monitor will need a server that has 16 GB to 32 GB of RAM and the application can be expected to use 30 GB to 100 GB of disk space.
As for the server that hosts the database component of the monitoring system, they should meet the following physical requirements:
Small networks need a database server that has either 4 GB to 8 GB (for up to 15 monitors) or 8 GB to 16 GB of RAM available. The database will use up 20 GB to 40 GB of disk space.
Medium networks need a database server that has 16 GB to 64 GB of RAM and will use up 50 GB to 100 GB of disk space.
For Large networks, you need a database server with 64 GB to 128 GB of RAM and the database will occupy 100 GB to 400 GB of disk space.
About The Orion Platform
As we mentioned earlier in this review, the SolarWinds Server and Application Monitor is built on the SolarWinds Orion application platform. This means that the tool can easily integrate with other SolarWinds infrastructure management systems built upon the same Orion platform. These other products offer different types of advanced monitoring. The other Orion-based SolarWinds tools are:
SolarWinds Network Performance Monitor
SolarWinds NetFlow Traffic Analyzer
SolarWinds Network Configuration Manager
SolarWinds Virtualization Manager
SolarWinds Storage Resource Monitor
The SolarWinds Server and Application Monitor is most effective when combined with other SolarWinds tools, including in particular the Network Performance Monitor. It does, however, also work very well as a stand-alone package.
In Conclusion
The SolarWinds Server and Application Monitor is an enterprise-grade system administration tool particularly suited for larger companies. But it is also fairly well adapted to smaller networks. It offers a plethora of useful features. A post of this size can only begin to describe all the tool's features. For a thorough look a the product, we strongly suggest that you take advantage of the 30-day free trial that is offered by SolarWinds. It will give you a great opportunity to try out the system risk-free.