Eusing Free Registry Cleaner: Download + How to Use
Regularly cleaning your Windows registry should be part of your PC maintenance routine. It works by removing invalid entries which could prevent your operating system and installed applications from running properly.
Computer optimization and maintenance utilities are paid product that usually include a registry cleaner. However, if you prefer a freeware product that's simple, fast, and effective, take a look at Eusing Free Registry Cleaner.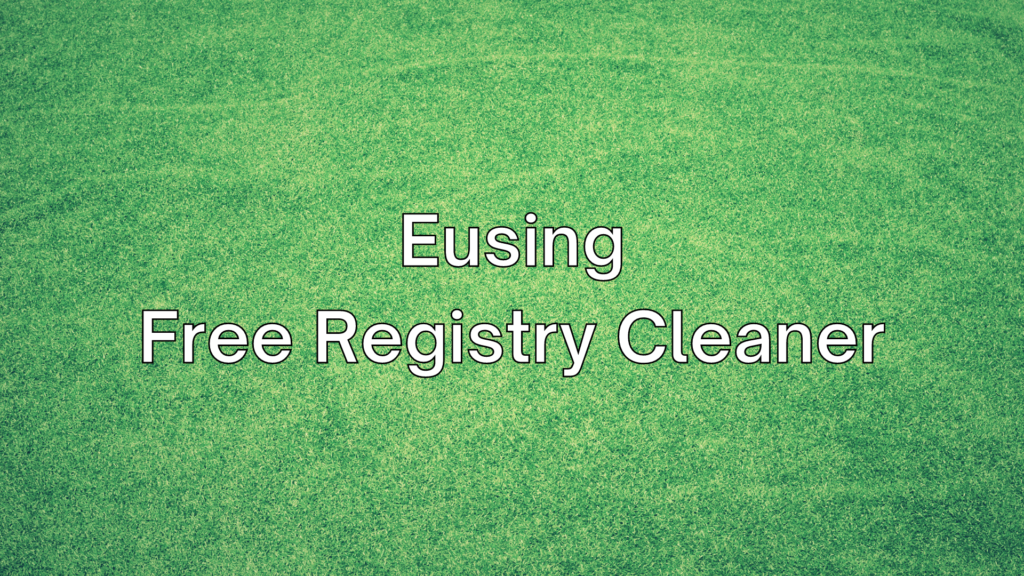 It's a lightweight software application dedicated to Windows computers, which can thoroughly check your registry for invalid entries and immediately delete them to restore the stability of your operating system.
The tool is capable of detecting and repairing various parts of the registry, including invalid help files, file extensions, obsolete software, Windows services, shared DLLs, startup programs, and custom controls.
Eusing Free Registry Cleaner (Download)
You can easily download Eusing Free Registry Cleaner from the official website. It supports all Windows editions, including Windows 10, 8, 7, Vista, and XP.

The installer is pretty old, a reminiscent of older Windows. But it has familiar options like changing the default setup folder and program shortcuts. You can launch the registry cleaner right afterward.
How to use Eusing Free Registry Cleaner
Select the registry sections you want to scan. By default, all types of entries are included in the scan.
Review the list of registry errors. All of them are taken into account for deletion, but you can deselect any that you wish to spare. Click Repair registry issues when you're ready.
Eusing Free Registry Cleaner creates a backup with the current registry settings before each repair. So, if your operating system starts experiencing stability issues, just click Restore previous registry in the main window, select a backup, and click Restore.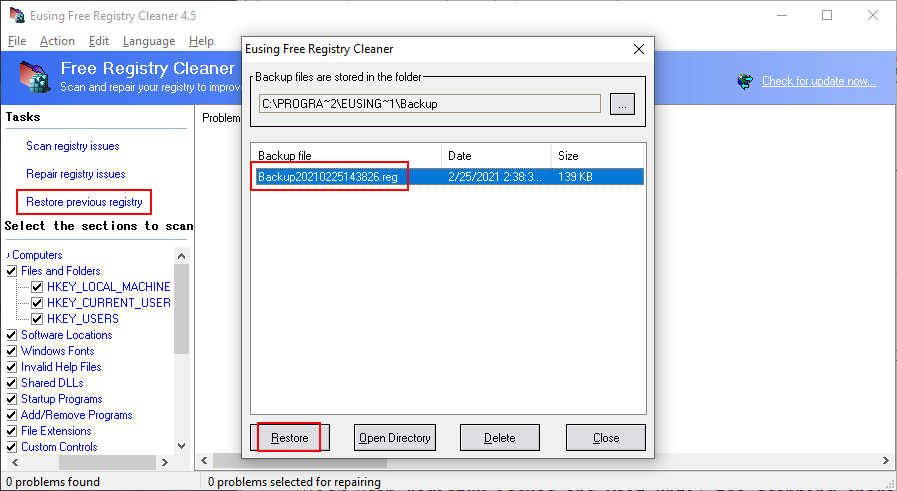 You can also manually create a full backup of the registry from the File menu. The software application features a startup manager, too, where you can prevent apps from automatically running at Windows boot in order to speed up the startup sequence.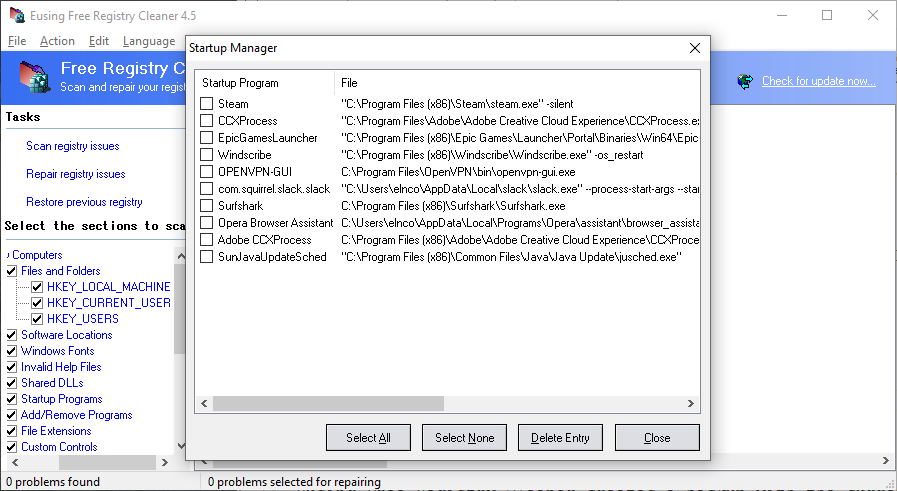 If you open the Edit menu, you will be able to ignore a specific registry issue from the current and future scans. You can open the location of a registry entry in the registry editor, as well as save the list of registry issues to file.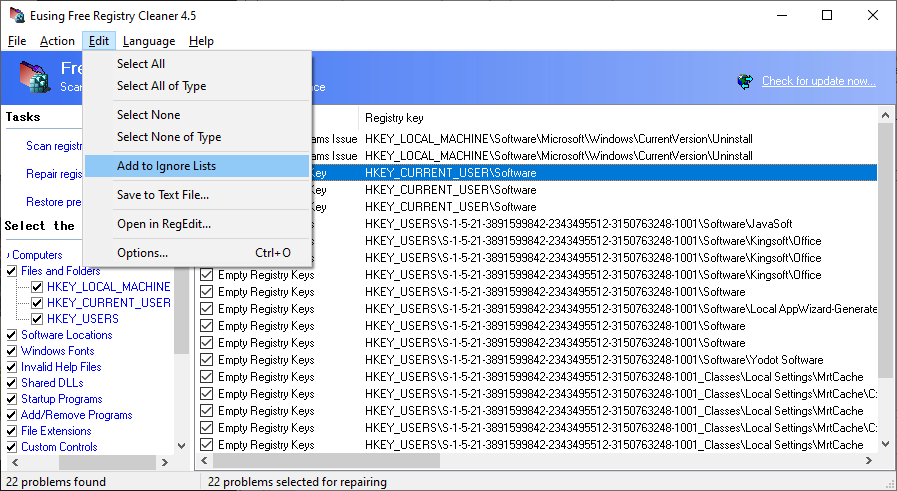 When it comes to program settings, you can ask Eusing Free Registry Cleaner to create a system restore point in addition to the auto-backup before every repair task. It's also possible to manage ignore lists.
Is Eusing Free Registry Cleaner safe?
According to its VirusTotal report, Eusing Free Registry Cleaner is perfectly clean, so it won't infect your computer with any malware agents.
There's always a certain risk when making changes in the Windows registry. However, you don't have to worry about damaging it when using this application since it automatically creates backups before every fixing job. You can also instruct the tool to create system restore points.
Eusing Free Registry Cleaner review
To conclude, Eusing Free Registry Cleaner provides a simple and straightforward solution when it comes to fixing your registry settings by deleting any invalid, broken, or incorrect entries.
It's quick, thorough, efficient, and completely free to use. Furthermore, it doesn't hamper your computer's performance. The only problem is that it has an outdated interface that some users can't overlook.