PowerISO: Download, What It Is and How to Use
Although most businesses and consumers moved to the cloud for easy file access and data sharing, some people still rely on good old CDs, DVDs, and Blu-ray discs. Besides, creating offline backups is the only way to guarantee zero data loss.
That being said, you would be surprised at the number of PC users who still rely on disc authoring tools like PowerISO. It allows them to securely burn data discs and play them on any supported device.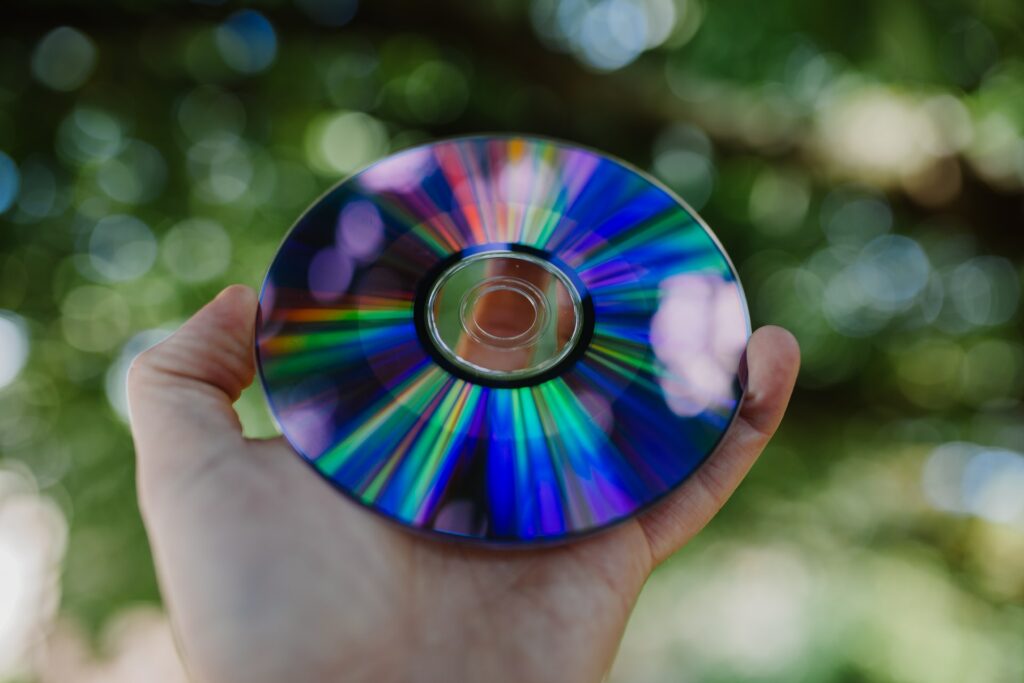 What is PowerISO?
PowerISO is a CD/DVD imaging tool that you can use to manipulate ISO files. With its help, you can open, burn, create, and edit disc images with the ISO format.
The software application is packed in a user-friendly interface that permits quick access to its key features. It also makes it possible to edit, compress, encrypt, mount, and extract ISO files.
How to download PowerISO
The easiest way is to download PowerISO from the official website. It's available for Windows, Mac, and Linux computers.
If you're opting for the Windows version, keep in mind that two separate files are available for download. Depending on your OS architecture type, you can choose between 32-bit (x86) and 64-bit (x64).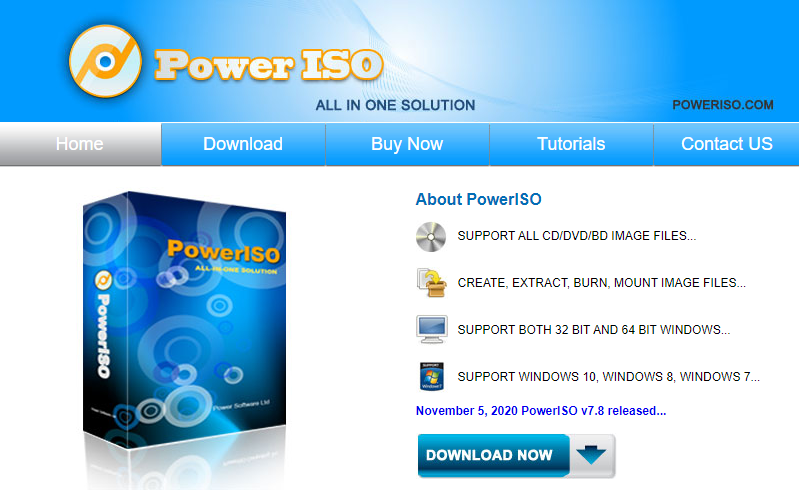 PowerISO isn't freeware, but it does offer a free version with several limitations that you should take into account.
In addition to a registration page that pops up every now and then, the disc authoring utility doesn't let you create or edit ISO images greater than 3,000 Mb.
To lift these restrictions and fully explore everything it has to offer, you have to buy the PowerISO full version.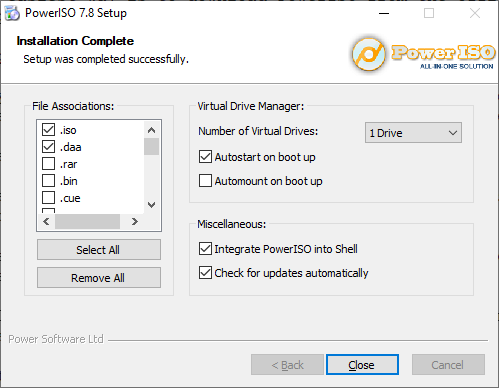 Installing PowerISO is a pretty basic job. Toward the end of setup, you can make file type associations, set the number of virtual drives to use, add context menu entries, and schedule the tool to auto-launch and auto-mount at every Windows startup.
How to use PowerISO
To create a new data CD or DVD, here's what you have to do:
Drag and drop the file you want to burn in the empty area
Click Burn
Insert an empty CD or DVD
Select the burning drive and speed
Click Burn and wait until the task is over
If you're looking for additional options, you can find them in the Tools menu.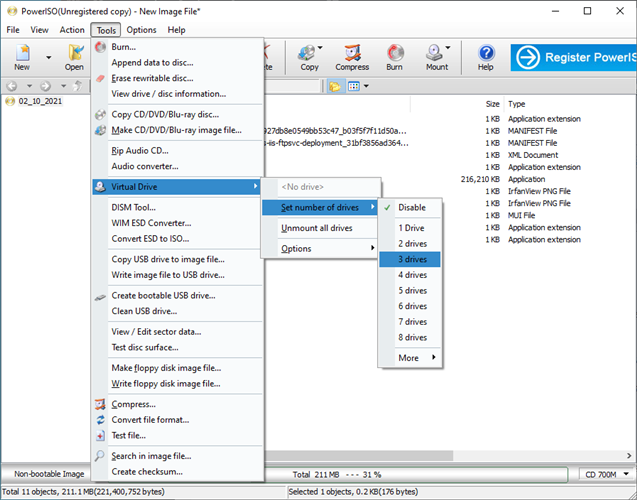 For example, you can append data to a disc if it wasn't finalized during burning, erase rewritable discs, make a copy of existing CDs, DVDs, and Blu-ray discs, as well as rip audio CDs and convert tracks to different formats.
You can also use the DISM tool to check for disc errors, copy USB drives to image files, write image files to USB drives, or create bootable USBs.
Furthermore, PowerISO lets you convert image files between ISO, CUE and DAA. You can compress and password-protect images, search for files within disc images, and even create checksums to verify data integrity.
Is PowerISO safe?
PowerISO doesn't contain any malware, so it's perfectly safe to download, install, and use it. However, it's always a good idea to get the setup files straight from the developer's website (we provided a direct link above).
If you're worried about damaging your discs or losing files during the burning operation, you shouldn't be since your files will be safe.
However, you should be cautious when adjusting the writing speed. For instance, if you're planning to play an audio disc on an older device, you shouldn't use the maximum writing speed on your computer. Instead, lower it to match the playback device.
Is PowerISO worth it?
PowerISO remains one of the most popular disc authoring tools, and for good reasons. It's incredibly easy to use. Casual users can turn to the default configuration to burn CDs, DVDs and Blu-ray discs in no time.
Meanwhile, skilled individuals can dive into the advanced options to take over the application and tinker with all its settings. Yes, PowerISO is definitely worth it.