Is Segurazo a Virus? Here's How to Uninstall Segurazo Antivirus
Windows hasn't always had the best defense against viruses and malware over the years. Windows has come a long way since the days of Windows XP in terms of providing better protection to users. Windows Defender provides far better protection but other anti-virus apps haven't disappeared simply because Windows Defender exists.
There is no shortage of other anti-virus apps but they're not all created equal. Some, like MalwareBytes, are great and can find and remove infections that Windows Defender misses but others are less competent, and some tend to cause problems.
Is Segurazo a virus?
There are plenty of third-party anti-virus apps that you can install to keep your system safe if you do not want to use Windows Defender. Segurazo antivirus, while an anti-virus, is not one that comes highly recommended.
Segurazo antivirus claims to clean your system but it acts like malware by constantly highlighting threats that do not exist. It then tries to push software that a user must purchase in order to get rid of these infections. It is basically trying to sell a cure for a problem that doesn't exist.
If you've installed this antivirus, you should know your system isn't infected by anything other than this app. Remove it and try using an antivirus that is more reliable.
Uninstall Segurazo antivirus
The Segurazo antivirus comes with an uninstaller which, technically, does work but it will leave several residual files and registry entries. We'll go over how to remove them all.
1. Run Segurazo antivirus uninstaller
The first step to uninstalling the Segurazo antivirus is to run its own uninstaller. This is fairly easy to do.
Open File Explorer.
Navigate to this location: C:/Program Files (x86)/Segurazo.
Run the SegurazoUninstaller.exe file.
When prompted, select to remove protection from the system.
Restart the system.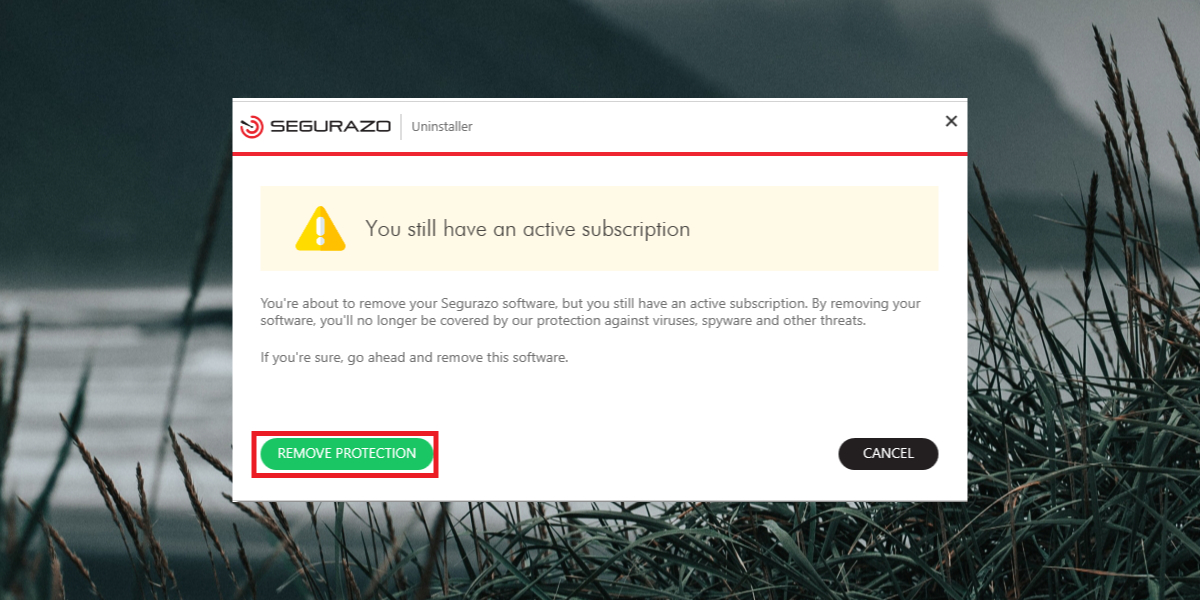 2. Remove Segurazo antivirus registry entries
Segurazo antivirus leaves behind a lot of registry entries and you will need to use the Find feature in the registry editor to get them all.
Tap the Win+R keyboard shortcut to open the run box.
In the run box, enter regedit and tap the enter key.
Once the registry editor is open, tap the Ctrl+F keyboard shortcut.
Enter Segurazo and tap Enter.
Delete all keys that you find with Segurazo in the name or with values that have Segurazo antivirus in the name.
For example, you will be removing keys/values from this location.
HKEY_CURRENT_USER\Software\Microsoft\Windows NT\CurrentVersion\AppCompatFlags\Compatibility Assistant\Store
Tap the Ctrl+F keyboard shortcut again and click 'Find Next' to find the next entry.
Delete these other keys;

segurazoclient_RASAPI32

Segurazoclient_RASMANCS

SegurazoService_RASAPI32

SegurazoService_RASMANCS

SegurazoUninstaller_RASAPI32

SegurazoUninstaller_RASMANCS

Other locations where you will have to delete keys and values are;

HKEY_LOCAL_MACHINE\SYSTEM\ControlSet001\Services\EventLog\Application

HKEY_LOCAL_MACHINE\SOFTWARE\WOW6432Node\Microsoft\Windows\Segurazo

Go to this location: HKEY_LOCAL_MACHINE\SYSTEM\ControlSet001\Control\Session Manager and delete the PendingFileRenameOperations value.
Go to this location: HKEY_LOCAL_MACHINE\SYSTEM\ControlSet001\Services\EventLog\Application and delete SegurazoSvc.
Use the Ctrl+F key and the find box several times to make sure nothing related to Segurazo is left.
3. Remove DLL files
DLL files and some SYS files will still be left on your system and they can cause problems down the line. They're rather stubborn when it comes be being removed so you will need to use Command Prompt.
Open Command Prompt with admin rights.
Run the following commands, one-by-one.
del /f C:\Program Files(x86)\Segurazo\SegurazoShell64_v1069.dll
del /f C:\Program Files(x86)\Segurazo\SegurazoKD.sys
4. Scan the system
Once you've removed everything, it's a good idea to make sure nothing malicious has been left behind.
Run a full system scan with Windows Defender.
Run a full system scan with the free version of MalwareBytes.
Remove all infections that are found.
Conclusion
You do not have to use Windows Defender to keep your system safe. There are many reliable antivirus apps that can keep a Windows 10 system clean but their reputation speaks for themselves. Research the best ones that are available before you install one.