How to Fix CTF Loader Issues on Windows 10: What is CTF Loader?
Windows 10 runs lots of different services under the hood. These services are responsible for the working features on the OS. In addition to services, Windows 10 will also run processes that provide support to apps running on your system. These processes often provide a function that other apps can add integration for and use.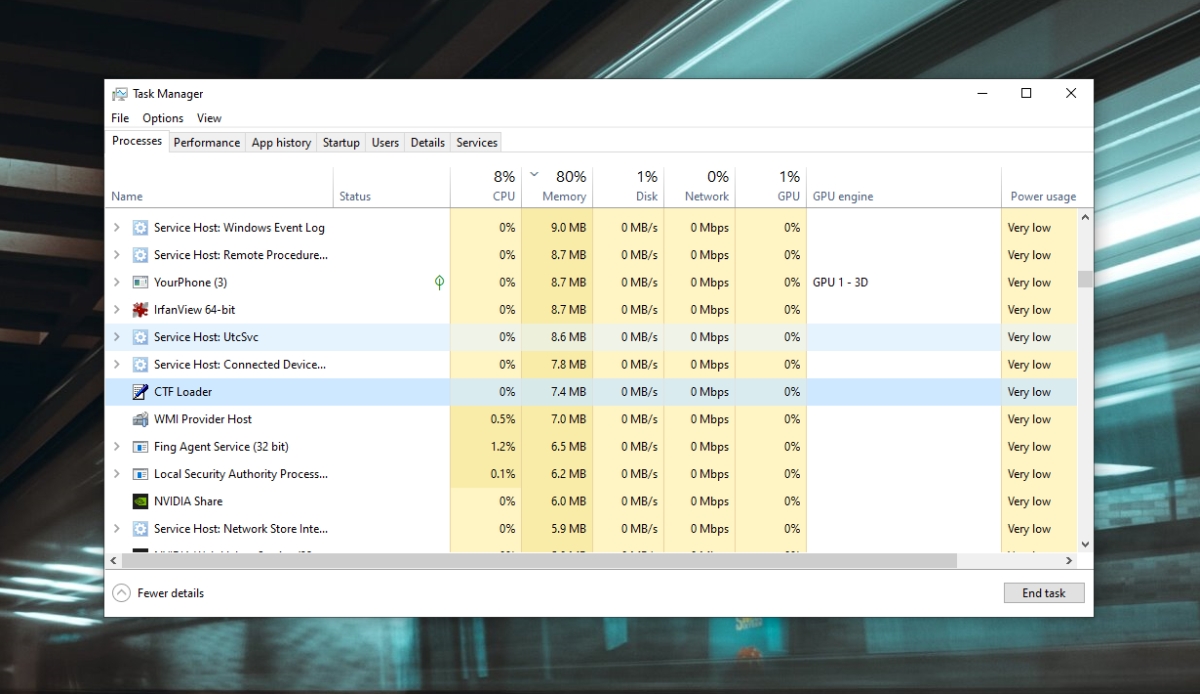 What is CTF loader?
If you go to the Processes tab in Task Manager, you will the CTF loader process running. The process is often incorrectly attributed to Offie apps but if you open the process at its source, you will find that it is a core Windows 10 process.
The CTF process provides support for handwriting and speech recognition services on Windows 10. This is used by native features on Windows 10 e.g., by Cortana, and it is used by apps on Windows 10 e.g. Microsoft 365 apps.
If you don't have Microsoft 365 apps installed on your system, this process may still run because Cortana uses it as does the Windows 10 handwriting panel.
Fix the CTF Loader Windows 10 issues
CTF loader is not a resource-hungry process but problems with the process or the apps that are using it may cause its memory or CPU usage to increase beyond what is normal. The process can also crash or, if it's failed to start, prevent other apps from working.
1. Update Windows 10
The CTF Loader process may be using a lot of memory or CPU because of a problem with other Windows 10 services. These problems are hard to pinpoint however, checking for and installing Windows updates can often resolve it.
Open the Settings app with the Win+I keyboard shortcut.
Go to Update & Security.
Select the Windows Update tab and click Check for updates.
Install updates that are available and restart the system.
2. Roll back Windows 10 update
Windows 10 updates can cause problems much like they can also resolve them. If you've noticed an increase in the CPU and memory usage by the CTF loader process after updating Windows 10, roll back or remove an update.
Open Control Panel.
Go to Programs>Uninstall a program.
In the column on the left, select View installed updates.
Select the most recently installed update and click the Uninstall button at the top.
Note: You will eventually have to update your system. Check again next month after the Windows 10 Tuesday patch has been released and then check for and install updates. The problem with the update should be resolved.
3. Reduce process priority for CTF Loader
If CTF loader is using too much memory or CPU, you can reduce the importance the process has on Windows 10 when it's run concurrently with other more important processes.
Right-click the taskbar and select Task Manager from the context menu.
Go to the Processes tab and select CTF Loader from the list of running processes.
Right-click the process and select Go to Details.
You will switch to the Details tab with the CTF Loader process highlighted.
Right-click it and select Set Priority.
Select the Low option.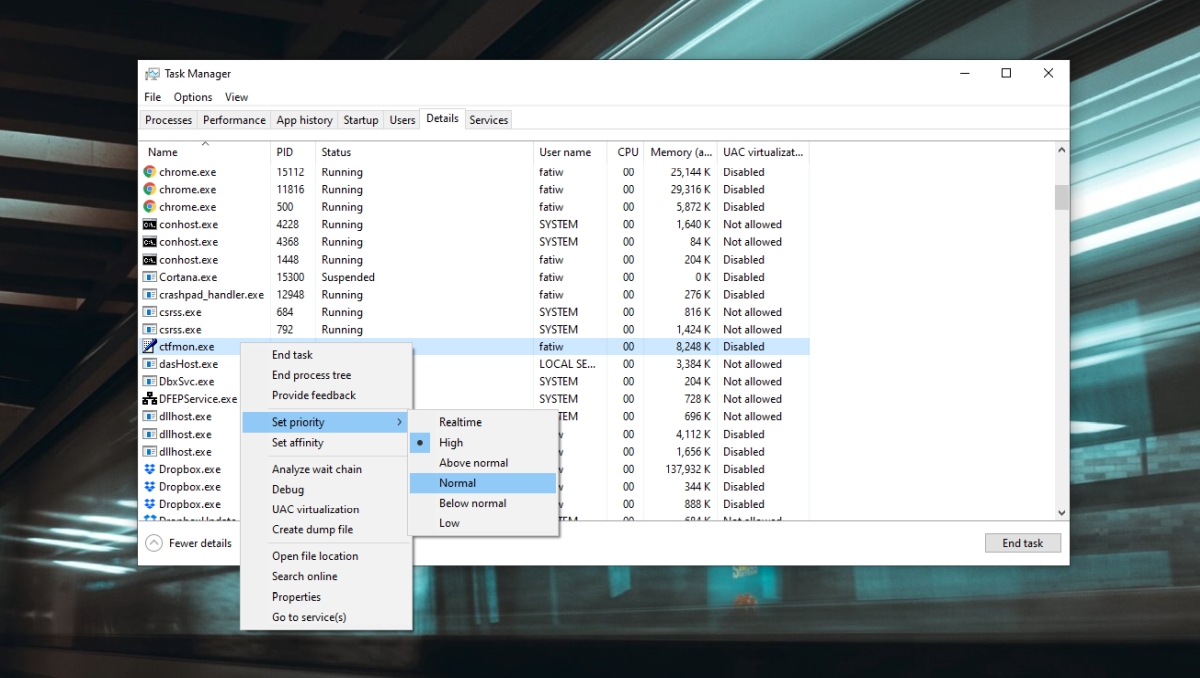 4. Scan system for malware
It's possible that a malicious app is causing CTF loader to use more memory or CPU. In this case, it's best to run a full system scan.
Open Windows Defender.
Go to Virus and threat protection.
Click Scan options.
Select the Full Scan option and click Scan now.
Allow the scan to complete and remove all threats that are identified.
You should also scan your system with the free version of Malwarebytes.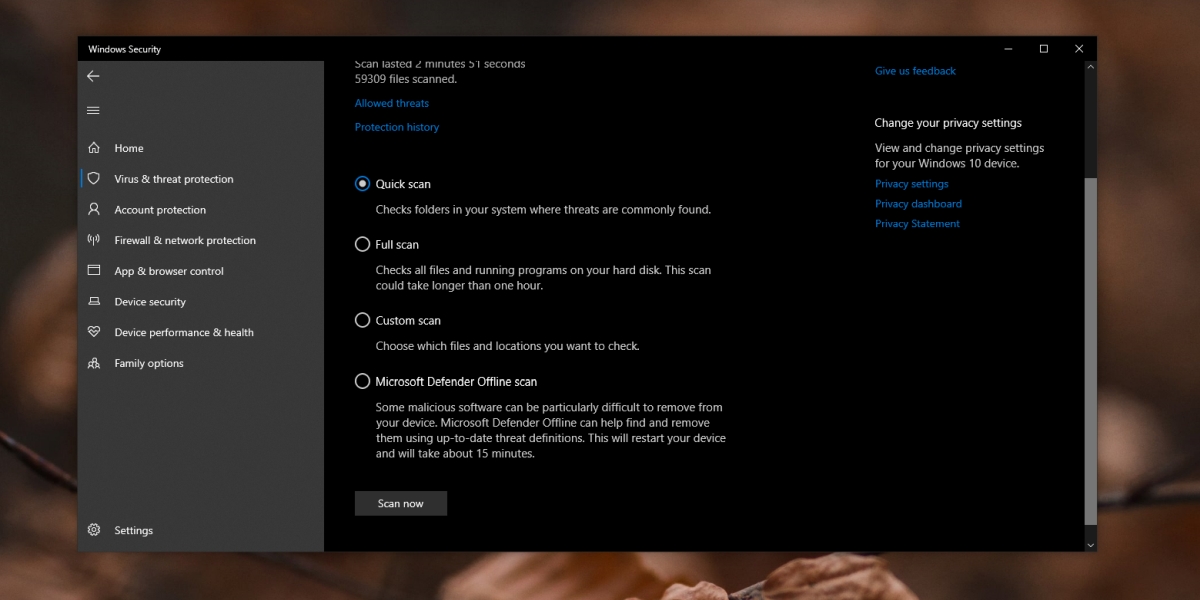 5. Uninstall and reinstall apps
Problems with apps that use CTF loader may also cause problems with the process itself. In this case, try uninstalling and reinstalling the apps that may use this service e.g, you can uninstall and reinstall Cortana. Likewise, you can uninstall and reinstall Microsoft 365 apps and check if problems with CTF loader are fixed.
6. Disable CTF Loader
CTF loader can be disabled however, doing so will cause some search bars to stop working so use this only if you have no other choice. At no point should you try to delete the CTF Loader's EXE file. It will destabilize Windows 10.
Open Command Prompt with admin rights.
Run the following commands to disable CTF Loader.
sc config "TabletInputService" start= disabled

sc stop "TabletInputService"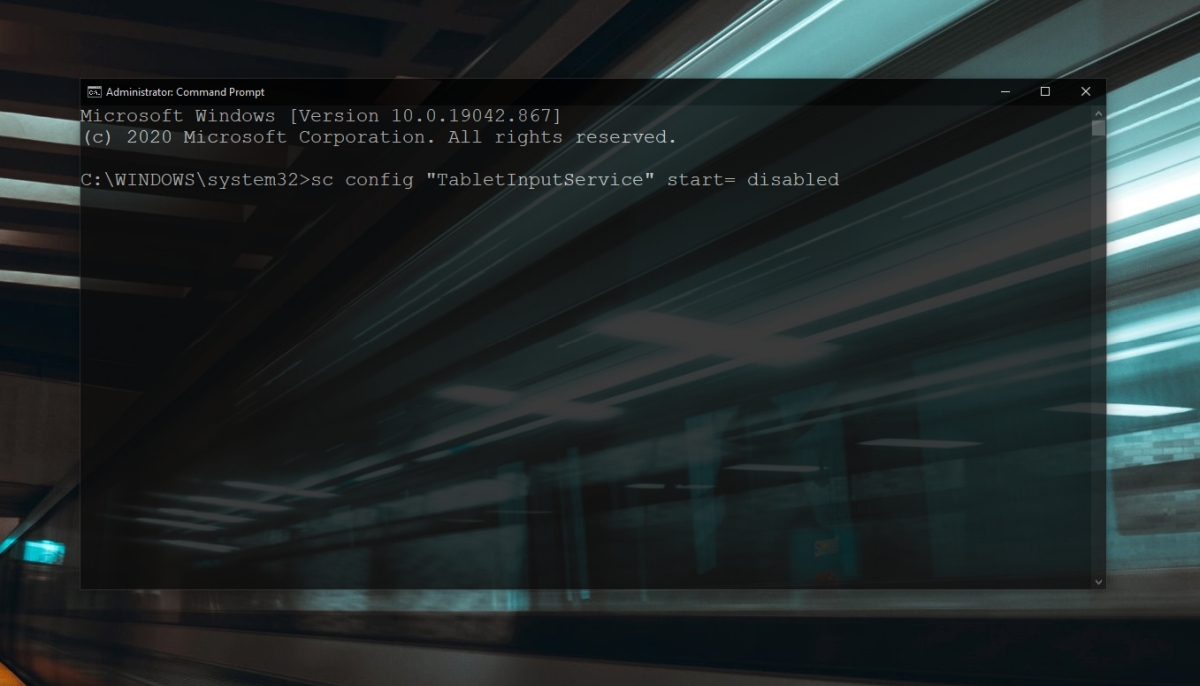 Conclusion
CTF Loader doesn't tell you what it's for. That is why many users mistake it for a virus. It is safe but it's also a necessary process on Windows 10.
You may be tempted to remove or delete it from your system because you do not use handwriting service or speech recognition services but it controls lots of other or linked components on Windows 10.
If you're at the point where you're ready to delete the service, create a new user account for yourself instead and you shouldn't problems with the the CTF loader service when using it.