How to view Cortana voice search history on Windows 10
Cortana can respond to voice commands. You can invoke it with the 'Hey Cortana' command, or a custom name, or you can open the Windows search box and click the speaker icon to activate it. Cortana collects quite a bit of information when you use it and it keeps a log of all the voice searches you've made. If you ever need to view your Cortana voice search history, you can do so easily enough. Here's how.
Your Cortana voice search history can be accessed from your Microsoft Account history on the official Microsoft website. You don't necessarily need to be on a Windows 10 system to access it.
Cortana voice search history
Visit the official Microsoft website and click the Sign in option at the top right. Sign in with the same Microsoft account that you use on your desktop. Once you're signed in, click your profile picture at the top right and click My Microsoft Account in the menu. Select Privacy at the top and sign in again when prompted.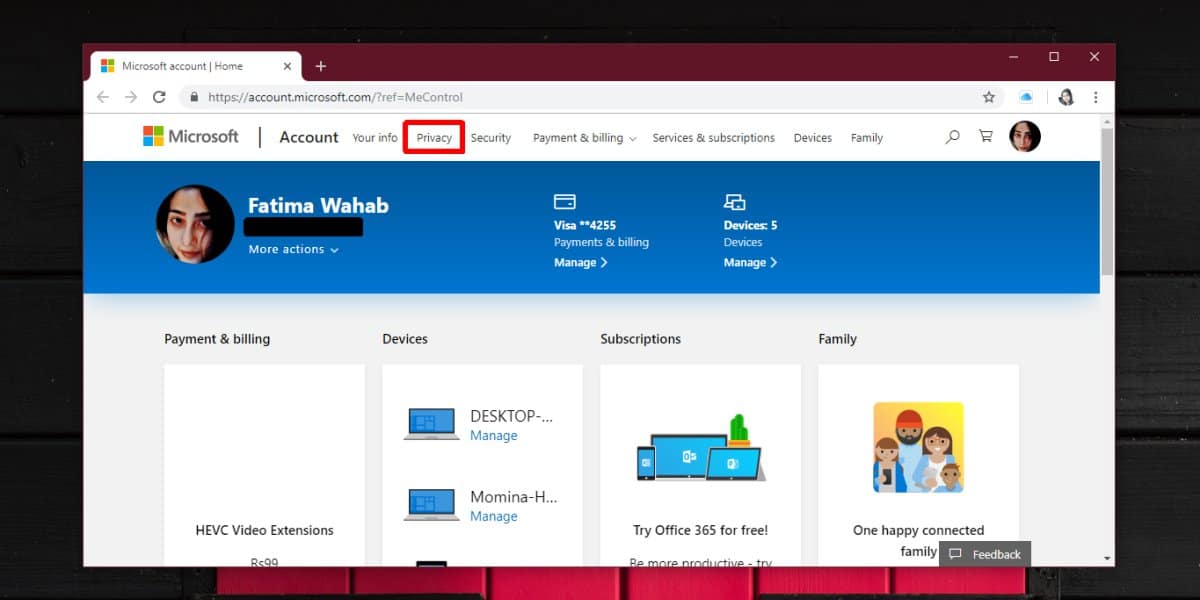 On the Privacy screen, click Activity History. This will give you a list of the various types of information that Microsoft keeps. If you're looking specifically for the voice commands that it has saved, click the Voice category.
You will see every single voice command that you've given Cortana. The voice command is an audio file. If you play it, it will playback a clip of you giving Cortana the command. The title of each clip is set to whatever Cortana recognized when you gave it the command.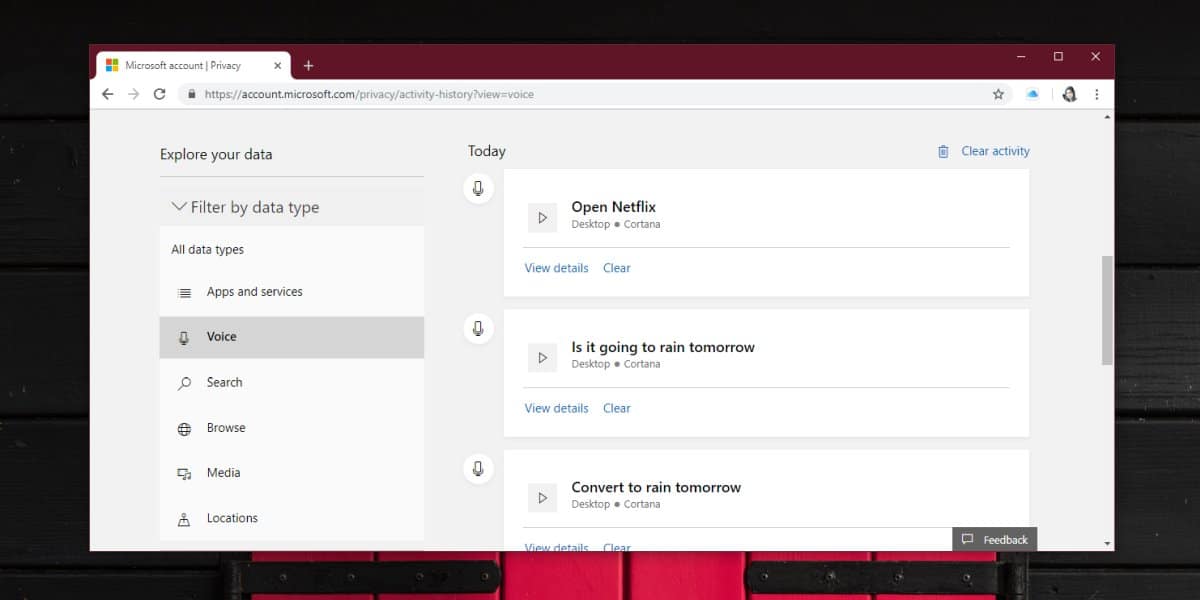 It goes without saying that this history may be a bit too much for most users to be comfortable with. It's one thing to have a list of the commands as they were recognized however, it's entirely different to have an actual audio recording of the clip. That is, unfortunately, the compromise you make when you choose to use this feature.
You can remove individual entries by clicking the 'Clear' button under an entry. If you want to delete everything all at once, click the Clear Activity button at the top. Microsoft does not keep any other copies of the audio.
Cortana needs to collect this information so that it can improve how it works. It doesn't have an offline mode where you can have the audio stored and processed locally and this isn't just a shortcoming with Cortana. Siri doesn't work either if there's no internet connection.