How To Rename Cortana And Change The 'Hey Cortana' Phrase In Windows 10
Cortana is one of the more noteworthy features that were added in Windows 10. It's had it's problems but overall it works well enough. You can use Cortana by clicking the search button on the Taskbar, and then either typing in a question of speaking it. Microsoft has taken the 'Hey Siri' hotword command feature from iOS and implemented it for Cortana. You can enable the spoken command and invoke Cortana by saying 'Hey Cortana'. If you'd like to have a little fun with it, you can change what you call Cortana and how you invoke her with the help of a free app called MyCortana.
Download and run MyCortana. The UI is pretty basic; to configure a new name and phrase for Cortana, click 'Settings' at the top of the app's home screen.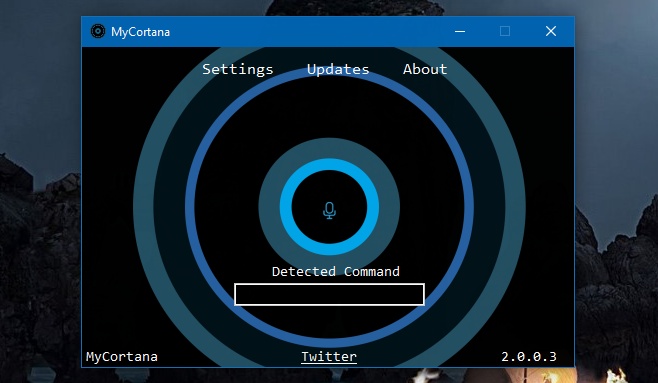 The Settings screen is simply a list of commands for Cortana. Click the plus button to add a new command. You will add the command and append it to the new name you want to give Cortana.
For example, if you want to call Cortana 'Jarvis', and invoke it via the 'Hey' command, enter the following;
'Hey Jarvis'
If you want to invoke Cortana with a different command but not change what she's called, enter the phrase you want to use followed by Cortana's name.
'Hello Cortana'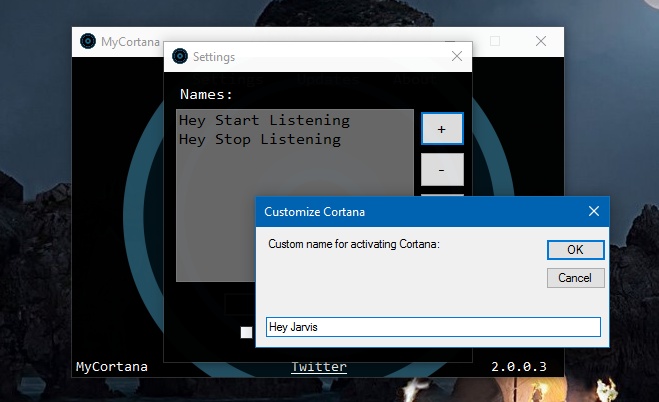 You can add multiple phrases for invoking Cortana. Once you've configured the new name and phrase, minimize the app and allow it to run in the system tray. You can now use any one of the new commands to invoke Cortana. We should mention that this makes no change to what Cortana is called in the search settings.
MyCortana doesn't make UI changes, only back-end functional ones. The search still works as it does before. Once you've invoked Cortana with your custom command, go ahead and ask it to find a file, save a reminder, or tell you the current weather.