Wise Registry Cleaner (Free) Download and Quick Review
The Windows registry contains all information about your operating system and installed software. Whenever you add or remove a new program from your PC, your registry makes the updates accordingly.
It only becomes problematic when the registry gets cluttered. As a result, your computer will slow down in performance. But you can easily fix this issue with a reliable registry repair tool like Wise Registry Cleaner.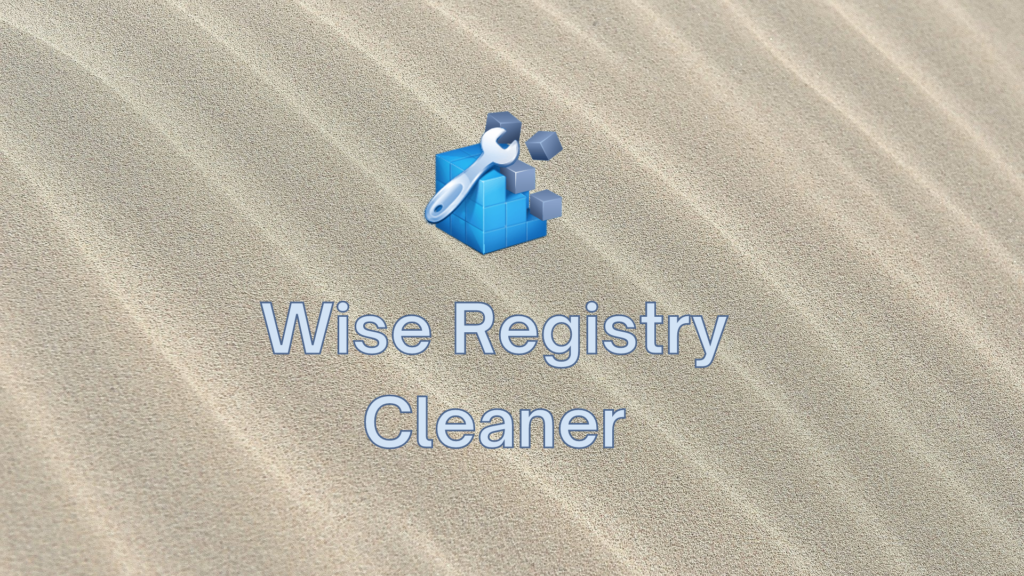 Wise Registry Cleaner is a software application dedicated to Windows computers only, which promises to get your computer in top shape by cleaning, defragging, and optimizing your registry.
The tool detects and fixes issues from multiple parts of the Windows registry, including sound and application events, image file execution, invalid context menu items, and application settings.
It also includes extra features unrelated to the registry but which can help you make your PC run better.
How to download Wise Registry Cleaner
You can download Wise Registry Cleaner from the official website for Windows 10, 8, 7, and Vista. It supports both 32-bit and 64-bit architecture types.

In addition to the installer, Wise Registry Cleaner has a portable version. You can save it to a removable storage device to scan and clean the registry of any computer, without having to go through the entire setup operation.
The installation steps are common. Besides reviewing the license agreement, you can change the default install folder. At the first launch, it offers to create a registry backup.
How to use Wise Registry Cleaner
The registry fixer has three scanning modes: Fast, Deep, and Custom.
Fast Scan is the default, recommended method because it only scans the entries considered safe for removal. If you're in doubt, you should use this option.
Deep Scan is an advanced mode that require a bit of experience. You risk deleting registry entries that may cause functionality issues on your computer.
Custom Area is also for advanced users, allowing you to select the exact parts of the registry you want to include in the repair job while excluding everything else.
Repairing the registry
Review the number of found and solved problems.
Moreover, Wise Registry Cleaner allows you to schedule registry scanning and repair jobs. It can only do this in Fast Scan mode. You can set it to run daily, weekly, monthly, on idle, or at logon.
Defragging the registry
Close any running applications and start Wise Registry Cleaner.
If you want to back up or restore the registry, you can easily do this from the menu. It's also possible to create a portable version using the installer. Multiple interface languages and skins are supported by Wise Registry Cleaner.
System Tuneup
Additional tools are available for PC optimization and maintenance, which you can find in the System Tuneup section.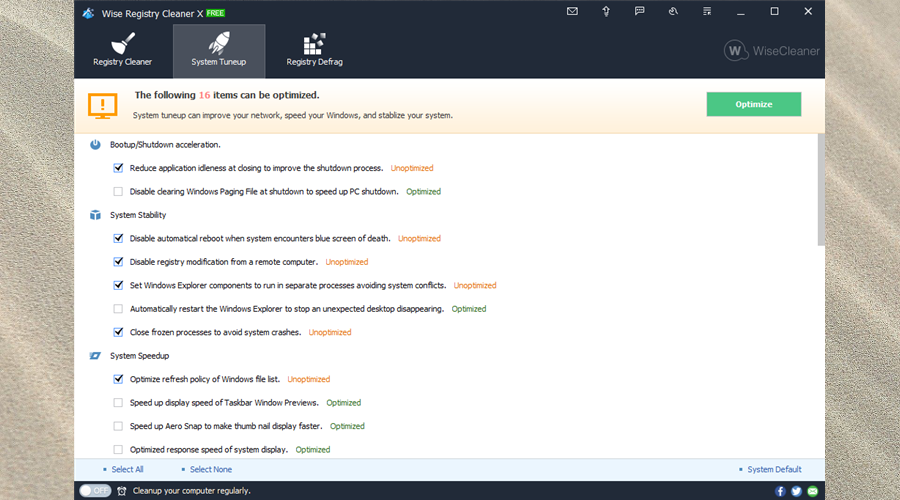 The types of actions are self-explanatory. For example, you can speed up the Windows boot and shutdown by disabling the Windows Paging File and by reducing the idle time of applications.
Additionally, you can improve system stability by deactivating auto-reboot when the system encounters the blue screen of death and by forbidding registry modifications from remote computers.
Is Wise Registry Cleaner safe?
Wise Registry Cleaner is a safe and legitimate registry cleaner. It's not even ad-supported. VirusTotal can confirm that the program is free of malware, whether we're talking about the installer or portable version.
When it comes to registry cleaning, there's always a risk involved of causing more problems to your system, no matter what application you use. However, Wise Registry Cleaner adds extra layers of security thanks to registry backups and the Fast Scan mode.
Our Wise Registry Cleaner review
Wise Registry Cleaner is one of the best registry cleaners on the market. It's really easy to use, freeware, and doesn't contain any ads or third-party offers during setup, unlike other similar utilities.
What's more, Wise Registry Cleaner is quick and efficient when it comes to repairing, defragging and optimizing the registry. It has intuitive options for casual users as well as advanced settings for more skilled individuals.